Thanchi Upazila (bandarban district) area 1020.82 sq km, located in between 21°15' and 21°57' north latitudes and in between 92°20' and 92°41' east longitudes. It is bounded by ruma upazila on the north, arakan state of Myanmar on the south, Chin state of Myanmar and belaichhari upazila on the east, alikadam and lama upazilas on the west.
Population Total 16992; male 9438, female 7554; Muslim 1286, Hindu 351, Buddhist 4545, Christian 9292 and others 1518. Indigenous communities such as marma, Murong, tripura and khyang belong to this upazila.
Water bodies Main river: sangu (Shankha).
Administration Thanchi Thana was formed in 1976 and it was turned into an upazila in 1985.
Upazila
Municipality
Union
Mouza
Village
Population
Density (per sq km)
Literacy rate (%)
Urban
Rural
Urban
Rural

-

4

12

177

2605

14387

17

28.0

12.7
Upazila Town

Area (sq km)

Mouza

Population

Density (per sq km)

Literacy rate (%)

44.03

1

2605

59

27.97
Union
Name of union and GO code
Area (acre)
Population
Literacy rate (%)
Male
Female

Tindu 76

15360

2532

1709

31.74

Thanchi 57

69210

3003

2453

16.18

Balipara 19

112640

1715

1511

4.81

Remakry 38

24320

2188

1881

3.63
Source Bangladesh Population Census 2001,Bangladesh Bureau of Statistics.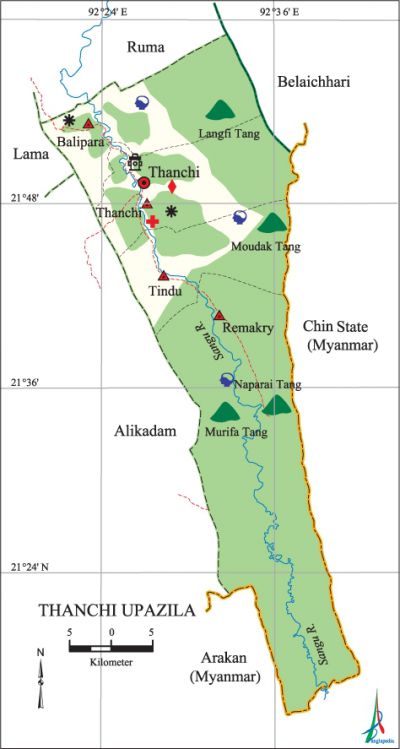 Historical events The Burma-British War of 1824 resulted in inclusion of Arakan as one of the provinces of British India. This had eased the migration of the Arakanese to Thanchi and its neighbouring areas. The migrants later became permanent settlers in the area and were recognised as residents by Regulation-1 of 1900, popularly known as the Chittagong Hill Tracts Manual.
Religious institutions Mosque 2, temple 2, church 75, math 1, keyang 27.
Literacy rate and educational institutions Average literacy 15.1%; male 21.4%, female 7%. Educational institutions: secondary school 3, primary school 16, community school 2. Noted educational institutions: Thanchi High School, Thanchi Bazar Model Government Primary School, Thanchi Headman Para Government Primary School.
Cultural organisations Library 2, community centre 3, auditorium 1, jatra party 9, women organisation 35, playground 2.
Tourist spots Langfi Tang Hill, Moudak Tang Hill, Naparai Tang hill, Murifa Tang Hill and Dim Hill are notable.
Main sources of income Agriculture 72.10%, non-agricultural labourer 1.48%, commerce 3.91%, service 2.49%, religious service 0.12% and others 19.90%.
Ownership of agricultural land Landowner 15.08%, landless 84.92%; agricultural landowner: urban 19.18% and rural 14.36%.
Main crops Paddy, sesame, turmeric, maize, potato, ginger, vegetables.
Main fruits Banana, jackfruit, orange, cashew nut.
Hats, bazars and fairs Thanchi Bazar, Bara Madag Bazar, Chotto Madag Bazar, Bali Bazar, Tindu Bazar and Remakry Bazar are notable.
Main exports Turmeric, ginger, cane, bamboo, wood.
Access to electricity All the unions of the upazila are under rural electrification net-work. However 0.55% of the dwelling households have access to electricity.
Natural resources Bamboo, cane, wood, stone.
Sources of drinking water Tube-well 7.05%, tap 0.12%, pond 1.51% and others 91.32%.
Sanitation 2.25% (rural 1.95% and urban 3.92%) of dwelling households of the upazila use sanitary latrines and 43.20% (rural 44.05% and urban 38.35%) of dwelling households use non-sanitary latrines; 54.55% of households do not have latrine facilities.
Health centres Upazila health complex 1, family planning centre 1, community clinic 3, veterinary hospital 2.
NGO activities Operationally important NGOs are brac, caritas, UNDP. [Atikur Rahman]
References Bangladesh Population Census 2001, Bangladesh Bureau of Statistics; Cultural survey report of Thanchi Upazila 2007.