Uttara Thana (Dhaka metropolitan) area 36.91 sq km, located in between 23'51' and 23'52' north latitudes and in between 90'22' and 90'24' east longitudes. It is bounded by turag thana and gazipur sadar upazila on the north, bimanbandar and pallabi thanas on the south, dakshinkhan thana on the east, Pallabi and turag thanas on the west.
Population Total 66636; male 37382, female 29254; Muslim 64769, Hindu 1376, Buddhist 340, Christian 133 and others 18.
Administration 'Uttara Thana was formed in 1988.
Thana
Ward
Mohalla
Population
Density (per sq km)
Literacy rate (%)
Urban
Rural
Urban
Rural

1




13




66636




-




11295




65.67




-
Ward
Name number of Ward
Area (sq km)
Population
Literacy rate (%)
Male
Female

Ward no. 1




5.90




37382




29254




65.67



Source  Bangladesh Population Census 2001, Bangladesh Bureau of Statistics.
Marks of the War of Liberation 'Mass grave 1 (at a place adjacent to the railway in Uttara, Sector 4).
Religious institutions 'Mosque 10.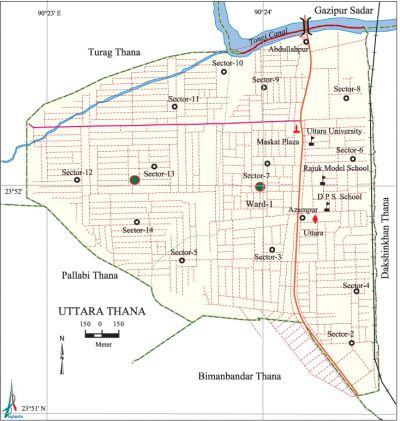 Literacy rate and educational institutions Average literacy 65.67%, male 71.26%, female 58.42%. Noted educational institutions: private university 5, mohila medical college 1, mohila law college 1, secondary school 5, primary school 70, madrasa 3. Noted educational institutions: Uttara University (2003), Rajuk Uttara Model College (1994), DPS STS School.
Cultural organisations 'Club 2, theatre stage 1, music academy 1, playground 2, community centre 7.
Important Installations' Civil Aviation Authority of Bangladesh, headquarter of bangladesh national cadet corps.
Main sources of income Agriculture 2.09%, non-agricultural labourer 3.70%, industry 0.72%, commerce 20.38%, transport and communication 6.64%, service 38.38%, construction 4.33%, religious service 0.15%, rent and remittance 1.82% and others 21.79%.
Ownership of agricultural land Landowner 58.69%, landless 41.31%.
Main crops 'Vegetables.
Extinct or nearly extinct crops 'Aus paddy, jute, wheat, oil seed.
Main fruits 'Mango, jackfruit, banana, blackberry, coconut.
Communication facilities Total roads: 95.890 km.
Extinct or nearly extinct traditional transport Palanquin, horse carriage, bullock cart.
Cottage industries Goldsmith, blacksmith, handicrafts, bamboo work, wood work, cane work.
Hats, bazars, fairs and shopping centres' Bazars 4, shopping centres 4, restaurants 18, residential hotels 2, fair 1; Baishakhi Mela (DIT field) is notable.
Main exports 'Ready made garments.
Access to electricity All the wards and mahallas of the thana are under electrification net-work. However 67.28% of the dwelling households have access to electricity.
Sources of drinking water Tube-well 27.28%, pond 0.48%, tap 63.92% and others 8.32%.
Sanitation 66.35% of dwelling households of the thana use sanitary latrines and 27.90% of dwelling households use non-sanitary latrines; 5.75% of households do not have latrine facilities.
Health centres Health complex 4, hospital 3, family planning centre 2, clinic 2.
NGO activities Operationally important NGOs is' brac. [Abu Hasan Farooque]
References' Bangladesh Population Census 2001, Bangladesh Bureau of Statistics.