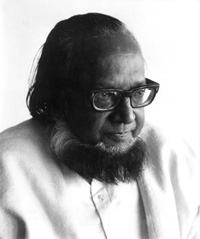 Ahsan, Syed Ali (1920-2002) educationist and writer, was born in the village of Alokdia of Magura district on 26 March 1920. His father, Syed Ali Hamed, was a School Inspector. His mother, Syeda Kamrunnegar Khatun, was the daughter of Syed Mokarram Ali, the zamindar and pir of Agla village in Nawabganj thana, Dhaka. He grew up in an atmosphere steeped in sufi traditions inherited from both his paternal and maternal ancestors.
While studying at Armanitola School in 1937, Syed Ali Ahsan published a poem called 'The Rose' in his school magazine. Subsequently, stories, essays and poems written by him in Bangla were published in magazines such as azad, mohammadi and saogat. When he was a student of the department of English in Dhaka University his essay titled 'Kavi Satyendranath Dutta' was published in the quarterly Parichay, a magazine edited by [[|sudhindranath dutta|thumbnail|300px|right|Dutta, Sudhindranath]].
At that time he participated actively in the Muslim nationalist movement and established the purba pakistan sahitya sangsad (East Pakistan Literary Council) with the teachers and students of Dhaka University. He became secretary of the organisation and his cousin, Syed Sazzad Hussain, became its president. With the assistance of some newly educated youths they campaigned actively for the formation of the state of Pakistan. They also drew inspiration from the thoughts of TS Eliot and Irish Revival and the tradition of Bangla puthi literature and Muslim cultural heritage to build up an intellectual movement for independence.    
After passing BA (Hons) and MA in English from the University of Dhaka Syed Ali Ahsan taught in a college for some time. In 1945 he joined the Calcutta centre of All India Radio as a producer of literary programmes. From that time he was in close contact with many famous litterateurs and intellectuals of home and abroad. He himself also became known as a poet. He translated the selected poems of Eliot and Iqbal. He composed poems focusing on Islamic thoughts and themes on one side and Lenin and other social issues on the other. He became a lecturer of the department of Bangla in Dhaka University in 1949.
In 1954 Syed Ali Ahsan joined Karachi University as a Reader of Bangla and head of the department. He published from Karachi an English half-yearly magazine about bangla language and literature. For some years he was associated with the international writers' guild 'PEN' and 'Congress for Cultural Freedom'. This association enabled him to represent his country in many international conferences held in Europe, South America and different countries of South-East Asia. From 1960 to 1967 he was Director of the bangla academy. At that time his leadership in the cultural and intellectual fields became widely appreciated. He was able to involve a number of poets and litterateurs in the activities of institutions such as the Bangla Academy and National Book Centre.
In 1967 Ali Ahsan became Professor of Bangla and Dean of the Arts Faculty of the newly established Chittagong University. For more than three years he led many educational and literary programmes of Chittagong and adjacent areas. At the beginning of the war of liberation in March 1971 he went to India. In calcutta he worked for independence for nine months. He played an important role in building up local and world public opinion through his speeches and writings.
Ali Ahsan was appointed Vice Chancellor of jahangirnagar university in 1972. In addition to developing the newly-established university as a modern and full-fledged institution he played a key role in many important national events. He helped in finalising the Bangla version of the constitution of Bangladesh and constitution of the Bangla Academy. He also played a part in combining Bangla Academy and Bangla Development Board, and contributed to the Informal Education Commission. Moreover, he was responsible for the official version of the English translation of the national anthem of Bangladesh.
Ali Ahsan joined the university of rajshahi as its Vice Chancellor on 27 September 1975. On 26 June 1977 he became a member of the advisory committee of the president concerning the Ministry of Education, Culture, Sports and Religious Affairs. He joined the Bangla department in Rajshahi University as a supernumeric professor on 24 July 1978. From 1980 he began lecturing as a part-time teacher at the Fine Art Institute of Dhaka University for some time and led many research projects. He published a half-yearly English magazine, Approach, in January 1982. Then he established Bangladesh Kavita Kendra and helped organise two Asian poetic festivals in Dhaka. In 1989 he became a national professor and was appointed the Chairman of the university grants commission. He became Vice Chancellor of Darul Ihsan University, a private university located in Dhaka, in 1999.
Professor Ahsan was honoured with a number of awards at home and abroad. He received the Bangla Academy Prize for poems in 1967, the Ekushey Padak in 1983 and the Swadhinata Padak in 1987. Moreover, he won a special honours certificate at the World Hindi Conference held in Nagpur in 1974 and the Officer De L'ordre Des Arts Et Des Lettres medal and certificate of the French government in 1992. Two years before his death he received two gold medals from the Government of Bangladesh and International Mother Language Day Institute for his work as an educationist and a linguist.
Some noteworthy English and Bangla books by Syed Ali Ahsan are Our Heritage (1948), Iqbaler Kavita (editor, 1952), Kavitar Katha (1952), Nazrul Islam (1954), Bangla Sahityer Itibrtta - Adhunik Kal (with Muhammad Abdul Hai, 1956), Premer Kavita (French translation Poems d'amour: Claire and Yvan Goll, 1959), Walt Whiteman-er Kavita (1965), Padmavati (editor, 1968), Kavyasamagra (1974), Rabindranath: Kavyavicharer Bhumika (1974), German Sahitya (1976), Adhunik Bangla Kavita: Xabder Anubad Madhusudan: Kavya Kavi O Kavyadarxa, Nirbachita Kavita (1996) Kathabichita: Bishvasahitya (2001), Bangla Sahityer Itihas - Prachinyug, Bangla Sahityer Itihas - Madhyayug (2001), Bangladeshi Jatiyatabad: Amader Atmaparichay (2002), and America: Amar Kichhu Katha (2002).
Syed Ali Ahsan breathed his last on 25 July 2002. He was buried next to the Jahangirnagar University Mosque with national honour. [Mahmud Shah Qureshi]