Akhaura Upazila (brahmanbaria district) area 99.28 sq km, located in between 23°47' and 23°54' north latitudes and in between 91°07' and 91°15' east longitudes. It is bounded by brahmanbaria sadar upazila on the north, kasba upazila on the south, Tripura State of India on the east and Brahmanbaria Sadar and Kasba upazilas on the west. Once upon a time Akhaura is included in the Tripura province of India. Recently Akhaura is an important railway junction of Bangladesh. Now this junction has a connection with chittagong, sylhet, dhaka and mymensingh.
Population Total 130319; male 66002, female 64317; Muslim 122441, Hindu 7849 and others 29.
Water bodies Haura and Titas rivers and Pipuli beel are notable; jalmahal 15.
Administration Akhaura Thana was formed on 20 June 1976 and it was turned into an upazila in 1983. Akhaura Paurasabha was formed in 1999.
Upazila
Municipality
Union
Mouza
Village
Population
Density (per sq km)
Literacy rate (%)
Urban
Rural
Urban
Rural

1

5

107

113

32374

97945

1313

55.85

48.00
Municipality

Area
(sq km)

Ward

Mahalla

Population

Density
(per sq km)

Literacy rate (%)

8.22

9

23

32374

3938

55.85
Union
Name of union and GO code
Area (acre)
Population
Literacy rate (%)
Male
Female

Uttar Akhaura 19

141

661

648

42.22

Dakshin Akhaura 90

3439

5385

5211

52.21

Dharkhar 57

8087

14557

14600

45.58

Maniand 76

5589

11469

11416

54.56

Mogra 85

4578

13047

12445

44.78
Source Bangladesh Population Census 2001, Bangladesh Bureau of Statistics.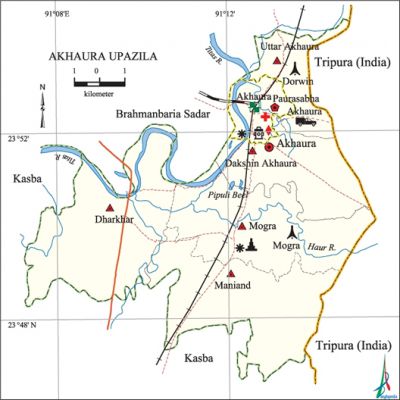 Archaeological heritage and relics Mazar of Hazrat Syed Ahmad Gechhudaraj, known as Kalla Shaheed (R) at Kharampur, Chhatura Sharif Bara Mosque, Mathkhola at Mogra, Kachhari (revenue office) of Maharaj.
History of the War of Liberation During the war of liberation in 1971 Akhaura was under Sector 2. The important battle fields of the upazila were Akhaura, Devgram, Taragan, Check post road and Daruin. Bir Shrestha Sipahi mohammad mostafa kamal was killed on 18 April 1971 in a frontal encounter with the Pak army at village Daruin. The tomb of Birshrestha Sipahi Mostafa Kamal is located in this village.
Marks of War of Liberation Mass grave 2 (western bank of the Mogra Gangasagar Dighi and at Senarbadi of Akhaura-Tripura border).
Religious institutions Mosque 175, temple 7, eidgah 22.
Literacy rate and educational institutions Average literacy 50%; male 51.9%, female 48.2%. Educational institutions: college 1, secondary school 15, primary school 45, community school 6, satellite school 6, madrasa 188. Noted educational institutions: Debgram Pilot High School (1905), Bangladesh Railway Government High School (1920), Shaheed Smriti College (1972).
Main sources of income Agriculture 44.23%, non-agricultural labourer 2.70%, industry 0.80%, commerce 19.17%, transport and communication 5.36%, service 10.16%, construction 1.32%, religious service 0.26%, rent and remittance 8.01% and others 7.99%.
Ownership of agricultural land Landowner 51.02%, landless 48.98%; agricultural landowner: urban 34.02% and rural 56.87%.
Main crops Paddy, jute, wheat, potato, vegetables.
Extinct or nearly extinct crops Oil seeds and varieties of pulse.
Main fruits Jackfruit, litchi, coconut, guava, mango, black berry, banana, plum, papaya.
Fisheries, dairies and poultries This upazilla has a number of fisheries, dairies and poultries.
Communication facilities Roads: pucca road 80 km, semi-pucca road 15 km, mud road 150 km; waterways 21 nautical miles; railway station 3.
Extinct or nearly extinct traditional transport palanquin, boat.
Noted manufactories Saw mill, rice mill, oil mill, biscuit factory, fish-food production factory.
Cottage industries Blacksmith, potteries, bamboo and woodworks.
Hats, bazars and fairs Hats and bazars are 32; most noted of which are Mogra, Akhaura bazars and Dharkhar and Kalibari's Vatamatha melas.
Access to electricity All the wards and unions of the upazila are under rural electrification net-work. However 31.55% of the dwelling households have access to electricity.
Sources of drinking water Tube-well 94.72%, pond 0.56%, tap 0.79% and others 3.39%.'
Sanitation 61.74% (rural 59.41% and urban 68.49%) of dwelling households of the upazilla use sanitary latrines and 30.36% of dwelling houses use non-sanitary latrines; 7.90% of households do not have latrine facilities.
Health centres Upazilla health complex 1, satellite clinic 5, hospital 1, family welfare centre 3, clinic 4, diagnostic centre 4.
NGO activities Operationally important NGOs are brac, asa, proshika. [Mohammad Mofiz Udin]
References Bangladesh Population Census 2001, Bangladesh Bureau of Statistics; Cultural survey report of Akhaura Upazila 2007.