Bakshiganj Upazila (jamalpur district) area 204.30 sq km, located in between 25°06' and 25°18' north latitudes and in between 89°47' and 89°57' east longitudes. It is bounded by Meghalaya state of India on the north, islampur upazila on the south, sreebardi upazila on the east, dewanganj upazila on the west. The garo Hills are on the north east part of the upazila.
Population Total 178436; male 91327, female 87109; Muslim 175891, Hindu 2006, Buddhist 473 and others 66. Indigenous community such as garo belongs to this upazila.
Water bodies Main rivers: old brahmaputra, Dashani, Jirjira; Singijan beel, Kuiya beel' and Jirjira beel are notable.
Administration Bakshiganj Thana was formed on 30 April 1982 and it was turned into an upazila on 14 September 1983.
Upazila
Municipality
Union
Mouza
Village
Population
Density (per sq km)
Literacy rate (%)
Urban
Rural
Urban
Rural

-

7

25

196

9164

169272

873

41.7

29.5
Upazila Town

Area
(sq km)

Mouza

Population

Density
(per sq km)

Literacy rate (%)

3.86

1

9164

2374

41.7
Union
Name of union and GO code
Area (acre)
Population
Literacy rate (%)
Male
Female

Dhanua 47

7173

8201

7962

37.10

Nilakshmia 71

5201

11000

10654

24.45

Bakshiganj 23

7622

20304

19393

34.99

Bagar Char 11

8566

16749

16251

26.74

Battajore 35

6297

11368

10739

37.61

Merur Char 59

9293

13668

12784

25.41

Shadhur Para 83

6331

10037

9326

23.43
Source Bangladesh Population Census 2001, Bangladesh Bureau of Statistics.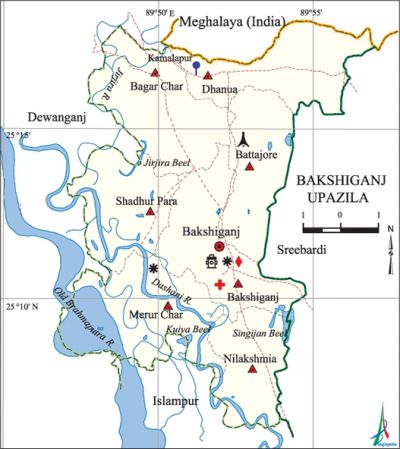 History of the War of Liberation During the' war of liberation in 1971 the freedom fighters attacked Kamalpur Pak army camp a number of times crossing the Indian border and coming through Bakshiganj upazila. On 31 July 1971 the freedom fighters, under the command of Major Moinul Hussain Chowdhury (Battalion Commanding Officer of the 1st East Bengal Regiment of Sector 11) attacked the Kamalpur Pak army camp with heavy casualty on the enemy side. During the War 35 freedom fighters including Captain Salahuddin Momtaz, Ahaduzzaman and Abul Kalam Azad were killed in encounters with the Pak army. Col. Abu Taher got seriously wounded by explosion on 14 November 1971 in an encounter with the Pak army. Bakshiganj Upazila was liberated on 5 December 1971.
Marks of the War of Liberation Mass grave 7 (Bakshiganj High School playground, Kamalpur health centre, Kamalpur Bazar, Battajore, Dhanua, Bakshiganj cattle market, Bakshiganj Bazar), memorial monument 1.
Religious institutions Mosque 275, temple 2, church 2. Noted religious institutions: Bakshiganj Mosque, Dhanua Mosque, Kamalpur Mosque, Battajore Mosque.
Literacy rate and educational institutions Average literacy 30.2%; Male 34.4%, female 25.8%. Educational institutions: college 3, secondary school 18, primary school 90, community school 5, textile and vocational school 1, madrasa 22. Noted educational institutions: Bakshiganj Govt. KU College (1972), Sarmara Nasir Uddin High School (1911), Bakshiganj Nur Mohammad High School (1935), Nilakhsmia Pilot High School (1935), Dhanua Kamalpur High School (1964), Battajore KRI Senior Madrasa (1937).
Cultural organisations Club 35, cinema hall 2, women organisation 5, playground 22.
Tourist spots Picnic spot at Lauchapara, memorial monument of martyr freedom fighters at Kamalpur, Goro hill, remnants of neelkhuthis at Nilakshmia and Charkauria and land port of Dhanua Kamalpur.
Main sources of income Agriculture 69.06%, non-agricultural labourer 3.01%, industry 0.38%, commerce 11.90%, transport and communication 2.27%, service 3.82%, construction 1.22%, religious service' 0.23%, rent and remittance 0.13% and others 7.98%.
Ownership of agricultural land Landowner 50.34%, landless 49.66%; agricultural landowner: urban' 26.53% and rural 51.60%.
Main crops Paddy, jute, wheat, cotton, mustard, sugarcane, sweet potato, gram, lentil, turmeric, onion, vegetables.
Extinct or nearly extinct crops Corn, sesame, linseed, kaun.
Main fruits Water melon, black berry, banana, papaya, pineapple.
Fisheries, dairies and poultries This upazila has a number of fisheries, dairies and poultries.
Communication facilities Pucca road 56 km, semi-pucca road 23 km, mud road 275 km.
Extinct or nearly extinct traditional transport Palanquin, bullock cart, horse carriage.
Cottage industries Goldsmith, weaving, bamboo work, cane work, nakshi kantha.
Hats, bazars and fairs Hats and bazars are 10, fairs 4, most noted of which are Nayim Miar Hat, Kamalpur Bazar and Sarmara Austami Mela, Battajore Akhra Mela and Shah Kamal (R) Mela at Kamalpur.
Main exports Paddy, jute, mustard, cotton, onion, turmeric, vegetables.
Access to electricity All the unions of the upazila are under rural electrification net-work. However 7.46% (rural 6.27% and urban 29.92%) of the dwelling households have access to electricity.
Sources of drinking water Tube-well 86.99%, tap 0.31%, pond 0.30% and others 12.41%. The presence of arsenic has been detected almost 70% in shallow tube-well water of this upazila.
Natural resources Stone, white clay.
Sanitation 21.65% (rural 36.39% and urban 20.87%) of dwelling households of the upazila use sanitary latrines and 40.94% (urban 25.80% and rural 41.74%) of dwelling households use non-sanitary latrines; 37.41% of households do not have latrine facilities.
Heath centres Upazila health complex 1, family planning centre 7, satellite clinic 7.
Natural disasters There were heavy damages to settlements, livestock and crops due to earth quake of 1930 and floods of 1931 and 1988.
NGO activities brac, asa, care, Unnayan Sangha. [Sayed Md Abdullah Al Mamun Chowdhury]
References Bangladesh Population Census 2001, Bangladesh Bureau of Statistics; Cultural survey report of Bakshiganj Upazila 2007.'