Bandarban Sadar Upazila (bandarban district) area 501.99 sq km, located in between 21°55' and 22°22' north latitudes and in between 92°08' and 92°20' east longitudes. It is bounded by rajasthali upazila on the north, lama upazila on the south, rowangchhari and ruma upazilas on the east, rangunia, chandanaish, satkania and lohagara upazilas on the west. Marmiana Tang and Bothil Tang hills of this upazila are notable. There are a number of waterfalls in the upazila.
Population Total 68693; male 39026, female 29667; Muslim 29185, Hindu 5329, Buddhist 3074, Christian 29365 and others 1740.
Water bodies sangu river and Swalak canal are notable.
Administration Bandarban Thana was formed in 1923 and it was turned into an upazila in 1984.
Upazila
Municipality
Union
Mouza
Village
Population
Density (per sq km)
Literacy rate (%)
Urban
Rural
Urban
Rural

1

5

16

224

38578

30115

137

57.1

24.6
Municipality

Area
(sq km)

Ward

Mahalla

Population

Density
(per sq km)

Literacy rate
(%)

25.9

9

61

32151

1241

63.06
Upazila Town

Area
(sq km)

Mouza

Population

Density
(per sq km)

Literacy rate
(%)

26.19

2

6427

245

24.69
Union
Name of union and GO code
Area (acre)
Population
Literacy rate (%)
Male
Female

Kuhalong 31

21120

5204

4768

27.72

Tankabati 79

37760

2083

1786

9.16

Bandarban 15

14151

4043

3587

23.04

Rajbila 47

25600

3741

3362

26.04

Swalak 63

18560

4289

3679

27.87
Source Bangladesh Population Census 2001,Bangladesh Bureau of Statistics.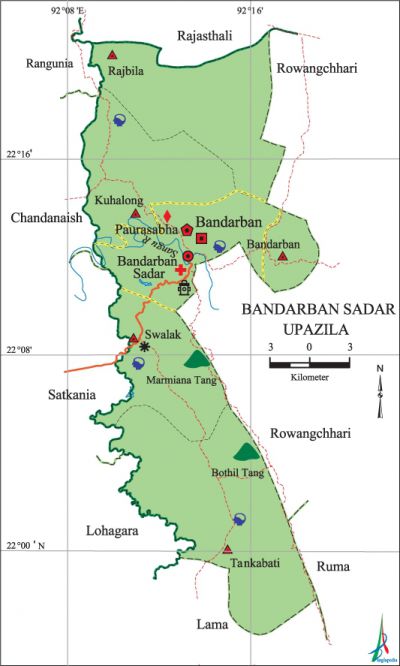 History of the War of Liberation During the war of liberation in 1971 Bandarban was under Sector 1. The Pak army conducted mass killing and plundering in this upazila; they also set many houses on fire. '
Marks of War of Liberation Memorial monument 1.
Religious institutions Mosque 101, temple 10, church 22, math 2, sacred place 1, keyang 70, ashrama 3.
Literacy rate and educational institutions Average literacy 43.2%; male 50.3%, female 33.4%. Educational institutions: college 2, technical college 1, secondary school 15, primary school 66, community school 4, kindergarten 1, madrasa 2. Noted educational institutions: Bandarban technical school and college, Bandarban Cantonment Public School and College, Bandarban Government High School, Sangu High School, Bandarban Government Girl's School, Bandarban Ideal Government primary school.
Newspapers and periodicals Daily: Natun Bangladesh, Sachitro; fortnightly: Sangu; Periodical: Bandarban, Nilachal, Chimbuk.
Cultural organisations Library 2, club 4, community centre 1, Shilpakala Academy 1, Shishu Academy 1, auditorium 2, cultural organisation 18, women organisation 76, tribal cultural institute 1, cinema hall 1, playground 6.
Tourist spots Bandarban Golden Temple, Meghla, Nilgiri, Shoila Propat and Rajbari.
Main sources of income Agriculture 47.01%, non-agricultural labourer 8.13%, industry 0.28%, commerce 13.76%, transport and communication 2.93%, service 16.01%, construction 3.24%, religious service 0.31%, rent and remittance 0.75% and others 7.58%.
Ownership of agricultural land Landowner 31.07%, landless 68.93%; agricultural landowner: urban 18.63% and rural 45.52%.
Main crops Paddy, sesame, cotton, turmeric, ginger, vegetables.
Main fruits Banana, pineapple, papaya, jackfruit.
Fisheries, dairies and poultries Fishery 56, dairy 7, poultry 20.
Communication facilities Pucca road 93 km, semi-pucca road 112 km, mud road 460 km; waterway 30 nautical miles.
Extinct or nearly extinct traditional transport Palanquin, bullock cart and horse carriage.
Cottage industries Weaving, wood work, bamboo and cane work.
Hats, bazars and fairs Hats and bazars are 7, fairs 1, most noted of which are Bandarban, Suwalak and Balaghata hats. Purnia Mela of Bomang Raja is notable.
Main exports Banana, bamboo, cotton, ginger, turmeric, tribal dresses.
Access to electricity All the wards and unions of the upazila are under rural electrification net-work. However 35.13% of the dwelling households have access to electricity.
Sources of drinking water Tube-well 38.23%, tap 23.41%, pond 5.99% and others 32.37%.
Sanitation 18.3% (rural 3.34% and urban 31.8%) of dwelling households of the upazila use sanitary latrines and 54.2% (rural 48.28% and urban 59.3%) of dwelling houses use non-sanitary latrines; 27.5% of households do not have latrine facilities.
Health centres Upazila health complex, union health and family welfare centre 5, family planning centre 1, maternity and child welfare centre 2, community clinic 2, diagnostic centre 6, animal treatment centre 4.
NGO activities Operationally important NGOs are brac, proshika, caritas. [Atikur Rahman]
References Bangladesh Population Census 2001, Bangladesh Bureau of Statistics; Cultural survey report of Bandarban Sadar Upazila 2007.