Rajasthali Upazila (rangamati district) area 145.04 sq km, located in between 22°17' and 22°26' north latitudes and in between 92°06' and 92°22' east longitudes. It is bounded by kaptai upazila on the north, bandarban sadar and rowangchhari upazilas on the south, belaichhari upazila on the east, rangunia upazila on the west.
Population Total 22611; male 12142, female 10469; Muslim 5151, Hindu 1624, Buddhist 1716, Christian 14112 and others 8. Indigenous communities such as chakma, marma, Tanchanga, tripura, chak, khumee, lushei and Pankhoa belong to this upazila.
Water bodies Main river: karnafuli.
Administration Rajasthali Thana, now an upazila, was formed in 1909.
Upazila
Municipality
Union
Mouza
Village
Population
Density (per sq km)
Literacy rate (%)
Urban
Rural
Urban
Rural

-

3

9

102

6209

16402

156

42.1

30.9
Upazila Town

Area (sq km)

Mouza

Population

Density (per sq km)

Literacy rate (%)

31.08

2

6209

200

42.08
Union
Name of union and GO code
Area (acre)
Population
Literacy rate (%)
Male
Female

Gainda 71

10880

4117

3674

33.11

Ghila Chhari 46

18560

3828

3279

27.37

Bangalhalia 23

6400

4197

3516

40.85
Source  Bangladesh Population Census 2001, Bangladesh Bureau of Statistics.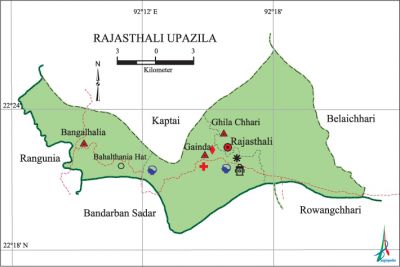 History of the War of Liberation In 1971 the Pak army conducted mass killing, torture and plundering; they also set many houses of the upazila on fire. The separatist Mizo armed guerrillas of the Mizoram state of India collaborated with the Pak army in this upazila during the war of liberation. An encounter between the freedom fighters and the Pak army was held in Gainda union (border area of Bandarban district) in which 5 freedom fighters were killed. Rajasthali was liberated on 15 December.
Religious institutions Mosque 16, temple 3, church 2, pagoda 28.
Literacy rate and educational institutions Average literacy 34%; male 42%, female 24.3%. Educational institutions: college 2, secondary school 6, primary school 32, community school 3. Noted educational institutions: Rajasthali College, Bangalhalia College, Rajasthali Taitongpara Government High School, Bangalhalia High School.
Cultural organisations Library 5, club 8, cinema hall 2, jatra party 2, women organisation 9, playground 16.
Main sources of income Agriculture 58.33%, non-agricultural labourer 12.69%, commerce 12.45%, service 6.49%, construction 0.71%, rent and remittance 0.53% and others 8.80%.
Ownership of agricultural land Landowner 48.01%, landless 51.99%; agricultural landowner: urban 39.39% and rural 65.48%.
Main crops Sugarcane, maize, pulse, cotton, tobacco, arahar, ginger, turmeric, bamboo, cane.
Extinct or nearly extinct crops Sesame, linseed, kaun.
Main fruits Jackfruit, lemon, banana, orange, watermelon, pineapple, papaya, betel nut.
Fisheries, dairies and poultries Fishery 6, dairy 22, poultry 65. Besides, varieties of fishes are caught from the nearby Kaptai Lake.
Communication facilities Pucca road 228 km, semi-pucca road 20 km, mud road 267 km; waterway 59.4' nautical miles. Bridge 15, culvert 30.
Noted manufactories Rice mill 2, pulse mill 1, cotton mill 5.
Cottage industries Weaving 80, potteries 2, wood work 4, bamboo and cane work 20.
Hats, bazars and fairs Hats and bazars are 13, fairs 2, most noted of which are Rajasthali Bazar, Sakhipur Hat, Kakrachhari Hat, Kamalchhari Bazar, Islampur Bazar, Balipara Hat and Gailamukh Bazar.
Main exports Pineapple, banana, cane, lemon, water melon, jackfruit, segun timber, bamboo.
Access to electricity All the unions of the upazila are under rural electrification net-work. However 13.18% of the dwelling households have access to electricity.
Sources of drinking water Tube-well 49.30%, tap 0.49%, pond 2.64% and others 47.57%.
Sanitation 16.46% (rural 13.23% and urban 25.57%) of dwelling households of the upazila use sanitary latrines and 50.78% (rural 48.08% and urban 58.43%) of dwelling households use non-sanitary latrines; 32.76% of households do not have latrine facilities.
Health centres Hospital 1, union health centre 1, upazila health complex 1, clinic 3, family planning centre 3, rural health centre 1.
NGO activities Operationally important NGOs are brac, asa, proshika. [Gautam Chandra Modak]
References Bangladesh Population Census 2001, Bangladesh Bureau of Statistics; Cultural survey report of Rajasthali Upazila 2007.