Belkuchi Upazila (sirajganj district) area 158.87 sq km, located in between 24°13' and 24°22' north latitudes and in between 89°37' and 89°47' east longitudes. It is bounded by sirajganj sadar upazila on the north, shahjadpur and chauhali upazilas on the south, kalihati and tangail sadar upazilas on the east, kamarkhanda and ullahpara upazilas on the west.
Population Total 352835; male 179738, female 173097; Muslim 333735, Hindu 18949, Buddhist 8, Christian 50 and others 93.
Water bodies Main rivers: jamuna and hurasagar; Chandi beel is notable.
Administration Belkuchi Thana was formed in 1921 and it was turned into an upazila in 1983.
Upazila
Municipality
Union
Mouza
Village
Population
Density (per sq km)
Literacy rate (%)
Urban
Rural
Urban
Rural
1
6
100
131
75364
277471
2221
49.6
44.5
Municipality
Area
(sq km)
Ward
Mahalla
Population
Density
(per sq km)
Literacy rate (%)
19
9
14
75364
3967
49.6
Union
Name of union and GO code
Area (acre)
Population
Literacy rate (%)
Male
Female
Daulatpur 54
5149
45259
42977
45.2
Dhukaria Bera 67
7472
29370
28669
43.4
Baradhul 13
7269
9730
9666
36.2
Belkuchi 27
3095
5040
5049
28.8
Bhangabari 40
5877
26822
26558
52.3
Rajapur 81
6178
24343
23988
42.3
Source Bangladesh Population Census 2011, Bangladesh Bureau of Statistics.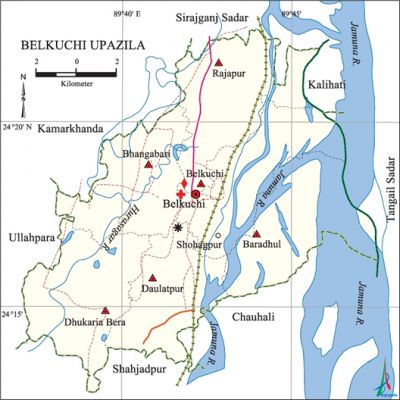 War of Liberation On 7 December 1971 a battle was fought between the freedom fighters and the Pak army on WAPDA dam of Rajapur union in which the Pak army was defeated and one freedom fighter was killed. Another battle was fought between the freedom fighters and the Pak army at the north side of the graveyard of Tamai Paschimpara of Bhangabari union in which three Pakistani soldiers and two freedom fighters were killed.
For details: see বেলকুচি উপজেলা, বাংলাদেশ মুক্তিযুদ্ধ জ্ঞানকোষ (Encyclopedia of Bangladesh War of Liberation), বাংলাদেশ এশিয়াটিক সোসাইটি, ঢাকা ২০২০, খণ্ড ৭।
Religious institutions Mosque 441, temple 72, church 1. Noted religious institutions: Ajgara Marcaques Jami Mosque, Sohagpur Kalibari Temple.
Literacy rate and educational institutions Average literacy 45.7%; male 48.2%, female 43.1%. Educational institutions: college 5, secondary school 23, primary school 137, KG school 26, community school 3, madrasa 18. Noted educational institutions: Belkuchi Degree College (1970), Belkuchi Mahila College (1998), Daulatpur Degree College (1999), Baniagati Science and Technical College (2001), Shyam Kishore Pilot High School (1913), Satinath Academy, Sohagpur SK Pilot High School, Sohagpur Pilot Girls' High School (1967), Daulatpur High School (1918), Saidabad High School (1965), Megillah Senior Madrasa (1955).
Cultural organisations Library 2, club 42, cinema hall 6, play ground 13, women's organisation 145.
Main sources of income Agriculture 22.22%, non-agricultural labourer 5.36%, commerce 19.44%, transport and communication 1.92%, industry 24.38%, service 4.82%, construction 1.07%, religious service 0.26%, rent and remittance 1.15% and others 9.38%.
Ownership of agricultural land Landowner 41.92%, landless 58.08%; agricultural landowner: urban 24.55% and rural 43.08%.
Main crops Paddy, wheat, jute, mustard seed, potato, pulses, ground nut, burley, kaun, vegetables.
Extinct or nearly extinct crops Sesame, linseed.
Main fruits Mango, jackfruit, black berry, litchi, papaya, banana, guava.
Fisheries, dairies and poultries Fishery 31, dairy 7, poultry 193.
Communication facilities Pucca road 68 km, semi-pucca road 1 km, mud road 277 km.
Extinct or nearly extinct traditional transport Palanquin, bullock cart, horse carriage.
Cottage industries Weaving 5032, bamboo work 12, cane work 10, wood work 226.
Hats, bazars and fairs Hats and bazars are 37, fairs 3, most noted of which are Sohagpur Hat, Mukandagati Hat, Kandapara Hat and Boat Racing Mela (Sohagpur).
Main exports Paddy, jute, mustard seed, weaving cloths.
Access to electricity All the wards and unions of the upazila are under electricity net-work. However 55.7% dwellings have access to electricity.
Sources of drinking water Tube-well 96.9%, tap 0.5% and others 2.6%. The presence of intolerable level of arsenic has been detected in the tube well water of the upazila.
Sanitation 60.7% of dwelling households of the upazila use sanitary latrines and 34.7% of dwelling houses use non-sanitary latrines; 4.6% of households do not have latrine facilities.
Health centres Upazila health complex 1, family planning centre 6, satellite clinic 3, clinic 3.
Natural Disasters The floods of 1988 and 1998 and the tornado of 1998 caused heavy damages to settlements, livestock, crops and other properties of the upazila.
NGO activities brac, asa, thengamara mahila sabuj sangha. [Md Rafiqul Islam]
References Bangladesh Population Census 2001 and 2011, Bangladesh Bureau of Statistics; Cultural survey report of Belkuchi Upazila 2007.