Bhola District (barisal division) area 3737.21 sq km, located in between 21°54' and 22°52' north latitudes and in between 90°34' and 91°01' east longitudes. It is bounded by lakshmipur and barisal districts on the north, bay of bengal on the south, Lakshmipur and noakhali districts, Meghna river and Shahbazpur channel on the east, patuakhali and Barisal districts and Tentulia river on the west.
Population Total 1703117; male 884028, female 819089; Muslim 1630460, Hindu 72275, Buddhist 99, Christian 68 and others 215.
Water bodies meghna, tentulia and Ganeshpura river and Darogar canal are notable.
Administration Bhola sub-division was established under Noakhali district in 1845. At that time its administration centre was at Amania of Daulatkhan. The sub-division was included in Barisal district in 1869. The sub-division was then consisted of Daulatkhan and Burhanuddin Hat Thanas and three outposts such as Taltali, Gazipur and Tazumuddin. The sub-divisional head quarters was shifted from Daulatkhan to Bhola in 1876. It was elevated to a district on 1 February 1984. Of the 7 upazilas of the district char fasson is the largest (1440.04 sq km) and burhanuddin is the smallest (284.67 sq km) in size.
District
Area (sq km)
Upazila
Municipality
Union
Mouza
Village
Population
Density (per sq km)
Literacy rate (%)
Urban
Rural
3737.21
7
5
62
409
461
234302
1468815
456
36.89
Others Information of District
Name of upazila
Area (sq km)
Municipality
Union
Mouza
Village
Population
Density (per sq km)
Literacy rate (%)
Adamdighi
168.84
1
6
112
178
187012
1108
50.4
Char Fasson
1440.04
1
14
69
73
413593
287
37.8
Tazumuddin
512.92
-
5
62
80
120189
234
36.7
Daulat Khan
316.99
1
9
47
27
173253
547
37.3
Burhanuddin
284.67
1
9
57
58
244137
858
37.2
Bhola Sadar
413.16
1
13
98
122
408094
988
39.1
Manpura
373.19
-
3
21
27
67304
180
35.7
Lalmohan
396.24
1
9
55
74
276547
698
32.2
Source Bangladesh Population Census 2001,Bangladesh Bureau of Statistics.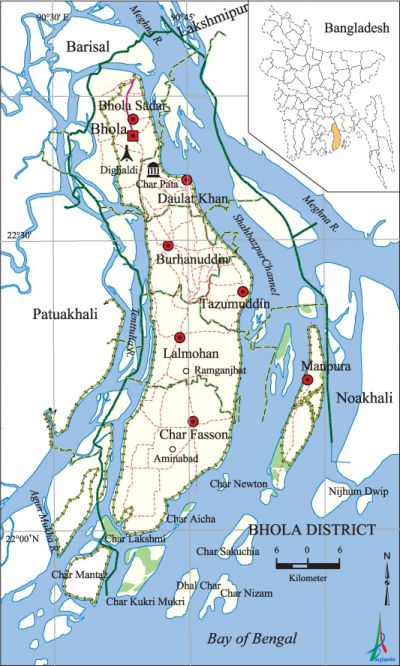 History of the War of Liberation During the war of liberation, 121 freedom fighters were killed in an encounter with the Pak army at Guinger Hat of the upazila. On 27 October 1971 a group of freedom fighters under Ansar Adjutant Ali Akbar took position at Tonir Hat, 10 km from Bhola in order to attack the Pak army. The Pak army conducted a surprise attack on the freedom fighters and killed 80 freedom fighters and many villagers. However, the freedom fighters took position at Guinger Hat, 7 km from Bhola, and continued attack on the Pak army and killed 5 Pak soldiers. After the War of Liberation the freedom fighters renamed Tonir Hat as Banglabazar. Another encounter between the freedom fighters and the Pak army was held in Burhanuddin upazila on 22 October 1971 in which 50 Pak soldiers and their collaborators were killed. The Pak army brutally killed Abdul Hamid, then the Circle Officer of daulatkhan upazila, and his wife. 11 freedom fighters were killed in an encounter with the Pak army at a place in between Aminabad and Sunamganj unions of Charfasson Upazila. Besides, 7 freedom fighters were killed in encounters with the Pak army in tazumuddin Upazila.
Marks of the War of Liberation Mass grave 1, Memorial sculpture 2.
Literacy rate and educational institutions Average literacy 36.89%; male 39.50%, female 34.09%. Educational institutions: college 7, secondary school 264, kindergarten 12, madrasa 257. Noted educational institutions: Bhola Govt. College (1962), Tazumuddin Degree College (1989), Burhanuddin Girls Degree College (1995), Manpura Degree College (1996), Lalmohan Govt. Shahbazpur College, Daulat Khan Govt High School (1916), Burhanuddin High School (1917), Bhola Govt. Boys High School (1918), Bhola Govt. Girls High School (1928), Chandpur Govt High School (1952), Daulat Khan Govt. Girls High School (1968), Fazilatunnesa Girls School (1972), Lord Hardinge Secondary School, Char Fasson Chairman Haidar Model Primary School (1932), Chandpur Model Govt. Primary School (1943), Bhola Darul Hadith Alia Madrasa, Illisha Fatemia Balika Dakhil Madrasa, Kandakpur Islamia Dakhil Madrasa, Burhanuddin Kamil Madrasa, Chachara Dakhil Madrasa.
Main sources of income Agriculture 63.64%, non-agricultural labourer 4.95%, industry 0.50%, commerce 12.67%, transport and communication 2.47%, service 5.74%, construction 1.55%, religious service 0.35%, rent and remittance 0.44% and others 7.69%.
Newspapers and periodicals Daily: Ajker Bholabani, Banglar Kantha, Ajker Bhola; weekly: Fasson Bartha, Upakul Bartha, Prothom Akash, Dipabani; periodical: Ahaban; defunct: Lalsurjo, Manpura Bani, Syamole, Ajker Bholabashi, Palli Chitra, Somoyer Shikha, Srabone, Dipshikha.
Folk culture Folk Music, Lalon geeti, Bhatiyali, Bhawaiya, Pala Gan, Kavigan, Shiva's Gajan, Marfati, Halkhata, Durga Puja, Chadak Puja are notable.
Tourist spots Char Kukrimukri, Bir Srestha mohammad mostafa kamal Memorial Museum (Alinagar union, Bhola Sadar), Manpura Island. [Md Sakhaowat Hossain]
See also Upazilas of the district.
References Bangladesh Population Census 2001, Bangladesh Bureau of Statistics; Cultural survey report of Bhola District 2007; Cultural survey report of upazilas of Bhola District 2007.