Demra Thana (Dhaka metropolitan) area 19.36 sq km, located in between 23°40' and 23°45' north latitudes and in between 90°27' and 90°31' east longitudes. It is bounded by khilgaon thana on the north, narayanganj sadar upazila on the south, rupganj and sonargaon upazilas on the east, kadamtali, jatrabari and sabujbagh thanas on the west.
Population Total 125312; male 69232, female 56080; Muslim 121948, Hindu 3276, Buddhist 27, Christian 49 and others 12.
Water bodies Main rivers: shitalakshya, balu.
Administration Demra Thana was formed in 1973; later on the thana was reconstituted.
Thana
Ward and Union
Mouza
Population
Density (per sq km)
Literacy rate (%)
Urban
Rural
Urban
Rural
3 (part)
19
-
125312
6473
-
58.58
Ward and Union
Ward and Union
Area (sq km)
Population
Literacy rate (%)
Male
Female
Demra (part)
8.89
8543
7437
56.39
Matuail (part)
2.28
13193
10575
54.96
Saralia (part)
8.19
47496
38068
64.40
Source Bangladesh Population Census 2001, Bangladesh Bureau of Statistics.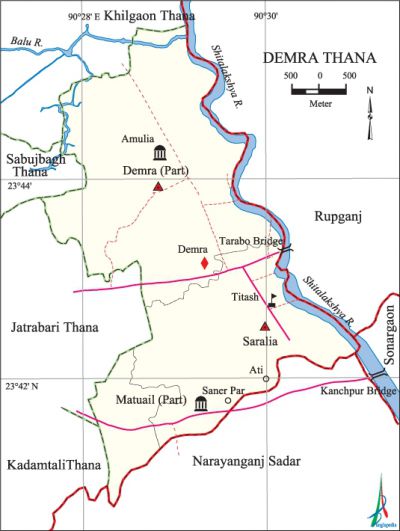 Religious institutions Mosque 100, temple 4. Noted religious institutions: Rasullabagh Baitul Aman Jami Mosque.
Literacy rate and educational institutions Average literacy 58.58%; male 61.14%, female 50.80%. Educational institutions: College 5, secondary school 17, primary school 55, madrasa 11. Noted educational institutions: Shamsul Haque Khan School and College, Bawani Adarsha School, Anandalok High School, Ali Akbar High School, Matuail Bohomukhi High School, Titas Gas Adarsha High School, Dayaganj Bazar Govt. Primary School, Islamia Madrasa.
Cultural organisations Library 4, club 10, cinema hall 3, playground 3.
Main sources of income Agriculture 4.39%, non-agricultural labourer 2.33%, industry 2.93%, commerce 25.70%, transport and communication 12.07%, service 30.66%, construction 3.91%, religious service 0.19%, rent and remittance 2.27% and others 15.55%.
Ownership of agricultural land Landowner 49.35%, landless 50.65%.
Main crops Paddy, wheat, vegetables.
Extinct or nearly extinct crops Jute, sesame, linseed, pulse.
Main fruits Mango, jackfruit, guava, coconut, papaya, plum, banana.
Communication facilities Total road 23.16 km.
Extinct or nearly extinct traditional transport Palanquin, horse carriage.
Noted manufactories Garments industry, flour mill, jute mill, steel mill.
Cottage industries Goldsmith, blacksmith, embroidery, wood work.
Hats, bazars and fairs Hats and bazars are 10; most noted of which are Saralia Hat and Rani Market.'
Main exports Cloth, flour.
Access to electricity All the unions of the thana are under electrification net-work. However 97.47% of the dwelling households have access to electricity.
Sources of drinking water Tube-well 69.32%, pond 0.28%, tap 28.61% and others 1.79%.
Sanitation 84.22% of dwelling households of the upazila use sanitary latrines and 15.33% of dwelling households use non-sanitary latrines; 0.45% of households do not have latrine facilities.
Health centres Health centre 2, maternity 1, family planning centre 7.
NGO activities Operationally important NGOs are brac, asa, proshika. [Md. Mohibur Rahman]
References Bangladesh Population Census 2001, Bangladesh Bureau of Statistics.