Kabirhat Upazila (noakhali district) area 185.25 sq km, located in between 22°44' and 22°53' north latitudes and in between 91°08' and 91°15' east longitudes. It is bounded by begumganj and senbagh upazilas on the north, companiganj upazila on the south, Companiganj upazila on the east, noakhali sadar upazila on the west.
Population Total 196944; male 92601, female 104343; Muslim 187271, Hindu 9666, Buddhist 5 and Christian 2.
Water body Noakhali Canal.
Administration Kabirhat upazila was formed on 6 August 2006 comprising parts of Noakhali Sadar upazila.
Upazila
Municipality
Union
Mouza
Village
Population
Density (per sq km)
Literacy rate (%)
Urban
Rural
Urban
Rural
1
7
68
68
17448
179496
1063
61.7
47.7
Municipality

Area (per sq km)

Wards

Mahalla

Population

Density (per sq km)

Literacy rate (%)

9.74
9
11
17448
1791
61.7
Union
Name of union and GO code
Area (acre)
Population
Literacy rate (%)
Male
Female
Ghoshbagh 55
6384
9993
11964
38.5
Chaprashirhat 27
3408
10880
12862
54.2
Dhan Shalik 35
11213
6977
7988
37.2
Dhan Siri 45
9949
17951
18189
25.8
Narottampur 70
4040
11950
13783
59.1
Bataiya 23
3542
12003
14218
65.7
Sundalpur 95
4834
14623
16115
53.2
Source Bangladesh Population Census 2011, Bangladesh Bureau of Statistics.
Archaeological heritage and relics Kabir Patwary Jami Mosque at village Ghoshbagh (Mughal period), three domed Hoiya Miah Mosque and mazar of Chhankhola Darvish (Narottampur union).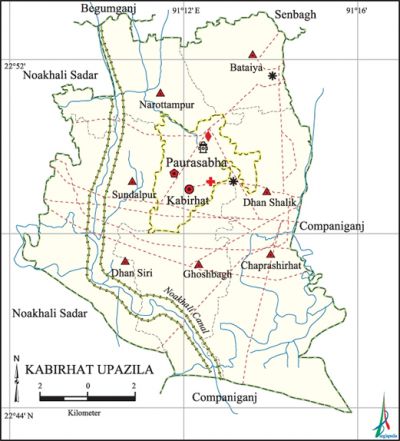 War of Liberation During the war of liberation in 1971 the local razakars established a camp at the Kabirhat High School. On 27 September the Pak army in collaboration with the razakars conducted heavy torture and plundering in Company Hat area and in village Alipur of Ghoshbagh Union; they also set many houses of this area on fire. On 17 October the freedom fighters launched an attack on the house of razakar Jalil in which Jalil was killed and so were a number of his companions. Freedom fighters had encounters with Pak army at Banchhrampur, Tal Mohammader hat, Chaprashir Hat, Koariarhat and some other places of the upazila. There is a mass killing site on the eastern side of the Kabirhat High School.
For details: see কবিরহাট উপজেলা, বাংলাদেশ মুক্তিযুদ্ধ জ্ঞানকোষ (Encyclopedia of Bangladesh War of Liberation), বাংলাদেশ এশিয়াটিক সোসাইটি, ঢাকা ২০২০, খণ্ড ২।
Literacy rate and educational institutions Average literacy 49.0%; male 48.8%, female 49.2%. Educational institutions:' college 2, secondary school 25, primary school 87, madrasa 8. Noted educational institutions: Kabirhat Government College (1967), Chaprashirhat High School (1913), Kabirhat High School (1938), Chaprashirhat Madrasa (1901), Kabirhat Madrasa (1905).
Cultural organisation Library 1.
Main crops Paddy, jute, pulses, vegetables.
Main fruits Mango, blackberry, plum, dates, coconut, betel nut.
Communication facilities Roads: pucca 152.24 km, semi-pucca 0.98 km, mud road 680.43 km.
Hats, bazars and fairs Hats and bazars are 20, most noted of which are Chaprashirhat, Kabirhat, Kalir Hat, Bhuiyan Hat, and Karam Bazar.
Access to electricity All the unions of the upazila are under rural electrification net-work. However 35.7% of the dwelling households have access to electricity.
Sources of drinking water Tube-well 80.8%, tap 0.3% and others 18.9%. The presence of arsenic in an intolerable level has been detected in the shallow tube-well water of the upazila.
Sanitation 56.4% of dwelling households of the upazila use sanitary latrines and 33.7% of dwelling households use non-sanitary latrines; 9.9% of households do not have latrine facilities.
Health centres Hospital 1, satellite clinic 9.
Natural disasters The cyclones and floods of 12 November 1970 and 29 April 1991 caused heavy damages to settlements, livestock and crops of the upazila.
NGO activities NRDS. [AM Saiful Islam]
References Bangladesh Population Census 2001 and 2011, Bangladesh Bureau of Statistics; Field report of Kabirhat Upazila 2007.