Senbagh Upazila (noakhali district) area 155.83 sq km, located in between 22°52' and 23°05' north latitudes and in between 91°08' and 92°16' east longitudes. It is bounded by nangalkot and manoharganj upazilas on the north, kabirhat and companiganj (Noakhali) upazilas on the south, daganbhuiyan upazila on the east, begumganj and sonaimuri upazilas on the west.
Population Total 272133; male 131349, female 140784; Muslim 259736, Hindu 12164, Buddhist 19, Christian 112 and others 102.
Water bodies Main river: dakatia.
Administration Senbagh Thana was turned into an upazila in 1983.
Upazila
Municipality
Union
Mouza
Village
Population
Density (per sq km)
Literacy rate (%)
Urban
Rural
Urban
Rural

1

9

99

111

53829

218304

1746

61.16

55.88
Upazila Town

Area (sq km)

Mouza

Population

Density (per sq km)

Literacy rate (%)

27.45

8

53829

1957

62.16
Union
Name of union and GO code
Area (acre)
Population
Literacy rate (%)
Male
Female

Arjuntala 9

4324

13653

14401

56.85

Kadra 57

4636

15691

17302

55.81

Kabilpur 47

5076

20101

20369

61.64

Kesharpar 66

4595

15139

16479

49.50

Chhatarpaia 28

3808

12916

14396

54.74

Dumuria 38

5613

13607

15425

49.75

Nabipur 85

4204

13556

14282

60.68

Bejoybagh 19

3608

12553

13510

60.34

Mohammadpur 76

3099

14133

14620

62.26
Source Bangladesh Population Census 2001, Bangladesh Bureau of Statistics.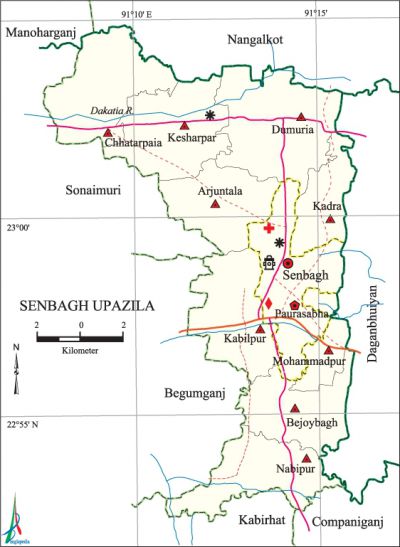 Archaeological heritage and relics Fort at Kadra, Statue of a hero at Beer Kot, Mosque of Kusha Gazi.
History of the War of Liberation A training camp was established at Kanrihat of the upazila during the war of liberation for the freedom fighters. An encounter was held when the freedom fighters raided the Pak military camp at Domnakandi Primary School in which a number of freedom fighters were killed.
Religious institutions Mosque 360, temple 39, tomb 10. Noted religious institutions: Senbagh Bazar Jami Mosque.
Literacy rate and educational institutions Average literacy 56.94%; male 58.68%, female 55.37%. Educational institutions: college 3, secondary school 26, community school 7, primary school 124, madrasa 25. Noted educational institutions: Mohammadpur Ramendra Model High School (1916), Bejoybagh Nabakrishna High School (1939), Senbagh Government Pilot High School (1940), Senbagh Adarsha Government Primary School (1940), Joynagar Wazedia Alim Madrasa (1900), Chhamir Munshirhat Dakhil Madrasa (1902), Kadra Hamidia Dakhil Madrasa (1919).
Newspapers and periodicals Monthly: Senbagh Barta, Senbagh Samachar.
Cultural organisations Library 7, club 17, cinema hall 1, playground 14.
Tourist spots Dighi of Bhuiyan.
Main sources of income Agriculture 31.45%, non-agricultural labourer 2.39%, industry 0.68%, commerce 14.94%, transport and communication 4.37%, service 21.48%, construction 1.25%, religious service 0.50%, rent and remittance 10.82% and others 12.12%.
Ownership of agricultural land Landowner 64.26%, landless 35.74%; agricultural landowner: urban 65.87% and rural 63.86%.
Main crops Paddy, wheat, betel leaf, vegetables.
Extinct or nearly extinct crops Sesame, linseed, mustard, sweet potato, aus paddy.
Main fruits Mango, jackfruit, banana, papaya, coconut, date, betel nut.
Fisheries, dairies and poultries Poultry 16, nursery 23.
Communication facilities Pucca road 153 km, semi-pucca road 3.10 km, mud road 516 km.
Extinct or nearly extinct traditional transport Palanquin, horse carriage, bullock cart.
Noted manufactories Rice mill, flour mill, ice factory.
Cottage industries Goldsmith, blacksmith, potteries, palm leaf fan work, bamboo and cane work.
Hats, bazars and fairs Hats and bazars are 25, fairs 10, most noted of which are Senbagh Bazar, Kankir Hat, Chhamir Munshirhat, Darbesh Hat, Amtali Mela, Naldia Mela and mela of Panchpir Dargah.'
Main exports Paddy, banana, betel leaf, coconut, betel nut.
Access to electricity All the wards and unions of the upazila are under rural electrification net-work. However 36.33% of the dwelling households have access to electricity.
Sources of drinking water Tube-well 90.37%, tap 1.05%, pond 3.23% and others 5.35%. The presence of arsenic has been detected in shallow tube-well water of the upazila.
Sanitation 61.05% (rural 58.33% and urban 72.12%) of dwelling households of the upazila use sanitary latrines and 28.72% (rural 31.41% and urban 17.80%) of dwelling households use non-sanitary latrines; 10.23% of households do not have latrine facilities.
Health centres Upazila health complex 1, satellite clinic 2, mother and child welfare centre 1, clinic 12.
Natural disasters The cyclone of 16 October 1961 caused heavy damages to settlements, plantation and crops of the upazila.
NGO activities Operationally important NGOs are asa, brac, caritas, CARE, proshika. [Md. Tawhid Hussain Chowdhury]
References Bangladesh Population Census 2001, Bangladesh Bureau of Statistics; Cultural survey report of Senbagh Upazila 2007.