Companiganj Upazila (Noakhali District)
Companiganj Upazila (noakhali district) area 380.95 sq km, located in between 22°37' and 22°54' north latitudes and in between 91°10' and 91°31' east longitudes. It is bounded by senbagh and daganbhuiyan upazilas on the north, subarnachar and sandwip upazilas on the south, sonagazi and mirsharai upazilas on the east, Noakhali Sadar and kabirhat upazilas on the west.
Population Total 250579; male 120088, female 130491; Muslim 235802, Hindu 14748, Buddhist 12, Christian 11 and others 6.
Water bodies little feni river and Sandwip channel are notable.
Administration Companiganj Thana was formed in 1888 and it was turned into an upazila on 2 July 1983.
Upazila
Municipality
Union
Mouza
Village
Population
Density (per sq km)
Literacy rate (%)
Urban
Rural
Urban
Rural
1 (Basurhat)
8
36
45
29877
220702
658
62.5
49.8
Municipality

Area
(sq km)

Ward

Mahalla

Population

Density
(per sq km)

Literacy rate (%)

6.85
9
11
29877
4362
62.5
Union
Name of union and GO code
Area (acre)
Population
Literacy rate (%)
Male
Female
Char Elahi 10
45214
13880
13570
25.5
Char Kakra 35
5096
16856
18938
53.6
Char Parbati 47
4034
14630
17035
51.7
Char Fakira 11
11174
12658
13652
51.0
Char Hazari 23
3637
11895
13016
48.2
Musapur 59
14948
10671
11310
49.7
Rampur 71
4662
10711
11924
57.0
Sirajpur 83
3616
13987
15969
58.9
Source Bangladesh Population Census 2011, Bangladesh Bureau of Statistics.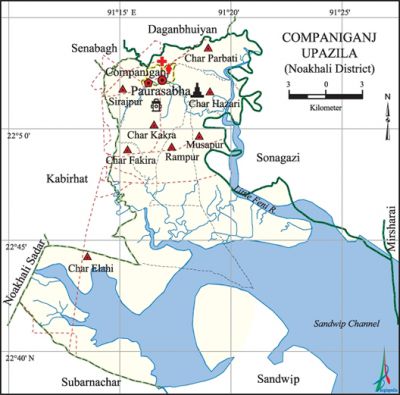 Archaeological heritage and relics Statue of Kali (eighteenth century), Eidagazi Mosque at Char Hazari (Mughal period).
War of Liberation On 4 September 1971, an encounter was held between the freedom fighters and the Pak army on the Banchharam road at a place near the sluice gate of the upazila in which 6 freedom fighters were killed. Besides, during the war of liberation a number of encounters were held between the Freedom Fighters and the Pak army in Companiganj upazila in which seven freedom fighters including Sadar BLF Commander Ohidur Rahman Wadud were killed. A mass grave has been discovered near the sluice gate No 16 of Companiganj upazila.
For details: see কোম্পানীগঞ্জ উপজেলা, বাংলাদেশ মুক্তিযুদ্ধ জ্ঞানকোষ (Encyclopedia of Bangladesh War of Liberation), বাংলাদেশ এশিয়াটিক সোসাইটি, ঢাকা ২০২০, খণ্ড ২।
Religious institutions Mosque 242, temple 10. Noted religious institutions: Budi Mosque at Basurhat and Jagannath Bari Mandir (Char Hazari).
Literacy rate and educational institutions Average literacy 51.3%; male 51.5%, female 51.2%. Noted educational institutions: Basurhat AHC Government High School (1911), Bamni High School (1914), Basurhat Islamia Senior Madrasa (1923), Bamni Achhria Senior Madrasa (1915).
Newspapers and periodicals Irregular: Weekly Noakhali Kantha and Weekly Ajker Jogajog.
Cultural organisations Club 22, library 6, cinema hall 1, playground 26.
Main sources of income Agriculture 37.81%, non-agricultural labourer 3.16%, industry 0.79%, commerce 13.86%, transport and communication 4.03%, service 21.81%, construction 1.09%, religious service 0.36%, rent and remittance 7.59% and others 9.50%.
Ownership of agricultural land Landowner 57.24%, landless 42.76%; agricultural landowner: urban 60.65% and rural 56.87%.
Main crops Paddy, wheat, potato, sugarcane, pumpkin, vegetables.
Extinct or nearly extinct crops Jute, peanut, sesame, linseed, mustard, pulse.
Main fruits Mango, jackfruit, banana, papaya, coconut, plum, blackberry, betel nut.
Fisheries, dairies and poultries Fishery 16, dairy 167, poultry 139, hatchery 1.
Communication facilities Roads: pucca 106 km, semi-pucca 7 km, mud road 370 km; waterway 35 km; railway 23 km.
Extinct or nearly extinct traditional transport Palanquin, bullock cart, horse carriage.
Noted manufactories Flour mill, oil mill, ice factory, welding factory, bidi factory.
Cottage industries goldsmith, blacksmith, weaving, Arts and Crafts, bamboo work, cane work, wood work.
Hats, bazars and fairs Hats and bazars are 18, most noted of which are Basurhat, Tal Muhammad Hat, Abu Majir Hat, Taleb Muhammad Hat, Chowdhury Bazar, Bangla Bazar, Natun Bazar; Naldia Mela on1 Magh is notable.
Main exports Paddy, coconut, banana, pumpkin, betel nut, vegetables.
Access to electricity All the wards and unions of the upazila are under rural electrification net-work. However 60.8% of the dwellings have access to electricity.
Sources of drinking water Tube-well 92.5%, tap 0.9% and others 6.6%. The presence of tolerable level of arsenic has been detected in the shallow tube-well water of the upazila.
Sanitation 76.4% of dwelling households of the upazila use sanitary latrines and 19.9% of dwelling houses use non-sanitary latrines; 3.7% of households do not have latrine facilities.
Health centres Upazila health complex 1, family planning centre 7, satellite clinic 1, clinic 20, Bangladesh Diabetic Association 1.
Natural Disasters The tidal bore on 31 October 1876 and 12 November 1970 caused huge loss of life and damages to settlements, livestock and crops.
NGO activities brac, asa, proshika, LRDA. [Nuruddin Jaglul]
References Bangladesh Population Census 2001 and 2011, Bangladesh Bureau of Statistics; Cultural survey report of Companiganj Upazila 2007.