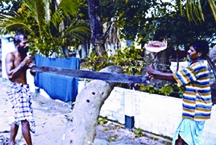 Karati an ancient professional group primarily engaged in cutting, filing, and sawing trees according to required shapes and sizes for use in various purposes. The name karati is derived from the word karat (saw), a wood cutting tool consisting of a thin blade with a serrated edge. Other equipment used by karatis is kudal (axe), dadi (rope), hatudi (hammer), batal (chisel), baish (adzes), renda (plane) and khil (joint). Wood pieces sized by karatis are used by sutradhars (carpenters) in construction of houses or making furniture. In the past, the occupation of karatis was under the domain of the Hindu caste system. But at present, karatis come from all cultural and religious backgrounds.
In Bangladesh, karatis are found almost everywhere. However, most karatis hail from the greater districts of Jessore, Faridpur, Mymensingh, Barisal, Khulna and Chittagong. The employment opportunities of karatis are largely influenced by seasonal variations.
They migrate from places of heavy rainfall to relatively drier ones. They find more work in the hilly districts that abound in forests and in the Sundarbans area. While working in these areas, they often contract diseases such as malaria, jaundice, and smallpox. Because the karatis work for a relatively longer time in these areas, many of them have own housing arrangements there.
Some are also reported to have contract marriages with local women for the period of their work.
The development of the modern sawmill industry has had a negative impact on the indigenous craft of the karatis. Most of them have now turned into seasonal migratory workers. Some have taken up carpentry, while others now devote themselves to agriculture as the secondary source of their livelihood. [Gofran Faroqi]