Kutubdia Upazila (cox's Bazar district) area 215.79 sq km, located in between 21°43' and 21°56' north latitudes and in between 91°50' and 91°54' east longitudes. It is bounded by the bay of bengal on the north, west and south, Kutubdia Channel, banshkhali, pekua and maheshkhali upazilas on the east.
Population Total 125279; male 64093, female 61186; Muslim 117322, Hindu 7902, Buddhist 5, Christian 2 and others 48.
Water bodies bay of bengal,' Kutubdia Channel are notable.
Administration Kutubdia Thana was formed in 1917 and it was turned into an upazila on 1983.
Upazila
Municipality
Union
Mouza
Village
Population
Density (per sq km)
Literacy rate (%)
Urban
Rural
Urban
Rural
-
6
9
55
25488
99791
581
37.9
33.0
Upazila Town

Area (sq km)

Mouza

Population

Density
(per sq km)

Literacy rate
(%)

9.98
1
25488
2454
37.9
Union
Name of union and GO code
Area (acre)
Population
Literacy rate (%)
Male
Female
Ali Akbar Deil 13
2610
11434
11070
38.7
Uttar Dhurung 81
2850
14263
13772
29.2
Kaiyarbil 54
892
6570
6375
21.6
Dakshin Dhurung 40
1486
8836
8443
30.4
Baraghop 27
1415
13143
12345
37.9
Lemsikhali 67
2068
9847
9181
42.0
Source Bangladesh Population Census 2011, Bangladesh Bureau of Statistics
Archaeological heritage and relics Kutubdia Bati Ghar (light house) at Dakshin Dhurang, Kalarma Mosque, tomb of Kutub Aulia.
War of Liberation Pakistani army did not enter Kutubdia during the War of Liberation and there had been no direct fight of the freedom fighters with them in the upazila. However, when the local people came to know that the US Navy's 7th Fleet was heading towards Bangladesh, they gathered at the sea beach with arms and ammunition to resist them. A memorial monument has been built at Ghatkul Para of the upazila.
For details: see কুতুবদিয়া উপজেলা, বাংলাদেশ মুক্তিযুদ্ধ জ্ঞানকোষ (Encyclopedia of Bangladesh War of Liberation), বাংলাদেশ এশিয়াটিক সোসাইটি, ঢাকা ২০২০, খণ্ড ২।
Religious institutions Ek Hatia Fakirer Mosque, Kalarma Mosque, Maharaja Kazir Mosque, Tomb of Kutub Aulia.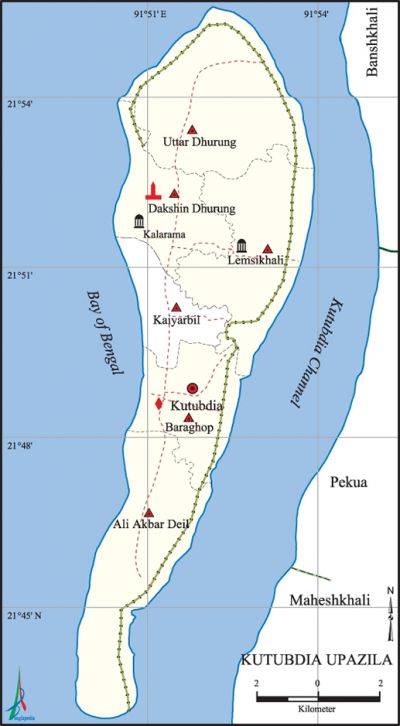 Literacy rate and educational institutions Average literacy 34.0%; male 34.8%, female 33.2%. Noted educational institutions: Kutubdia High School (1938), Durung High School (1948).
Newspapers and periodicals Daily: Darpan (1986), Balichar (1983), Kutubdia Barta (1993).
Cultural organisations Library 1, press club 1.
Tourists spots Kutubdia Bati Ghar.
Main sources of income Agriculture 63.27%, non-agricultural labourer 6.23%, commerce 13.13%, transport and communication 1.31%, service 4.47%, construction 0.69%, religious service 0.27%, rent and remittance 0.23% and others 10.40%.
Ownership of agricultural land Landowner 44.02%, landless 55.98%; agricultural landowner: urban 43.90% and rural 44.05%.
Main crops Paddy, potato.
Extinct or nearly extinct crops Kaun.
Main fruits Mango, banana, papaya, plum, watermelon, coconut, betel nut.
Fisheries, dairies and poultries Shrimp project.
Communication facilities Roads: pucca 34.5 km, semi-pucca 76.05 km, mud road 133.25 km; waterway 65 km.
Extinct or nearly extinct traditional transport Palanquin, horse carriage, bullock cart.
Noted manufactories Rice mill, saw mill, salt mill, ice factory, welding factory.
Cottage industries Goldsmith, blacksmith, bamboo work.
Hats, bazars and fairs Hats and bazars are 12, most noted of which are Bara Ghop Bazar, Dhurung Bazar.
Main exports Fish, salt.
Access to electricity All the unions of the upazila are under rural electrification net-work. However 7.8% of the dwelling households have access to electricity.
Natural resources Natural gas, sulphur, ceramic clay, black sand.
Sources of drinking water Tube-well 95.2%, tap 0.66% and others 2.89%.
Sanitation 79.4% of dwelling households of the upazila use sanitary latrines and 16.4% of dwelling households use non-sanitary latrines; 4.2% of households do not have latrine facilities.
Health centres Upazila health complex 1, satellite clinic 4, family planning centre 6.
Natural disasters Due to geographical location Kutubdia is a natural disaster prone area. A huge number of people were victims of the tidal bore of 1569, earthquake of 1762, tornado of 1795, Mahapralaya (tsunami) of 1872, tidal bore of 1897 (it is popularly known as 'Maghir Tufan' or cyclone held in the month of Magh, BS), tornado of 1905, tidal bores of 1960, 1970 and 1991, etc. Besides, these natural disasters also caused heavy damages to settlements, livestock and crops of the upazila. About 10000 people were victims of the tidal bore on 29 April 1991; during this event, a large part of the upazila was submerged in the Bay of Bengal.'
NGO activities Operationally important NGO is brac. [Md Wajed Ali Kutubi]
References Bangladesh Population Census 2001 and 2011, Bangladesh Bureau of Statistics; Cultural survey report of Kutubdia Upazila 2007.