Nagarkanda Upazila (faridpur district) area 198.42 sq km, located in between 23°19' and 23°24' north latitudes and in between 89°43' and 89°56' east longitudes. It is bounded by faridpur sadar and char bhadrasan upazilas on the north, muksudpur upazila on the south, bhanga and sadarpur upazilas on the east, saltha upazila on the west.
Population Total 177710; male 91094, female 86616; Muslim 161065, Hindu 16626 and others 19.
Water bodies Main rivers: Bhubaneshwar, shitalakshya; Jalibari Canal is notable.
Administration 'Nagarkanda Thana was formed in 1906 and it was turned into an upazila in 1984.
Upazila
Municipality
Union
Mouza
Village
Population
Density (per sq km)
Literacy rate (%)
Urban
Rural
Urban
Rural

1

9

126

177

12998

168296

895

50.0

40.05
Municipality

Area (sq km)

Ward

Mahalla

Population

Density (per sq km)

Literacy rate (%)

7.57

9

15

9414

1244

49.2
Upazila Town

Area (sq km)

Mouza

Population

Density (per sq km)

Literacy rate (%)

3.95

1

3584

907

52.2
Union
Name of union and GO code
Area (acre)
Population
Literacy rate (%)
Male
Female

Kaichail 50

3115

7911

7534

41.91

Kodalia Shohidnagar 67

5093

6936

6738

40.26

Char Jasordi 22

8088

13787

13086

39.42

Dangi 27

5781

11272

10834

39.84

Talma 94

7036

14022

13267

37.20

Pura Para 72

4062

7312

6854

39.89

Phulsuti 33

2162

4409

4497

38.90

Ramnagar 83

6241

9777

9272

37.25

Laskardia 55

6135

10700

10088

41.51
Source Bangladesh Population Census 2001, Bangladesh Bureau of Statistics.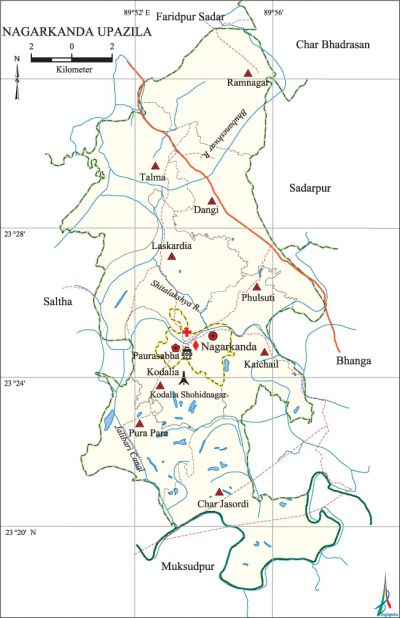 Archaeological heritage and relics Kalibari at Kathia, Kali Mandir at Talma, former Khanka and residence of Hazrat Shah Ali Bagdadi (R), Mazar of Sufi Saint Mechher Shah, Mazar of Pir Shah Abdur Rahman Danishmand at Laskardia.
History of the War of Liberation The freedom fighters raided the Nagarkanda Police outpost on 22 April 1971 and captured a huge number of arms and ammunitions. The Pak army conducted mass killing and plundering at village Char Jasordi on 30 April; they also set many houses of the village on fire. On 4 May the freedom fighters attacked the Nagarkanda Police Station and captured arms and ammunitions; they also killed the Pak collaborator Police Inspector. On 30 May the Pak army set five villages, from Kodalia to Bagat, on fire and killed 18 innocent persons. On 31 May the Pak army fired from helicopter and set 9 villages on fire. An encounter was held between the freedom fighters and the Pak soldiers at the Razakar camp at Talma Bazar in which 8 razakars were killed. The freedom fighters launched an attack on the Pak Military camp at Nagarkanda in which a number of Pak soldiers including some razakars were killed and so was one freedom fighter.'
Marks of the War of Liberation Mass killing site and mass grave 1 (Kodalia).
Religious institutions Mosque 295, temple 38, tomb 2.
Literacy rate and educational institutions Average literacy 40.50%; male 43.5%, female 35.52%. Educational institutions: college 2, secondary school 17, primary school 122. Noted educational institutions: Bilnalia Moyez Uddin High School (1910), MN Academy (1916).
Newspapers and periodicals Nagarkanda Barta, Sahitya Patrika, Mukti, Jagaran, Samay, Manabjiban, Manchitra.
Cultural organisations Library 1, club 250, cinema hall 1, theatre stage 1, theatre group 1.
Main sources of income Agriculture 68.96%, non-agricultural labourer 2.80%, industry 0.74%, commerce 11.42%, transport and communication 3.25%, service 4.91%, construction 1.10%, religious service 0.23%, rent and remittance 0.67% and others 5.92%.
Ownership of agricultural land Landowner' 67.45%, landless 32.55%.
Main crops Paddy, jute, wheat, kalai, mustard, potato, sugarcane.
Extinct or nearly extinct crops Barley, sesame, kaun, linseed, arahar.
Main fruits Mango, blackberry, date, jackfruit, guava, papaya, banana.
Fisheries, dairies and poultries Fishery 132, dairy 62, poultry 22, hatchery 3.
Communication facilities Pucca road 220 km, semi-pucca road 100 km, mud road 470 km; waterway 14 nautical miles.
Extinct or nearly extinct traditional transport Palanquin, horse carriage, bullock cart.
Noted manufactories Rice mill 250, sugarcane grinder 2.
Cottage industries Goldsmith, embroidery, bamboo work, wood work.
Hats, bazars and fairs Hats and bazars are 36, fairs 3, most noted of which are Talma Hat, Rasulpur Hat, Moyendar Hat, Nagarkanda Hat, Chagaldi Mela, Kalibari Mela at Kathia and Khalishputi Mela.
Main exports Wheat, jute, mustard, date molasses, banana.
Access to electricity All the wards and unions of the upazila are under rural electrification net-work. However 18.33% of the dwelling households have access to electricity.
Sources of drinking water Tube-well 95.41%, tap 0.40%, pond 1.02% and others 3.17%.
Sanitation 47.97% of dwelling households of the upazila use sanitary latrines and 44.98% of dwelling households use non-sanitary latrines; 7.05% of households do not have latrine facilities.
Health centres Upazila health complex 1, satellite clinic 15, health and welfare centre 9, clinic 2.
NGO activities Operationally important NGOs are brac, asa, proshika. [Jayeed Hussain Laky]
References Bangladesh Population Census 2001, Bangladesh Bureau of Statistics; Cultural survey report of Nagarkanda Upazila 2007.