Phulbari Upazila (Dinajpur District)
Phulbari Upazila (dinajpur district) area 228.49 sq km, located in between 25°17' and 25°32' north latitudes and in between 88°44' and 89°01' east longitudes. It is bounded by parbatipur and chirirbandar upazilas on the north, birampur upazila on the south, nawabganj (dinajpur) and Birampur upazilas on the east, west bengal state of India on the west.'
Population Total 176023; male 88984, female 87039; Muslim 146065, Hindu 23655, Buddhist 6, Christian 3214 and others 3083.
Water bodies Main river: little jamuna.
Administration Phulbari Thana was formed in 1857 and it was turned into an upazila in 1984.
Upazila
Municipality
Union
Mouza
Village
Population
Density (per sq km)
Literacy rate (%)
Urban
Rural
Urban
Rural
1
7
151
152
34786
141237
770
62.3
50.1
Municipality

Area (sq km)

Ward

Mahalla

Population

Density (per sq km)

Literacy rate (%)

16.04
9
14
34786
2169
62.3
Union
Name of union and GO code
Area (acre)
Population
Literacy rate (%)
Male
Female
Aladipur 25
7780
10056
9742
50.1
Eluary 47
9759
11656
11388
52.2
Kazihal 66
9127
9830
9667
50.4
Khayerbari 76
3490
5537
5416
51.9
Betdighi 28
8504
10677
10703
53.0
Daulatpur 38
4744
7006
6903
46.1
Shibnagar 84
9098
16571
16085
47.8
Source  Bangladesh Population Census 2011, Bangladesh Bureau of Statistics.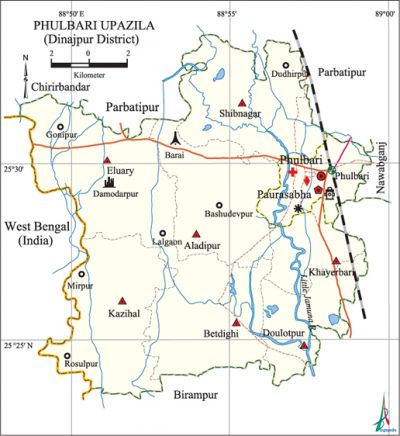 Archaeological heritage and relics Damodarpur City, Garh Govinda.
Historical events In 1947 tebhaga movement was held under the leaderships of Shamsuddin Ahmed and Rupnarayan in this upazila.
War of Liberation On 29 March 1971 an encounter was held between the freedom fighters and the Pak army on the Dinajpur road in which the freedom fighters destroyed a number of military vehicles and captured huge amount of supplies including arms and ammunitions of the Pak army. There is a mass grave and a mass killing (Barai) in the upazila; a memorial monument has been built at the premises of Sujapur High School.
For details: see ফুলবাড়ী উপজেলা, বাংলাদেশ মুক্তিযুদ্ধ জ্ঞানকোষ (Encyclopedia of Bangladesh War of Liberation), বাংলাদেশ এশিয়াটিক সোসাইটি, ঢাকা ২০২০, খণ্ড ৬।
Literacy rate and educational institutions Average literacy 52.6%; male 54.6%, female 50.5%. Educational institutions: college 6, vocational centre 8, secondary school 44, primary school 102, madrasa 18. Noted educational institutions: Daulatpur Girls' High School (1912), Ramchandrapur Girls' High School (1913), Rajarampur SU High School (1913), Rudrani High School (1915), Sujapur High School (1919), Phulbari GM Pilot High School (1920), Phulbari DS Fazil Madrasa.
Newspapers and periodicals Weekly: Janamat (defunct).
Cultural organisations Library 1, club 41, jatra party 2, cinema hall 4.
Main sources of income Agriculture 68.83%, non-agricultural labourer 2.98%, industry 0.9%, commerce 12.41%, transport and communication 3.73%, service 5.55%, construction 0.65%, religious service 0.2%, rent and remittance 0.17% and others 4.58%.
Ownership of agricultural land Landowner 50.29%, landless 49.71%; agricultural landowner: urban 44.41% and rural 51.53%.
Main crops Paddy, wheat, jute, sugarcane, potato, pulse, oil seed, vegetables.
Extinct or nearly extinct crops Aus paddy, bhadai paddy, betel leaf, tobacco.
Main fruits Mango, banana, jackfruit.
Fisheries, dairies and poultries Dairy 125, poultry 105.
Communication facilities Pucca road 150 km, semi-pucca road 6 km, mud road 327 km; railway 12 km.
Extinct or nearly extinct traditional transport Palanquin, bullock cart.
Noted manufactories Rice mill, saw mill, oil mill, ice factory, printing press.
Cottage industries Goldsmith, potteries, bamboo work, wood work.
Hats, bazars and fairs Hats and bazars are 48, fairs 3, most noted of which are Phulbari Bazar Hat, Barai Hat, Ambari Hat, Amdungi Hat, Atpukur Hat, Madila Hat, Phulbari Mela.
Main exports Paddy, wheat, banana.
Access to electricity All the wards and unions of the upazila are under rural electrification net-work. However 42.2% of the dwelling households have access to electricity.
Natural resources Coal mine has been discovered in this upazila in 1997.
Sources of drinking water Tube-well 97.4%, tap 1.3% and others 1.3%.
Sanitation 53.6% of dwelling households of the upazila use sanitary latrines and 26.8% of dwelling households use non-sanitary latrines; 19.6% of households do not have latrine facilities.
Health centres Hospital 1, upazila health complex 1, union health and family planning centre 6, clinic 2.
NGO activities Operationally important NGOs are brac, asa, thengamara mahila sabuj sangha. [Md. Rezaul Karim]
References Bangladesh Population Census 2001 and 2011, Bangladesh Bureau of Statistics; Cultural survey report of Phulbari Upazila 2007.