Parbatipur Upazila (dinajpur district) area 395.10 sq km, located in between 25°10' and 25°47' north latitudes and in between 88°49' and 89°06' east longitudes. It bounded by saidpur upazila on the north, phulbari (dinajpur) and nawabganj upazilas on the south, badarganj upazila on the east, chirirbandar upazila on the west.
Population Total 325070; male 168070, female 157000; Muslim 277845, Hindu 42275, Buddhist 1351, Christian 24 and others 3575. Indigenous communities such as santal, oraon and Harijan belong to this upazila.
Water bodies Main rivers: little jamuna, Chirnai, Kharkhari, Nalsisa; Kanchan Beel, Panch Ratan Beel, Balapara Beel are notable.
Administration Parbatipur Thana was formed in 1800 and it was turned into an upazila in 1983.
Upazila
Municipality
Union
Mouza
Village
Population
Density (per sq km)
Literacy rate (%)
Urban
Rural
Urban
Rural

1

10

157

229

36470

288600

823

63.3

44.3
Municipality

Area (sq km)

Ward

Mahalla

Population

Density (per sq km)

Literacy rate (%)

9.05

9

37

27512

3040

46.48
Upazila Town

Area (sq km)

Mouza

Population

Density (per sq km)

Literacy rate (%)

9.72

1

8958

922

48.4
Union
Name of union and GO code
Area (acre)
Population
Literacy rate (%)
Male
Female

Chandipur 17

9680

13672

12876

46.33

Palashbari 77

9265

18407

15958

52.59

Belaichandi 16

9612

19277

18197

43.02

Manmathapur 51

9606

15380

14782

44.38

Mominpur 60

7872

12911

12597

44.33

Mostafapur 69

8261

13908

12920

45.66

Rampur 86

7664

17048

15968

47.41

Harirampur 43

12229

14735

13763

35.42

Habra 25

11290

14301

13547

39.25

Hamidpur 34

9907

14053

13258

43.84
Source Bangladesh Population Census 2001, Bangladesh Bureau of Statistics.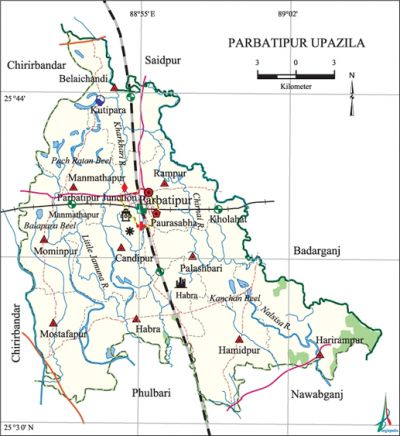 Archaeological heritage and relics Habra Zamindar Bari (built in eighteenth century), Mosque (roof made of china clay, early nineteenth century), Singamari Bhanga Mosque.
Historical events A large number of non-Bengali Muslims coming from India during the Partition of 1947 settled in Parbatipur; later they formed a very influential community. During the war of liberation the Pak army in collaboration with the Urdu speaking non-Bangalees killed many Bangalees. On 8 April 1971 the Pak army killed 300 people at Ramkrishnapur, Baghbari and Peyadapara on the south of the Kholahat and Badarganj railway lines.
Marks of the War of Liberation Mass grave 1 (Rahamatnagar); besides, three settlements were named after three martyr freedom fighters such as Ibrahim Nagar, Abbas Nagar, Muzaffar Nagar.
Literacy rate and educational institutions Average literacy 46.5%; male 50.9%, female 41.7%. Educational institutions: college 11, vocational training institute 1, secondary school 70, primary school 105, community school 11, madrasa 39. Noted educational institutions: Parbatipur Degree College (1964), Ganankur Pilot High School (1925), Habra High School (1942), Nurul Huda High School (1951), Mission Primary School (1842), Jurai Fazil Madrasa (1952), Bhabanipur Islamia Kamil Madrasa (1972).
Newspapers and periodicals Daily: Manab Barta; weekly: Dinajpurer Kagaj.
Cultural organisations Club 32, women's organisation 1, theatre stage 2, theatre group 7, literary organisation 2, circus party 1.
Main sources of income Agriculture 64.09%, non-agricultural labourer 3.52%, industry 0.71%, commerce 14.53%, transport and communication 3.09%, service 8.40%, construction 0.84%, religious service 0.18%, rent and remittance 0.14% and others 4.48%.
Ownership of agricultural land Landowner 47.38%, landless 52.62%; agricultural landowner: urban 42.59% and rural 47.95%.'
Main crops Paddy, wheat, jute, potato, vegetables.
Extinct or nearly extinct crops Sesame, kaun, linseed, betel leaf.
Main fruits Mango, litchi, banana, jackfruit, blackberry, papaya.
Fisheries, dairies and poultries Dairy 30, poultry 40.
Communication facilities Semi-pucca road 41 km, mud road 887.62 km; railway 45 km. Railway junction 1.
Extinct or nearly extinct traditional transport Palanquin, horse carriage, bullock cart.
Noted manufactories Flour mill, rice mill, ice factory, railway workshop.
Cottage industries Goldsmith, blacksmith, potteries, weaving, wood work, bamboo work.
Hats, bazars and fairs Hats and bazars are 17, fairs 4, most noted of which are Parbatipur Hat, Daglaganj Hat, Bhabanipur Hat, Jamir Hat, Danga Hat, Ambari Hat, Tajnagar Charak Mela, Barapukuria Mela.
Main exports Banana, litchi, blackberry, paddy, rice, wheat.
Access to electricity All the wards and unions of the upazila are under rural electrification net-work. However 19.79% of the dwelling households have access to electricity.
Natural resources Coal mine has been discovered in village Barapukuria of Hamidpur Union in 1985 and hard rock mine has been discovered in Maddhapara in 1966-1967.'
Sources of drinking water Tube-well 91.98%, tap 1.06%, pond 0.18% and others 6.78%.
Sanitation 13.31% (rural 10.51% and urban 36.83%) of dwelling households of the upazila use sanitary latrines and 21.04% (rural 19.68% and urban 32.51%) of dwelling households use non-sanitary latrines; 65.65% of households do not have latrine facilities.
Health centres Upazila health complex 1, government railway hospital 1, union health and family planning centre 10, union satellite clinic 9, satellite clinic 3.
NGO activities Operationally important NGOs are brac, proshika, caritas, thengamara mahila sabuj sangha. [Ansar Ali Sarker]
References Bangladesh Population Census 2001, Bangladesh Bureau of Statistics; Cultural survey report of Parbatipur Upazila 2007.