Qutb Shahi Mosque situted at hazrat pandua. Constructed in 1583 AD by a descendant of Nur qutbul Alam, the mosque lies between the tomb of the Saint and the eklakhi mausoleum. Though it was built after the Mughal conquest of West Bengal in 1576, in its appearance it is a Sultanate mosque of the gaur type with the exception of the cupolas over the corner towers. The cupolas are not characteristic of the towers built in the Mughal design and raise the question if these were constructed at the time of the building of the mosque or were later additions. If these were constructed at the time of building the domes, which have now fallen, they should also have been of the Mughal variety. The probability is that they, like those at the bagha mosque in Rajshahi, were later additions to Mughalise the structure.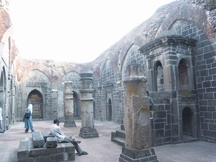 The materials of the mosque are brick in the core and plain stone slabs outside. In appearance it is much like the bara sona mosque of Gaur-Lakhnauti. The dimensions of the mosque are 25.10 m. by 11.50 m. It consists of two aisles running north-south, entered by five pointed arched doorways from the eastern side and with two grilled windows, one each in the middle of the north and south sides. The number of domes therefore were ten in all which were built on pendentives of the usual Gaur variety carried on stone multifaceted columns.
There are five mihrabs with engrailed arches at the top, now dilapidated, on the qibla side, with a high pulpit on the north side of the central mihrab, exactly similar to that in the adina mosque. In front of the pulpit there stands at present a rectangular stone platform, which is probably a tomb of a local saint (fakir). This was a later addition. The decoration of the string mouldings run round the corner towers, above the door panels, and below the carved cornice above, and in the serration of the face of the arches, and rosettes appear on the spandrels. Inside, there are the usual decorative designs of the pendentives in tiers and the raised faces of the arches of exposed brick.  
The mosque is sometimes also called Sona Masjid because of what are supposed to be gilding of the domes, like those of Bara and Chhota Sona Mosques of Gaur-Lakhnauti. [ABM Husain]