Saturia Upazila (manikganj district) area 140.12 sq km, located in between 23°51' and 24°03' north latitudes and in between 89°55' and 90°08' east longitudes. It is bounded by nagarpur and dhamrai upazilas on the north, manikganj sadar upazila on the south, Dhamrai upazila on the east, daulatpur (Manikganj) and ghior upazilas on the west.
Population Total 155137; male 78147, female 76990; Muslim 141852, Hindu 13269, Christian 8 and others 8.
Water bodies Main rivers: dhaleshwari, bangshi, Gazikhali.
Administration Saturia Thana was formed in 1919 and it was turned into an upazila in 1984.
Upazila
Municipality
Union
Mouza
Village
Population
Density (per sq km)
Literacy rate (%)
Urban
Rural
Urban
Rural

-

9

166

225

8308

146829

1107

52.42

35.99
Upazila Town

Area (sq km)

Mouza

Population

Density (per sq km)

Literacy rate (%)

3.62

2

3808

2548

52.48
Union
Name of union and GO code
Area (acre)
Population
Literacy rate (%)
Male
Female

Tilli 95

5105

9265

9040

28.65

Daragram 38

3971

8878

8800

40.28

Dighalia 47

3227

6696

6812

38.29

Dhankora 57

5051

12934

12490

39.43

Fukurhati 66

3342

8145

8131

32.66

Baraid 28

4641

9030

9089

33.31

Baliati 19

2683

7145

7352

41.59

Saturia 85

3312

9615

9069

41.10

Hargaz 76

2828

6439

6207

36.05
Source Bangladesh Population Census 2001, Bangladesh Bureau of Statistics.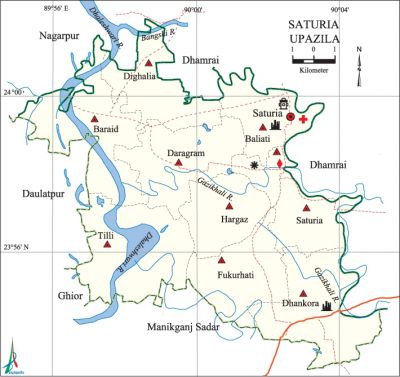 Archaeological heritage and relics Baliati Zamindar Bari, Dhankora Zamindar Bari, Ramakrishna Sebasrama (1910), Tomb of Kalu Shah.
History of the War of Liberation During the war of liberation in 1971 the Pak army in collaboration with their local agents conducted mass killing and plundering in the upazila.
Marks of the War of Liberation Mass grave 1 (beside Thana Pukur); mass killing site 1 (premises of Saturia High School).
Religious institutions Mosque 172, temple 41, tomb 2. Noted religious institutions: Saturia Central Jami Mosque, adjacent to Iswarchandra High School Mosque, Tomb of Kalu Shah, Gauranga Math (1332 BS), Ramakrishna Sebaashrama (1910).
Literacy rate and educational institutions Average literacy 36.90%; male 42.89%, female 30.87%. Educational institutions: college 5, secondary school 15, primary school 77, madrasa 3. Noted educational institutions: Bhiku Memorial College (1966), Said Kalu Shah College (1998), Saturia Pilot High School (1958), Dhankora Girish Institute (1917), Baliati Iswarchandra High School (1919), Dhulla BM High School (1920), Saturia Ideal Pilot High School (1958), Dhankora Girish Chandra High School, Hargaz Nayapara Primary School (1875), Kaonnara Government Primary School (1909).
Cultural organisations Library 3, club 58, theatre group 1, theatre stage 1, cinema hall 2, playground 22.
Main sources of income Agriculture 59.45%, non-agricultural labourer 4.50%, industry 1.72%, commerce 12.86%, transport and communication 3.26%, service 7.48%, construction 1.58%, religious service 0.15%, rent and remittance 1.38% and others 7.62%.
Ownership of agricultural land Landowner 64.15%, landless 35.85%; agricultural landowner: urban 43.17% and rural 65.34%.'
Main crops Paddy, jute, wheat, mustard, sugarcane, potato.
Extinct or nearly extinct crops Kaun, linseed, sesame, pea, barley.
Main fruits Mango, jackfruit, banana, guava.
Fisheries, dairies and poultries Fishery 5, dairy 112, poultry 168, hatchery 1.
Communication facilities Pucca road 15 km, semi-pucca road 11 km, mud road 298 km.
Extinct or nearly extinct traditional transport Palanquin, horse carriage.
Noted manufactories Rice mill, flour mill, saw mill, metal industry, ice factory, ice cream factory, biscuit factory, welding factory.
Cottage industries Goldsmith, blacksmith, weaving, embroidery, wood work, bamboo work, cane work, nakshi pakha.
Hats, bazars and fairs Hats and bazars are 30, fairs 4, most noted of which are Saturia Hat, Hargaz Hat, Daragram Hat, Baliati Bazar, Khanirtek Bazar, Dhankora Bazar, Gopalpur Bazar, Char Tilli Bazar, Dhulla Shiva Mela, Tilli Baishakhi Mela and Kalu Shah Mela.
Main exports Paddy, jute, potato, sugarcane molasses, egg, milk, chicken, metal pan, toys.
Access to electricity All the unions of the upazila are under rural electrification net-work. However 30.18% of the dwelling households have access to electricity.
Sources of drinking water Tube-well 94.52%, tap 0.77%, pond 0.15% and others 4.56%.
Sanitation 46.67% (rural 45.81% and urban 61.81%) of dwelling households of the upazila use sanitary latrines and 49.07% (rural 50.20% and urban 29.04%) of dwelling households use non-sanitary latrines; 4.26% of households do not have latrine facilities.
Health centres Upazila health complex 1, union health centre 6, family planning centre 3.
Natural disasters Many people of Saturia, Hargaz, Tilli and Fukurhati unions were victims of the devastating tornado of 1989. Besides, it also caused heavy damages to settlements, livestock, crops and other properties of the upazila.
NGO activities Operationally important NGOs are brac, proshika, asa, NBCL. [Md. Shahiduzzaman Raj]
References Bangladesh Population Census 2001, Bangladesh Bureau of Statistics; Cultural survey report of Saturia Upazila 2007.