Shaista Khan Mosque known to have been built within the palace compound of Subahdar shaista khan, is now located on the bank of the river Buriganga behind Mitford Hospital in the Babubazar area, formerly called Katra Pakurtali. During the British period the mosque was seriously damaged by an accidental fire and then restored. Recently, the mosque has been thoroughly repaired by the local people and an ugly masonry veranda has been added on the east.
Built in brick with lime-mortar, the oblong mosque (14.13m x 7.62m) has four octagonal towers on the exterior angles. These are carried high above the horizontal parapets and topped over with kiosks and cupolas terminating in kalasa finials.
The mosque has five arched doorways - three in the east and one each on north and south sides. The central archway, traditionally larger, is set within a projected fronton with bordering ornamental turrets. Each of the three eastern doorways consists of two successive arches - the outer one depicts a half-domed vault in the inside is higher and wider than the inner one.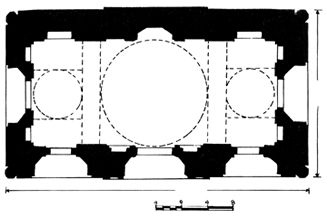 The qibla wall was internally recessed with three mihrabs. The central mihrab, large and semi-octagonal in shape, has an outward projection, which must have been originally bounded by ornamental turrets like those of the projected frontons of the central archway. Of the three usual divisions inside the mosque, the central one is square and bigger than the side rectangular ones. The three domes over the roof are directly placed on octagonal drums and were once crowned by lotus with kalasa finials, but these have now disappeared. The central dome, comparatively bigger in size, is carried on two wide arches and triangular pendentives. The half-domed vaults on the sides and the triangular pendentives on the upper angles support the smaller side domes.
The original decoration of the mosque has disappeared. The exterior surface of the entire building is now plastered and washed white with lime, while internally the walls are distempered. The central mihrab and its surrounding areas are now covered with modern cubical pieces of polychrome China cut tiles. The parapets and the drums below the domes still retain merlon-friezes in disintegrated condition.
An inscription in Persian prose still fixed over the central doorway records that Subahdar Shaista Khan erected the mosque. The date and a few other words of the inscription tablet have been obliterated. Nevertheless, the mosque is supposed to have been built during the first term of Shaista Khan's viceroyalty in Bengal, that is, between 1663 and 1678.
The mosque deserves special mention because it introduces a new feature in Bengali Muslim architecture. Hitherto, the corner towers of a building were always found projected, but here in this monument they are kept within the thickness of the walls. From now onward this feature started appearing in Bengal in a limited way, as seen in Bibi Mariam Mosque (c late 17th century) at Narayanganj, bakhshi hamid mosque (c 1692) in Chittagong, and azimpur mosque (1746) at Dhaka. [MA Bari]