Sherpur Sadar Upazila (sherpur district) area 372.89 sq km, located in between 24°55' and 25°06' north latitudes and in between 89°53' and 90°07' east longitudes. It is bounded by sreebardi, jhenaigati and nalitabari upazilas on the north, jamalpur sadar upazila on the south, nakla upazila on the east, islampur and melandaha upazilas on the west.
Population Total 497179; male 250376, female 246803; Muslim 483501, Hindu 12923, Buddhist 28, Christian 557 and others 170.
Water bodies Main rivers: old brahmaputra, Mrigi, Dashani; Ishli Beel, Burla Beel, Mausi Beel, Hapnai Beel, Barbila Beel, Dhala Beel, Taki Beel, Kaldanger Beel, Nishla Beel, Reoa Beel, Dublakuri Beel and Katakhali Canal are notable.
Administration Sherpur Sadar Thana was turned into an upazila in 1984.
Upazila
Municipality
Union
Mouza
Village
Population
Density (per sq km)
Literacy rate (%)
Urban
Rural
Urban
Rural
1
14
96
188
97979
399200
1333
56.2
31.7
Municipality

Area (sq km)

Ward

Mahalla

Population

Density (per sq km)

Literacy rate (%)

23.40
9
46
97979
4187
56.2
Union
Name of union and GO code
Area (acre)
Population
Literacy rate (%)
Male
Female
Kamaria 67
10156
17442
17315
35.4
Kamarer Char 61
6666
13078
12720
27.2
Ghazir Khamar 54
4175
10629
10895
33.5
Char Pakshimari 33
5381
16021
15374
27.3
Char Mucharia 27
10987
15483
15510
30.9
Char Sherpur 40
7411
17206
17087
25.0
Dhala 47
4059
9677
9403
35.9
Pakuria 81
6807
18693
18647
30.0
Betmari Ghughurakandi 15
6571
12066
12003
31.1
Balair Char 13
5937
17279
17046
29.5
Bajitkhila 11
3853
11902
11759
33.6
Bhatsala 20
6243
16933
16568
38.3
Rauha 88
3647
6969
7099
39.1
Lakshmanpur 74
4296
17376
17020
33.0
Source Bangladesh Population Census 2011, Bangladesh Bureau of Statistics.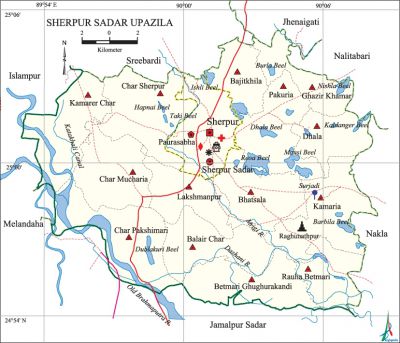 Archaeological heritage and relics Tomb of Hazrat Shah Kamal (R), Mia Saheb Mosque (1861), Mughalbari Mosque, Kazigali Mosque, Nat Mandir (built in decorated wood as per the Chinese architecture of the nineteenth century) and Raghunath Jeur Mandir (1771).
Historical events Conferences of the peasants and tenants were held in 1914 and 1917 at Kararchar area under the leadership of Khos Muhamman Chowdhury to protest against oppression to the Muslim tenants by the Hindu zamindars.
War of Liberation During the war of liberation the freedom fighters had an encounter with the Pak army in November 1971 and in retaliation, the Pak army killed 52 people at village Suryadi on 24 November. Besides, during this time the Pak army conducted mass killing and plundering; they also set many houses of the upazila on fire. Freedom fighters had another encounter with the Pak army on 4 December 1971 in which 60 Pakistani soldiers surrendered. There are mass killing sites at Gredhanarayanpur and Sheri Crematory adjacent to Sheri Bridge; the Muktijoddah Smriti Stadium has been built in memory of the martyr freedom fighters.
For details: see শেরপুর সদর উপজেলা, বাংলাদেশ মুক্তিযুদ্ধ জ্ঞানকোষ (Encyclopedia of Bangladesh War of Liberation), বাংলাদেশ এশিয়াটিক সোসাইটি, ঢাকা ২০২০, খণ্ড ৯।
Religious institutions Mosque 539, temple 24, church 1, tomb 2, sacred place 1 (river Brahmaputra), math 6. Noted religious institutions: Maisaheba Jami Mosque, Kharampur Jami Mosque, Terabazar Jami Mosque, tomb of Hazrat Shah Kamal (R), Raghunath Jeur Mandir, Noiani Bazar Kali Mandir.
Literacy rate and educational institutions Average literacy 36.7%; male 39.2%, female 34.3%. Educational institutions: college 6, government technical institute and management 3, government technical school and college 1, agriculture training institute 1, secondary school 53, primary school 186, kindergarten 57, madrasa 72. Noted educational institutions: Sherpur Government College (1964), Omarpur Government Mohila College (1972), Technical School and College (2001), Agriculture Training Institute (1957), Sherpur Government Victoria Academy (1887), Gobindapur Peace Memorial Institute (1918), Sapmari High School (1907), Joginimuri Multilateral High School (1912), Sherpur GK Pilot High School (1919), Sherpur High School (1920), Sherpur Polytechnic Institute (2004), Jamia Siddiqia Terabazar Madrasa (1978), Iddrisia Alim Madrasa (1991).
Newspapers and periodicals Daily: Ghatana; weekly: Sherpur (1986), Doshkahania (1991), Chalti Khabar (1991); quaterly: Rangdhanu Bhaban (2005); periodicals: Sahityalaka, Adda, Barsati; monthly defunct: Biddyanati Sadini (1865), weekly defunct: Charubarta (1881), Biggapani, Samskriti Sanjibini, Prabaha, Manus Theke Manus, Samcharan, Amgan, Nandita Nabin, Ghonai Amra.
Cultural organisations Library 7, club 124, press club 1, women organisation and co-operative society 451, theatre group 15, stadium 1, cinema hall 6, playground 7.
Main sources of income Agriculture 58.28%, non-agricultural labourer 4.20%, industry 1.42%, commerce 13.17%, transport and communication 4.47%, service 5.40%, construction 1.43%, religious service 0.19%, rent and remittance 0.15% and others 11.29%.
Ownership of agricultural land Landowner 53.58%, landless 46.42%; agricultural landowner: urban 33.30% and rural 57.59%.'
Main crops Paddy, jute, wheat, pulse, mustard, potato, bamboo, sweet potato, vegetables.
Extinct or nearly extinct crops Local variety of paddy, sugarcane, arahar, kalai, sesame, linseed, kaun, barley.
Main fruits Mango, blackberry, banana, papaya, jackfruit, litchi, guava, coconut, star apple.
Fisheries, dairies and poultries Dairy 31, poultry 57.
Communication facilities Pucca road 92.5 km, mud road 381.91 km.
Extinct or nearly extinct traditional transport Palanquin, horse carriage, bullock cart, soari.
Noted manufactories Rice mill, flour mill, oil mill, bidi factory, polythine factory, press.
Cottage industries Potteries, weaving, wood work, tailoring, food processing industries.
Hats, bazars and fairs Hats and bazars are 38, fairs 10, most noted of which are Noiani Bazar, Kamarer Char, Baruni Tithi Mela, Basanti Austami Tithi Mela, Aushtami Mela on Ram Nabami at Sheri, Chaitra Samkranti Mela at Gopinathganj, Charak Mela at old cattle market, Paus Samkranti Mela, Austami Mela at Noiani Bazar, Rath Mela at Kali Bari.
Main exports Rice, jute, bamboo, vegetables.
Access to electricity All the wards and unions of the upazila are under rural electrification net-work. However 46.3% of the dwelling households have access to electricity.
Sources of drinking water Tube-well 95.9%, tap 1.1% and others 3.0%.
Sanitation 41.7% of dwelling households of the upazila use sanitary latrines and 45.9% of dwelling households use non-sanitary latrines; 12.4% of households do not have latrine facilities.
Health centres Sadar hospital 1, satellite clinic 3, eye hospital 1, diabetic centre 1, Ganasastha clinic 3, health and family welfare centre 13, maternity hospital 1, family health clinic 1, health centre 15, clinic 3, veterinary hospital 1.
Natural disasters The earthquake of 1918 caused heavy damages to settlements and other properties of the upazila. Besides, many people were victims of the famine of 1943.
NGO activities Operationally important NGOs are brac, asa, Centre for Advancement Programme, Rural Development Project. [Sakil Ahmed Shahriar Milton]
References Bangladesh Population Census 2001 and 2011, Bangladesh Bureau of Statistics; Cultural survey report of Sherpur Sadar Upazila 2007.