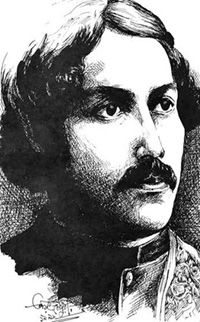 Tagore, Jyotirindranath (1849-1925) the playwright, lyricist, musicologist, translator, artist and organizer was born into the tagore family of Jorasanko of Calcutta on 4 May 1849. He was the fifth son of debendranath tagore and an elder brother of Rabindranath Tagore. He studied FA at the presidency college, but did not take any degree.
He was married to Kadambari Devi, second daughter of Syamlal Gangopadhyay of Calcutta, in 1868. Rabindranath received special care and affection from her, which critics believe has an imprint on the characters of Charulata-Amol of his short story Nastanir. When the first hindu-mela was organized in Calcutta in 1967, Jyotirindranath composed a poem titled 'Udbhodan' (Inauguration) on its launching ceremony. He was also in charge of the editor of Hindu-mela. Being inspired by patriotism in and nationalist spirits, he founded the following organisations one after another: Brahmadharmabodhini Sabha (1872), Saraswata Samaj (Saraswata Society, 1872), Adi Brahma Samaj Sangit Vidyalay (Original Brahma Society Music School, 1875), Sanjibani Sabha etc. For the economic development of the country and with the inspiration of his father, he ran businesses of jute, indigo and steamer though he could not make expected profit in any of these.    
Jyotirindranath Tagore's literary career began with writing drama and farce. His notable works are: Kivchit Jalajog (Some Refreshments, farce, 1872), Purubikram (The Might of Puru, drama 1874), Sarojini Ba Chitor Akroman Natok (1875), Ashrumati (Woman in Tears, drama 1879), Hothat Nabab (farce, 1884), Olik Babu (farce, 1900) and others. He also wrote a few musical dramas, such as: Swapnamayi (1880), Basontalila (1900) and Dhaynbhabga (1900). Most of his dramas were performed at the opera-houses of Jorasanko and kolkata. His dramas were written in the backdrop of Indian history, while patriotism and since of nationalism were at the heart of his works. In his farces, he satirizes different social evils. Along with writing many original dramas, he translated many Sanskrit, French and English dramas into Bangla.
As in drama, he had equal attainments in music. He was proficient in composing and recording music and in musical notation. He was also skilled both in music and instrumental music. His Swaralipi Gitimala (1897) is an important book. By establishing a music school at young age and by publishing two music-related periodicals titled Binabadini (1897) and Sabgit Prokashika (1901) at mature age, he demonstrated not only his love and devotion to music but also his capabilities as a music organizer. By founding Bharat Sangit Samaj, he patronized the practice of music. He earned special skills in plying sitar, piano and violin. He used to compose new music on the piano and violin, and at the same time, Rabindranath, Akshay Chaudhury, Swarnakumari and others used to write songs by setting words in tone. In Jibansmriti (Memoirs), Rabindranath makes especial mention of Jyotirindranath's contribution to music.
Jyotirindranath made young Rabindranath aware of music composition, poetic metre and musical note. He was the forerunner in amalgamating Indian musical mode with the western musical tradition. He left a mark of excellence in Brahma music and in patriotic and love songs. In the Tagore family, there was an influence of Brahma religion. Brahma music was part and parcel of Brahma religion. Jyotirindranath received the inspiration to compose Brahma music from the religious sentiment of his family. Brahma Sabgeet Swaralipi Granthamala (1-6 vols.), published by Adi Brahmasamaj, included 61 songs of Jyotirindranath. In 1876, he published a patriotic music book titled Jatiya Sangit which included songs by himself as well as by Dwijendranath, Satyendranath and Gaganendranath. The later edition of Jatiya Sangit included patriotic songs by Rabindranath as well. By introducing musical notations ending with the vowel sound 'a', he demonstrated his inventive power. In his Swaralipi Gitimala, musical notations of 168 songs were published, of which 68 were Rabindranath's.
One aspect of the versatile talent of Jyotirindranath Tagore was his art of painting. He was expert in painting human images. After spending a busy life in cultivating literature, music and in the various fields of fine arts such as painting, Jyotirindranath spent his later life at Ranchi where he died on 4 March 1925. [Wakil Ahmed]