Belabo Upazila (narsingdi district) area 116.31 sq km, located in between 24°02' and 24°12' north latitudes and in between 90°46' and 90°58' east longitudes. It is bounded by katiadi and kuliarchar upazilas on the north, raipura upazila on the south, Kuliar Char and bhairab upazilas on the east, shibpur and manohardi upazilas on the west.
Population Total 164038; male 83443, female 80595; Muslim 159417, Hindu 4496 and others 125.
Water bodies Main rivers: old brahmaputra and arial khan.
Administration Belabo Thana, now an upazila, was formed comprising 3 unions from Manohardi upazila and 4 unions from Roypura upazila.
Upazila
Municipality
Union
Mouza
Village
Population
Density (per sq km)
Literacy rate (%)
Urban
Rural
Urban
Rural

-

8

52

99

17897

146141

1410

40.3

35.8
Upazila Town

Area
(sq km)

Mouza

Population

Density
(per sq km)

Literacy rate
(%)

9.24

5

17897

1937

40.34
Union
Name of union and GO code
Area (acre)
Population
Literacy rate (%)
Male
Female

Amlaba 11

4267

12692

11493

39.47

Char Ujilaba

1381

4095

3892

39.00

Bajnaba 13

3339

7793

7800

43.36

Belabo 20

2205

8541

8381

39.80

Binyabaid 25

4701

12639

12245

31.52

Narayanpur 59

4813

16842

16131

31.78

Patuli 71

5359

10050

9670

43.87

Sallabad 83

3012

11391

10983

28.61
Source Bangladesh Population Census 2001, Bangladesh Bureau of Statistics.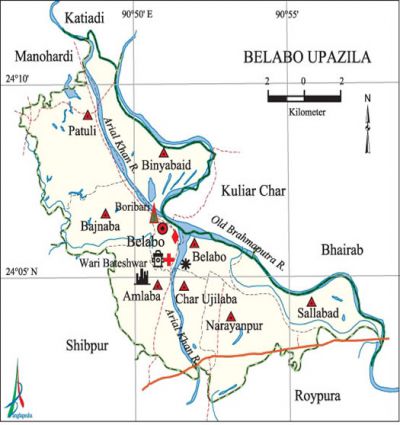 Archaeological heritage and relics Ruins of an ancient mosque and the Mazar of Shah Irani (R) at Habashpur (Sultanate period), high rise chimney of Nilkuthi at village Mahmudabad; many archaeological relics of the pre historic and Maurya period have been discovered in villages Wari and Bateshwar of the upazila.
History of the War of Liberation On 14 July 1971, a battle was fought between the freedom fighters and the Pak army near the upazila sadar in which 5 freedom fighters including Commander Abul Bashar were killed. The Pak army conducted mass killing at village Kaliakandi of Sallabad union. 'The Pak army conducted mass killing, torture and plundering; they also set many houses of the upazila on fire.
Marks of the War of Liberation Mass grave 1 (Kaliakandi, Sallabad union); Memorial monument 1 (Baribari), Memorial pillar 1 (Matialpara).
Religious institutions 'Mosque 308, temple 3, tomb 5. Noted religious institutions: Shah Irani Mosque, Belabo Bazar Jami Mosque, Belabo Mamud Ali Bepari Mosque, Jalalabad Akhra and Mandir.
Literacy rate and educational institutions Average literacy 36.3%; male 39.4%, female 33.1%. Noted educational institutions: Narayanpur Rabeya College (1986), Poradia Muslim High School (1930), Narayanpur Sarafatullah High School (1941).
Newspapers and periodicals defunct: Sabuj Pally (1926), Belabo Samachar (1983).
Cultural organisations Club 54, literacy society 1, baul academy 1, opera party 2, women's organisation 3, museum and archaeological library 1, cinema hall 2, playground 26.
Tourist spots Wari-Bateshwar Museum and Archaeological Collection (Amlaba union),' Belabo Bazar Jami Mosque, Mazar of Shah Irani' (Patuli union).
Main sources of income Agriculture 62.68%, non-agricultural labourer 2.72%, industry 1.31%, commerce 15.12%, transport and communication 2.65%, service 5.40%, construction 0.91%, religious service '0.27%, rent and remittance 1.02% and others 7.92%.
Ownership of agricultural land Landowner 69.04%, landless 30.96%; agricultural landowner: urban' 60.16% and rural 70.10%.
Main crops Paddy, jute, garlic, turmeric, ground nut, chilli, vegetables.
Extinct or nearly extinct crops Sesame, linseed, kaun, peanut, arahar, indigo.
Main fruits Jackfruit, papaya, lotkon, guava, deaua, dephal, karamcha, shaddock, kamranga.
Fisheries, dairies and poultries Fishery 110, dairy 25, poultry 68.
Communication facilities Pucca road 109 km, mud road 151 km; waterways 25 nautical miles
Extinct or nearly extinct traditional transport Palanquin, bullock cart.
Cottage industries Goldsmith, blacksmith, potteries, wood work, bamboo work, cane work.
Hats, bazars and fairs Hats and bazars are 23, fairs 6, most noted hats are Poradia, Belabo, Narayanpur, Bajnaba and Patuli hats; Shah Irani, Amlaba and Narayanpur melas are also notable.
Main exports Jackfruit, papaya, guava, lotkon, garlic, turmeric, chilli, vegetables.
Access to electricity All the unions of the upazila are under rural electrification net-work. However 25.45% of the dwelling households have access to electricity.
Sources of drinking water Tube-well 92.28%, pond 0.21%, tap 0.60% and others 6.91%.
Sanitation 16.57% (rural 43.42% and urban 56.44%) of dwelling households of the upazila use sanitary latrines and 52.23% of dwelling houses use non-sanitary latrines; 31.20% of households do not have latrine facilities.
Heath centres Upazila health complex 1, satellite clinic and family planning centre 4, clinic 14, diagnostic centre 4.
NGO activities asa, proshika, Deshsheba. [Md. Ifftekhar Uddin Bhuiyan]
References Bangladesh Population Census 2001, Bangladesh Bureau of Statistics; Cultural survey report of Belabo Upazila 2007.