Bhaluka Upazila (mymensingh district) area 444.05 sq km, located in between 24°16' and 24°29' north latitudes and in between 90°14' and 90°29' east longitudes. It is bounded by fulbaria and trishal upazilas on the north, sreepur (gazipur) upazila on the south, gaffargaon upazila on the east, sakhipur and ghatail upazilas on the west.
Population Total 308758; male 158003, female 150755; Muslim 294361, Hindu 13499, Buddhist 643, Christian 22 and others 233. Indigenous communities such as garo, Bangshi and Mandai belong to this upazila.
Water bodies Main rivers: Sutia, Lalti, Bajua, Miabua, banar, Salda; Harala Beel is also notable.
Administration Bhaluka Thana was formed in 1917 and it was turned into an upazila in 1983. '
Upazila
Municipality
Union
Mouza
Village
Population
Density (per sq km)
Literacy rate (%)
Urban
Rural
Urban
Rural

1

11

87

110

308007

177951

695

49.8

40.1
Municipality

Area
(sq km)

Ward

Mahalla

Population

Density
(per sq km)

Literacy rate (%)

5.10

9

13

12676

2485

65.8
Upazila Town

Area
(sq km)

Mouza

Population

Density
(per sq km)

Literacy rate (%)

24.93

3

18131

727

38.2
Union
Name of union and GO code
Area (acre)
Population
Literacy rate (%)
Male
Female

Uthura 94

10703

12440

12305

33.08

Kachina 60

13928

18608

18393

40.83

Dhakatia 34

15903

18483

18218

30.45

Dhitpur 43

5743

10378

9705

47.16

Birunia 25

6738

11277

10616

37.74

Bharadoba 17

5884

9888

9238

51.23

Bhaluka 14

7902

10572

9873

46.90

Mallikbari 69

11173

17312

16432

38.05

Meduary 77

8412

11042

10652

39.03

Rajai 86

8166

12431

11976

44.57

Harirbari 51

14882

18892

17351

40.20
Source Bangladesh Population Census 2001, Bangladesh Bureau of Statistics.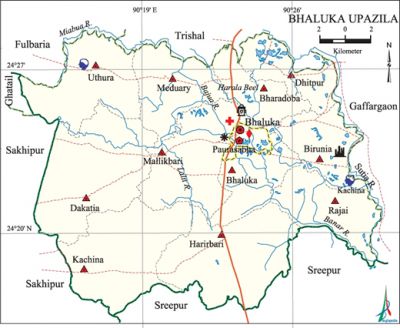 Archaeological heritage and relics Ruins of Neelkuthi at Birunia, Neshaiganj Mosque, Mosque at Bhaluka Bazar on the bank of river Khiru.
Historical events During the reign of Pala and Sena dynasty, Mymenshing and Bhaluka region was under the administration of Samanta ruler. This region came under the Muslim rule during the reign of Alauddin Hossain Shah in the fourteenth century. During the British period Mymenshing region was divided into a number of sub divisions. Bhaluka Thana, now an upazila, was included into Mymenshing sadar subdivision. During the war of liberation Afsar Uddin Ahmed, Sub Sector Commander of Sector 11, locally trained the freedom fighters and collected arms and ammunitions to challenge the Pak army. The Pak army established military camps at Mallikbari, Ashka, Tamat, and Bhaluka. They conducted mass killing, torture and plundering in the upazila; the Pak army also set many houses of the upazila on fire.
Marks of the War of Liberation Memorial monument 1 (Bhaluka Bus Stand).
Religious institutions Mosque 639, temple 28, church 4. Noted religious institutions: Uthura Jami Mosque, Mallikbari Jami Mosque, Neshaiganj Jami Mosque, Bhaluka Bazar Jami Mosque, Harirbari Mandir.
Literacy rate and educational institutions Average literacy 41.10%; Male 44%, female 38%. Educational institutions: college 5, secondary school 42, primary school 127, community school 24, satellite school 7, technical school 1, madrasa 38. Noted educational institutions: Bhaluka Degree College (1972), Batajore College (1977), Uthura College (1990), Bharadoba High School (1948), Bhaluka Pilot High School (1950), Kayadi High School (1960), Harirbari Sonarbangla High School (1972), Bhaluka Government Girl's School (1985), Rampur Senior Madrasa (1948), Goair Senior Madrasa (1948).
Newspapers and periodicals Daily: Jagrota Bangla; Monthly: Manobata, Alor Chhaya.
Cultural organisations Club 90, library 6, cinema hall 2, women's organisation 15.
Special attractions Crocodile breeding centre at village Hatiber of Uthura union, Arabian date cultivation farm at village Paragaon, Rabbit breeding centre in Harirbari union and Tepantar and Paradise Point.
Main sources of income Agriculture 69.72%, non-agricultural labourer 3.14%, industry 0.54%, commerce 9.48%, transport and communication 2.61%, service 5.91%, construction 1.04%, religious service '0.17%, rent and remittance 5.99% and others 1.40%.
Ownership of agricultural land Landowner 71.69%, landless 28.31%; agricultural landowner: urban' 59.59% and rural 73.01%.
Main crops Paddy, jute, wheat, sugarcane, potato, pulse, mustard, vegetables.
Extinct or nearly extinct crops Sesame, arahar, futi.
Main fruits Mango, jackfruit, banana, guava, litchi, pineapple, palm, amra, black berry, olive, papaya, custard apple, coconut.
Fisheries, dairies and poultries Fishery 25,' poultry 35, hatchery 2.
Communication facilities Pucca road 122 km, semi-pucca road 275 km, mud road 900 km; waterways 16 nautical miles.
Extinct or nearly extinct traditional transport Palanquin, bullock cart.
Noted manufactories Rice mill, textile mill, spinning mill, fish feed manufacturing factory, ceramic industries, welding factory.
Cottage industries Goldsmith, blacksmith, wood work, bamboo work, cane work.
Hats, bazars and fairs 'Hats and bazars are 50, fairs 4, most noted of which are Mallikbari, Bhaluka, Seedstore, Batajore, Kachina, Uthura, Birunia and Chamaidi bazars, Chaitra Samkranti and Baishakhi Mela.
Main exports Banana, jackfruit, guava, sugarcane, vegetables, cotton, egg, chicken.
Access to electricity All the wards and unions of the upazila are under rural electrification' net-work. However 14.24% of the dwelling households have access to electricity.
Sources of drinking water Tube-well 88.66%, tap 0.57%, pond 0.69% and others 10.08%.
Sanitation 27.74% (rural 27.13% and urban 33.39%) of dwelling households of the upazila use sanitary latrines and 37.43% (urban 36.54% and rural 45.59%) of dwelling households use non-sanitary latrines; 34.43% of households do not have latrine facilities.
Heath centres Upazila health complex 1, hospital 2, health and family welfare centre 6, satellite clinic 4,' community clinic 4.
NGO activities caritas, brac, asa, proshika, CARE, HDP, NGO Forum. [AKM Amanullah Badal]
References Bangladesh Population Census 2001, Bangladesh Bureau of Statistics; Cultural survey report of Bhaluka Upazila 2007.