Bhuapur Upazila (tangail district) area 216.38 sq km, located in between 24°23' and 24'°35' north latitudes and in between 89°44' and 89°54' east longitudes. It is bounded by gopalpur and sarishabari upazilas on the north, kalihati upazilas on the south, Kalihati, ghatail and Gopalpur upazilas on the east, Jamuna river and sirajganj sadar upazila on the west.
Population Total 190910; male 96505, female 94405; Muslim 184607, Hindu 6226, Buddhist 8 and others 69.
Water bodies jamuna river and Bhuapur beel are notable.
Administration Bhuapur Thana was formed in 1974 and it was turned into an upazila on 24 March 1983.
Upazila
Municipality
Union
Mouza
Village
Population
Density (per sq km)
Literacy rate (%)
Urban
Rural
Urban
Rural

1

6

111

129

24730

166180

882

53.5

37.9
Municipality

Area (sq km)

Ward

Mahalla

Population

Density (per sq km)

Literacy rate (%)

13.72

9

19

24730

1802

53.5
Union
Name of union and GO code
Area (acre)
Papulation
Literacy rate (%)
Male
Female

Arjuna 13

9923

13663

13225

34.63

Gabsara 54

16733

14141

15297

29.57

Gobindasi 67

5749

17762

17216

41.67

Nikrail 81

10968

12475

11852

38.36

Falda 40

5930

11261

10622

40.96

Birhati 27

5674

14558

14108

41.31
Source Bangladesh Population Census 2001, Bangladesh Bureau of Statistics.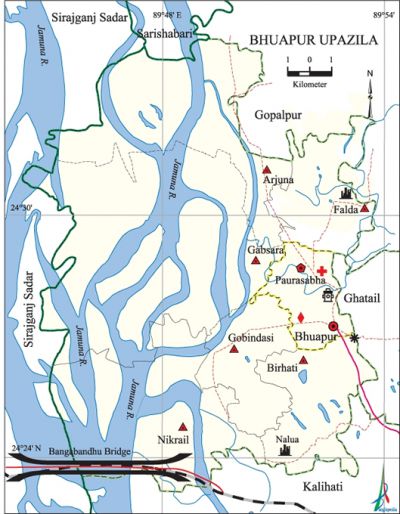 History of the War of Liberation The Sarba Daliya Sangram Parishad (the all party resistance council) hoisted the flag of the Bangladesh in a meeting held on 28 March 1971 on the foot of the Bhuapur College Shahid Minar. On 11 August the freedom fighters challenged a Pakistani ship carrying huge amount of arms and ammunitions at Sirajkandi and captured it. The freedom fighters later burnt the ship. On 8 November an encounter was held between the freedom fighters and the Pak army in Bhuapur. On 17 November the Pak army brutally killed 32 innocent persons at village Chhabisha of this upazila; they also set 350 houses on fire.
Marks of the War of Liberation Memorial sculpture 1 (Ibrahim Khan College premises); mass grave 1 (Palsa School playground).
Religious institutions Mosque 135, temple 7. Noted religious institutions: Kismat Moria Mosque, Falda Jami Mosque, Kalidaha temple.
Literacy rate and educational institutions Average literacy 40%; male 44.5%, female 35.5%. Educational institutions: college 5, secondary school 27, primary school 104, madrasa 21. Noted educational institutions: Ibrahim Kha College (1948), Shamsher Fakir College (1986), Palashia Rani Dinomoni High School (1918), Falda Ramsundar Union High School (1925), Gobindasi High School (1930), Bhuapur Pilot High School (1941), Bhuapur Pilot Girls High School (1941), Bhuapur Fazil Madrasa (1976).
Cultural organisations Club 1, cinema hall 2, library 5,' theatre group 6, literary society 2, cultural organisation 4.
Important installations bangabandhu jamuna multipurpose bridge.
Main sources of income Agriculture 54.61%, non-agircultural labourer 2.45%, industry 1.16%, commerce 14.73%, transport and communication 4.39%, service 9.01%, construction 1.97%, religious service 0.19%, rent and remittance 0.61% and others 10.88%.
Ownership of agricultural land Landowner 62.87%, landless 37.13%. Percentage of ownership of agricultural land is 62.03% in urban area as against 62.99% in rural area.
Main crops Paddy, jute, mustard, wheat, potato, pulse, vegetables.
Extinct or nearly extinct crops Peanut, linseed, kaun, sugarcane.
Main fruits Mango, jackfruit, banana, papaya.
Fisheries, dairies and poultries Fishery 20, dairy 15 and Poultry 300.
Communication facilities Roads: pucca 46.9 km, mud road 202.63 km; waterways 99.35 nautical miles. Bridge 26.
Extinct or nearly extinct traditional transport Bullock cart, 'horse carriage, palanquin, dhuli.
Noted manufactories Textile mill, rice mill, still mill, wood furniture factory, agricultural machine factory.
Cottage industries 'Goldsmith, blacksmith, embroidery, woodworks, bamboo work, cane work, nakshi shika.
Hats, bazars and fairs Hats and bazars are 16, fairs 6. Bhuapur Hat, Shialkhot Hat, Nikrail Hat, Kuthibayra Hat, Gobindasi Hat, Durgapur Hat are notable.
Main exports Jute, leather, potato, vegetables, mustard.
Access to electricity All the unions of this upazila are under rural electrification net-work; however, 14.70% dwelling households have access to electricity.
Sources of drinking water Tube-well 96.26%, pond 0.10%, tap 0.40% and others 3.24%.
Sanitation 42.12% (urban 67.42% and rural 38.34%) of dwelling households of the upazila use sanitary latrines and 49.45% (urban 26.79% and rural 52.84%) of dwelling households use non-sanitary latrines; 8.43% of households do not have latrine facilities.
Health centres Upazila health complex 1, family planning centre 7, satellite clinic 2, village health centre 14, clinic 3.
NGO activities brac, asa, Serve, caritas, Barendra, SRC, Mukh. [Md Kaiser]
References Bangladesh Population Census 2001, Bangladesh Bureau of Statistics; Cultural survey report of Bhuapur Upazila 2007.