Cantonment Thana (Dhaka metropolitan) area 14.47 sq km, located in between 23°46' and 23°50' north latitudes and in between 90°23' and 90°25' east longitudes. It is bounded by turag and uttara thanas on the north, tejgaon thana on the south, tejgaon ind. area thana on the south-east, bimanbandar, khilkhet, badda and gulshan thanas on the east, kafrul thana on the west and Pallabi thana on the north-west.
Population Total 117464; male 69677, female 47787; Muslim 39175, Hindu 336, Buddhist 20, Christian 10 and others 1.
Administration Cantonment Thana was formed in 1976.
Ward
Mahalla
Population
Density (per sq km)
Literacy rate (%)
Urban
Rural
Urban
Rural
1+1 (part)
8
117464
-
11393
79.88
-
Ward
Ward No.
Area (sq km)
Population
Literacy rate (%)
Male
Female
Ward No. 15 (part)
3.25
20580
18962
70.3
Ward No. 98
7.06
49097
28825
89.46
Source Bangladesh Population Census 2001, Bangladesh Bureau of Statistics.
Marks of War of Liberation Swadhinata Chattor (opposite to Kachukhet Bazar).
Noted religious institutions Cantonment Central Mosque.
Literacy rate and educational institutions Average literacy 70.3%; male 74.4% female 65.7%. Educational institutions: college 2, secondary school 9, primary school 8, madrasa 10. Noted educational institutions: Adamjee Cantonment College, Shaheed Bir Uttam Lt. Anwar Girls College.
Cultural organisations Club 4, cinema hall 2, gymnasium 4, community centre 2. Sainik Club, Sena Kunjo, Cantonment Gulf Club, Kurmitola Golf Club, Army Stadium are notable.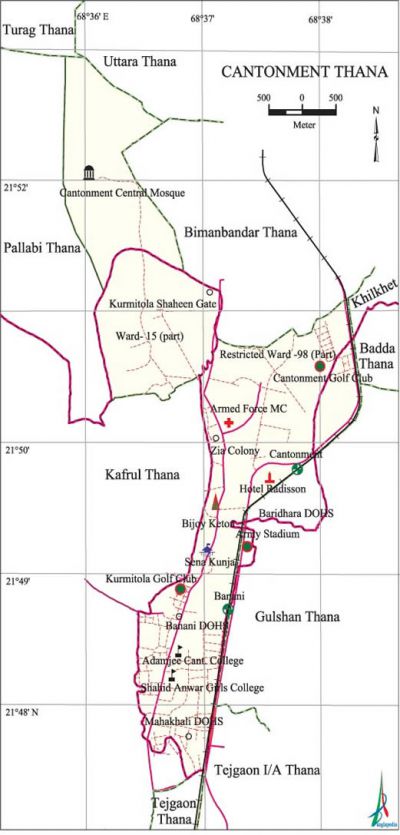 Special features Hotel Radisson.
Main sources of income Agriculture 1.21%, non-agricultural labourer 1.67%, industry 0.77%, commerce 13.59%, transport and communication 4.25%, service 63.97%, construction 2.35%, religious service 0.07%, rent and remittance 3.88% and others 8.24%.
Ownership of agricultural land Landowner 77.38%, landless 22.62%.
Main crops Vegetables.
Extinct or nearly extinct crops Paddy, jute, pulse.
Main fruits Mango, jackfruit, banana, guava, papaya.
Communication facilities' Total roads: 68.08 km.
Extinct or nearly extinct traditional transport Palanquin, bullock cart, 'horse carriage.
Noted manufactories Garments Industry.
Cottage industries Embroidery, handicrafts.
Bazar and shopping centres Bazar and shopping centers are 5; most noted of which are Shahin Bug Bazar, and Manikdi Bazar.
Main exports Ready made cloth, handicrafts.
Access to electricity All the wards of the thana are under electrification net-work; however, 96.43% dwelling households have access to electricity.
Sources of drinking water Tube-well 9.15%, pond 0.04%, tap 88.50% and others 2.31%.
Sanitation 96.18% of dwelling households of the thana use sanitary latrines and 2.03% of dwelling households use non-sanitary latrines; 1.79% of households do not have latrine facilities.
Health centres Combined Military Hospital (CMH) 1, clinic 2. Armed Forces Medical is notable. [Syed Shabbir Ahmed]
References  Bangladesh Population Census 2001, Bangladesh Bureau of Statistics.