Kafrul Thana (Dhaka metropolitan) area 7.89 sq km, located in between 23°45' and 23°49' north latitudes and in between 90°22' and 90°23' east longitudes. It is bounded by cantonment thana on the north, tejgaon thana on the south, Cantonment thana on the east, mirpur model 'and sher-e-bangla nagar thana on the west.
Population Total 272939; male 147793, female 125146; Muslim 269163, Hindu 4685, Buddhist 1499, Christian 295 and others 53.
Administration Kafrul thana was formed in 1998 consisting parts of Mirpur Model and Cantonment thanas. Bangladesh Air Force and Old Airport are situated in this area.'
Thana
Ward
Mohalla
Population
Density (per sq km)
Literacy rate (%)
Urban
Rural
Urban
Rural

1+3 (Part)

18

272939

-

34593

71.59

-
Ward
Name number of Ward
Area (sq km)
Population
Literacy rate (%)
Male
Female

Ward No. 4

1.10

29745

23343

74.19

Ward No. 14 (Part)

1.67

35550

29123

77.16

Ward No. 15 (Part)

1.66

37176

33617

58.07

Ward No. 16 (Part)

3.46

45322

39063

76.95
Source Bangladesh Population Census 2001, Bangladesh Bureau of Statistics.
Marks of the War of Liberation Jahangir Gate (at the entrance of Dhaka Cantonment constructed in memory of martyr Birsrestha mahiuddin jahangir), Bashar Base of Bangladesh Air Force (in memory of Air Vice Marshal khademul bashar).
Religious institutions Mosque 65, temple 2, church 1. Noted religious institutions: Shaheed Bashar Jmai Mosque, Mazidul Baitul Karara.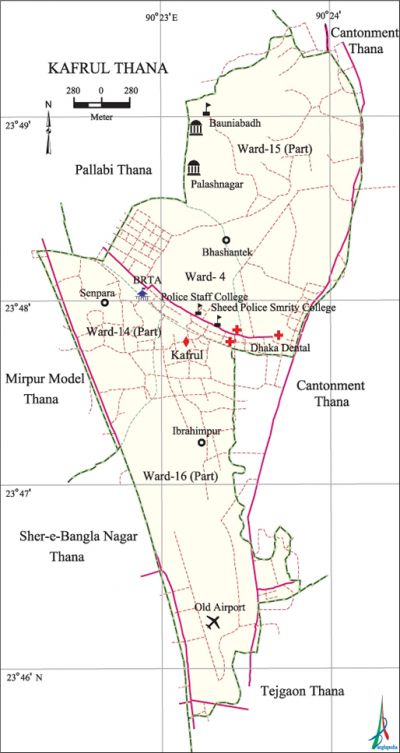 Literacy rate and educational institutions Average literacy 69.87%; male 74.92%, female 63.87%. Educational institutions: dental college 1, college 2, secondary school 8, primary school 30, ngo school 12, english medium school 1, madrasa 19. Noted educational institutions: Monipur School and College, Shaheed Police Smriti College, Police Staff College.
Cultural organisations Club 14, cinema hall 3, playground 2. RAWA Club, Shahin Club and Old DOHS Club are notable.
Main sources of income Agriculture 1.11%,' non-agricultural labourer 1.62%, industry 5.60%, commerce 19.46%, transport and communication 10.40%, service 41.66%, construction 6.39%, religious service 0.10%, rent and remittance 3.28% and others 10.38%.
Ownership of agricultural land Landowner 47.66%, landless 53.33%.
Main crops Vegetables.
Extinct or nearly extinct crops Jute, oilseed, pulse. '
Main fruits Mango, jackfruit, papaya, coconut, guava, banana.
Communication facilities Total roads: 70.21 km.
Extinct or nearly extinct Traditional transport Palanquin, horse carriage and bullock cart.
Noted manufactories Garments industry, ice cream factory, bakery, stationary.
Cottage industries Handicrafts, weaving.
Hats, bazars and shopping centres Markets 3, kanchabazars 7 and fair 1, most noted of which are Kachu Khet Bazar, CSD, Mina Bazar, RAWA Club Fair (held on 31 December every year).
Main exports Readymade garments, handicraft.
Access to electricity All the wards of this thana are under electrification net-work. However, 96.67% dwelling households have access to electricity.
Sources of drinking water Tube-well 21.67%, pond 0.10%, tap 76.22% and others 2.01%.
Sanitation 82.26% of dwelling households of the thana use sanitary latrines and 11.91% of dwelling household use non-sanitary latrines; 5.82% of households do not have latrine facilities.
Health centres Hospital 4, satellite clinic 2, clinic 17 and diagnostic centre 4, most noted of which are' Unani and Ayurvedic Medical College and Hospital, Ahasania Mission Cancer Hospital, Dhaka Dental College Hospital, Family Health Clinic.
NGO activities asa, brac, proshika, Nijera Kori, Cap, IRC. [Md Tuhin Molla]
References Bangladesh Population Census 2001, Bangladesh Bureau of Statistics.