Chawkbazar Model Thana (Dhaka metropolitan) area 2.07 sq km, located in between 23°42' and 23°43' north latitudes and 90°23' and 90°24' east longitudes. It is bounded by shahbagh thana on the north, keraniganj upazila and kamrangirchar thana on the south, bangshal and kotwali thanas on the east, lalbagh thana on the west.
Population Total 160112; male 104484, female 55628; Muslim 155237, Hindu 4586, Buddhist 205, Christian 45 and others 39.
Water bodies Main river: buriganga.
Administration Chawkbazar Model Thana was formed on 30 August 2009 comprising parts of Lalbagh and Kotwali thanas.
Thana
Ward
Mahalla
Population
Density (per sq km)
Literacy rate (%)
Urban
Rural
Urban
Rural
3+3 (part)
62
160112
-
77349
75.49
-
Ward
Ward No.
Area (sq km)
Population
Literacy rate (%)
Male
Female
Ward No. 56 (part)
0.20
1668
814
93.76
Ward No. 63
0.47
16306
9901
77.42
Ward No. 64
0.16
15883
9716
76.89
Ward No. 65
0.35
36786
22586
62.14
Ward No. 66 (part)
0.50
18131
8566
68.49
Ward No. 67 (part)
0.39
15710
4045
74.26
Source  Bangladesh Population Census 2001, Bangladesh Bureau of Statistics.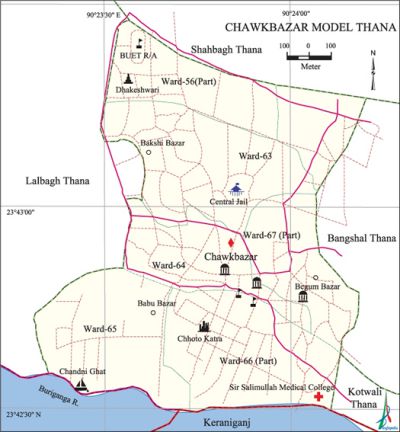 Archaeological heritage and relics husaini dalan (1642), bara katra (1641), chhota katra (1663), chawk mosque (1676), dhakeshwari temple (1890), imambara (1891), kartalab khan's mosque (1704), Hasina Manzil (1911).
Noted religious institutions Chawk Mosque, Tatkhana Lane Jami Mosque (1913), Baitul Ijjat Shahi Mosque, BUET Central Mosque, Lalbagh Chhata Mosque, Khawja Dewan Mosque, Ahamadiya Muslim Zamat Mosque, Bakshi Bazar Jami Mosque, Baitul Mamur Jami Mosque, dhakeshwari temple and Mazar of Hazrat Makkhu Shah (R).
Literacy rate and educational institutions Average literacy 75.49%; male 77.31%, female 71.18%. Noted educational institutions: Sir Salimullah Medical College, Begum Badrunnesa Government Girls' College (1948), Dr. Shahidullah College (1973), Tibbia Habibia College (1930), Metropolis Degree College (1990), Begum Anwara Girls' College, Shaikh Burhanuddin Post Graduate College, Begum Anwara Muslim' Girls' High School (1932), Islambagh Ashraf Ali High School, Islamia High School, nabakumar institute (1916), Champatali Government Primary School, Pearu Sardar Government Primary School (1962), Government Madrasa-i-Alia (1780).
Cultural organisations Club 11, gymnasium 1, community centre 7, playground 4, most noted of which is Shaheed Matiur Rahman Memorial Centre and Library.
Main sources of income Agriculture 0.75%, non-agricultural labourer 1.03%, industry 5.05%, commerce 42.46%, construction 0.98%, transport and communication 2.98%, service 32.73%, religious service 0.11%, rent remittance 2.35% and others 11.56%.
Ownership of agricultural land Landowner 39.59%, landless 60.41%.
Noted establishments Dhakeshwari Temple, Dhaka Central Jail, Board of Intermediate and Secondary Education (Dhaka), Madrasa Education Board, BUET residential area, Chawkbazar Telephone Exchange, Bangladesh Army Recruiting Office, Chandnighat Water Plant, etc.
Communication facilities Total roads 31.17 km.
Extinct or nearly extinct traditional transport Palanquin, bullock cart.
Main fruits Mango, jackfruit, coconut, guava.
Noted manufactories Garment industry, plastic industry, aluminum industry, shoe factory, lathe machine, attar (perfume) industry, button industry.
Cottage industries Goldsmith, bamboo and cane works, tailoring.
Noted Bazars and shopping centres Fancy Market, Tazmahal Tower Super Market, Palashi Bazar, Chawkbazar, Moulvi Bazar, Imamganj Bazar, Begumganj Bazar, Mughaltuli Bazar, Churihatta Bazar, Rui Hatta Bazar, Rahmatganj Dalpatti, Sowarighat Bazar.
Main exports Readymade garments, plastic items, attar.
Access to electricity All the wards of the thana are under electricity net-work; however. 99% dwelling households have access to electricity.
Sources of drinking water Tube-well 13.11%, tap 86.23%, pond 0.08% and others 62%.
Sanitation 88.25% of dwelling households use sanitary latrines and 11.68% of dwelling households use non-sanitary latrines; 1.13% of households do not have latrine facilities.
Noted Health centres Dhaka Mahanagar Shishu Hospital, Midford Hospital. [Lilyma Ahmed]
References Bangladesh Population Census 2001, Bangladesh Bureau of Statistics; Field report of Chawkbazar Model Thana 2010.