Debhata Upazila (satkhira district) area 176.33 sq km, located in between 22°31' and 22°40' north latitudes and in between 88°55' and 89°07' east longitudes. It is bounded by satkhira sadar upazila on the north, kaliganj (Satkhira) upazila on the south, assasuni and Satkhira Sadar upazilas on the east, west bengal of India on the west.
Population Total 118944; male 61315, female 57629; Muslim 92328, Hindu 26549, Buddhist 48, Christian 13 and others 6.
Water bodies Main rivers: ichamati, Kholpetua; Sapmara and Labannabati canals are notable.
Administration Debhata Thana, now an upazila, was formed in 1919.
Upazila
Municipality
Union
Mouza
Village
Population
Density (per sq km)
Literacy rate (%)
Urban
Rural
Urban
Rural

-

5

59

122

2708

116236

675

59.07

49.72
Upazila Town

Area
(sq km)

Mouza

Population

Density
(per sq km)

Literacy rate (%)

3.48

1

2708

1092

59.07
Union
Name of union and GO code
Area (acre)
Population
Literacy rate (%)
Male
Female

Kulia 31

13463

14612

13408

50.95

Debhata 15

5249

8503

8166

52.43

Noapara 47

8972

13667

12435

47.52

Parulia 63

10828

14636

14190

48.74

Sakhipur 79

4235

9897

9430

51.34
Source Bangladesh Population Census 2001, Bangladesh Bureau of Statistics.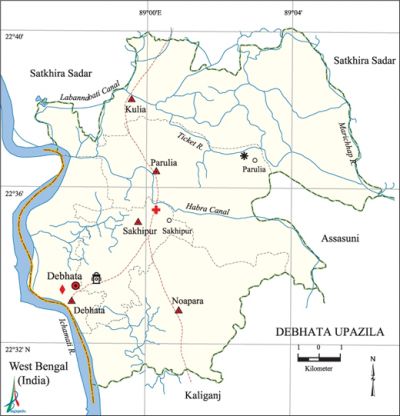 Archaeological heritage and relics Sree Sree Gokulananda Jeu Mandir, Debhata Municipal Office, Debhata Thana Bhaban (1894).
History of the War of Liberation In the month of April 1971 the Pak army brutally killed more than three hundred innocent refugees coming from Dacope, Batiaghata, Baradal, Bangdaha, Assasuni of Khulna and Satkhira regions on their way to India, at Parulia Sapmara canal of the upazila. On 22 April the Pak army shot a villager dead at Parulia. An encounter between the freedom fighters and the Pak army was held on 7 June 1971 at village Town Sreepur of the' upazila in which 8 freedom fighters including Nazmul Arefin Khokon and Shamsuzzaman Khan Kajol were killed. On 15 August the freedom fighters destroyed the wooden bridge, extensively used by the Pak army, on the Sapmara Canal. In October 1971 the freedom fighters attacked the Pak military base at Shakhara-Komorpur in which Muktijoddha Golzar Hossain of village Kulia was killed and so were a number of Pak soldiers. This battle is known as 'Bhatshala Battle'. On 21 November the freedom fighters attacked the Pak army base at a place adjacent to the Kulia Bridge of the upazila in which 9 freedom fighters were killed. In this battle the Pak army also faced heavy casualties; they were also forced to evacuate the base.
Marks of the War of Liberation Mass grave 1, memorial road 2 (Martyr Kajol Memorial Road and Martyr Nazmul Memorial Road).
Religious institutions Mosque 150, temple 88. Noted religious institutions: Hossaini Imambari Mosque (1986).
Literacy rate and educational institutions Average literacy 49.94%; male 55.64%, female 43.87%. Educational institutions: college 4, secondary school 15, primary school 56, community school 2, madrasa 11. Noted educational institutions: Khan Bahadur Ahsanullah College (1985), Hazi Keyamuddin Memorial Girls' College (1996), Debhata College (2000), Ichamati Technical College (2004), Town Shreepur Sharat Chandra High School (1916), Parulia MS High School (1976), Debhata BBMP Institution (1919), Bahera AT Secondary School (1927).
Newspapers and periodicals Saikat (literary periodicals, 1997-98), Sonar Barta (1994-96), Debhata Barta (1997), Chetona (1990), Parabat (1994), Chhanda Hillol (1990).
Cultural organisations Club 23, library 1, cinema hall 2.
Main sources of income Agriculture 53.72%, non-agricultural labourer 5.18%, industry 1.08%, commerce 24.40%, transport and communication 3.66%, service 4.83%, construction 1.19%, religious service 0.32%, rent and remittance 0.31% and others 5.31%.
Ownership of agricultural land Landowner 46.49%, landless 53.51%; agricultural landowner: urban 39.56% and rural 46.65%.
Main crops Paddy, mustard, potato, onion, vegetables.
Extinct or nearly extinct crops Tobacco, arahar, sesame, gram, khesari, masina, jute.
Main fruits Mango, litchi, coconut.
Fisheries, dairies and poultries Dairy 11, poultry 50, shrimp 500.
Communication facilities Roads: pucca 62.80 km, semi-pucca 38 km, mud road 271 km; waterway 19 nautical miles.
Extinct or nearly extinct traditional transport Palanquin, bullock cart, horse carriage.
Noted manufactories Rice mill, ice factory, welding factory.
Cottage industries Goldsmith, blacksmith, potteries, bamboo work.
Hats, bazars and fairs Hats and bazars are 10, fairs 6, most noted of which are Parulia Hat, Parulia Bazar, Kulia Bazar, Sakhipur Bazar, Debhata Bazar, Parulia Sashan Ghat Mela (on the occasion of the Kali Puja).
Main exports Shrimp, leather, vegetables.
Access to electricity All the unions of the upazila are under rural electrification net-work. However 21.15% of the dwellings have access to electricity.'
Sources of drinking water Tube-well 95.62%, tap 2.47%, pond 1.33% and others 0.58%.
Sanitation 51.52% (rural 50.95% and urban 74.95%) of dwelling households of the upazila use sanitary latrines and 36.48% (rural 36.86% and urban 20.69%) of dwelling households use non-sanitary latrines; 12% of households do not have latrine facilities.
Health centres Upazila health complex 1, satellite clinic 2, clinic 15, pathology centre 2.
NGO activities brac, Dhaka Ahsania Mission, Ashar Alo. [Amarendra Nath Mridha]
References Bangladesh Population Census 2001, Bangladesh Bureau of Statistics; Cultural survey report of Debhata Upazila 2007.