Satkhira Sadar Upazila (satkhira district) area 400.82 sq km, located in between 22°37' and 22°50' north latitudes and in between 88°55' and 89°10' east longitudes. It is bounded by kalaroa upazila on the north, debhata and assasuni upazilas on the south, tala upazila on the east, west bengal state of India on the west.
Population Total 410355; male 211986, female 198369; Muslim 351303, Hindu 57340, Buddhist 854, Christian 39 and others 819.
Water bodies Main rivers: ichamati, Betna, Kholpatua; Naokhali Canal and Labannabati Beel are notable.
Administration Satkhira Sadar Thana was turned into an upazila in 1984. Satkhira Municipality was formed in 1869. The main business centre of the town is Sultanpur Bazar (old name Pransayar Bazar).
Upazila
Municipality
Union
Mouza
Village
Population
Density (per sq km)
Literacy rate (%)
Urban
Rural
Urban
Rural

1

14

119

236

95181

315174

1024

63.22

46.75
Municipality

Area (sq km)

Ward

Mahalla

Population

Density (per sq km)

Literacy rate (%)

36.45

9

31

95181

2611

63.22
Union
Name of union and GO code
Area (acre)
Population
Literacy rate (%)
Male
Female

Agardari 13

7988

16413

15921

42.29

Alipur 16

7755

13279

12324

49.44

Kuskhali 74

6144

10775

10560

47.51

Ghona 61

4264

7249

7124

49.53

Jhaudanga 67

6527

15755

15163

51.18

Dhulihar 54

9345

10994

10024

41.43

Fingri 51

8257

15203

14257

46.00

Balli 27

4165

7992

7666

44.94

Banshdaha 33

5425

9797

9347

39.90

Baikari 20

6253

8768

8266

37.85

Brahma Rajpur 47

6747

9952

9504

47.26

Bhomra 40

7246

11898

11030

45.68

Labsa 81

5562

14851

13998

59.56

Shibpur 94

6113

8776

8288

44.79
Source Bangladesh Population Census 2001, Bangladesh Bureau of Statistics.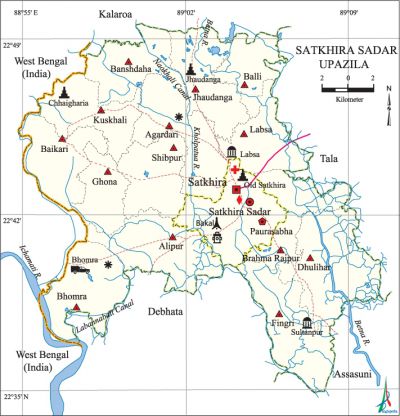 Archaeological heritage and relics Sultanpur Shahi Mosque, Zamindar Bari Jami Mosque, Tomb of Maichampa at Labsa, Shahi Mosque and Hozrakhana at Baikari (1594), Tahsil Office and Sree Sree Jagannath Deva Mandir at Jhaudanga, Chhaigharia Jora Shiva Mandir, Satkhira Pancha Mandir (Annapurna Mandir, Kali Mandir, Shiva Mandir, Kal Bhairav Mandir and Radha-Govinda Mandir).
History of the War of Liberation On 26 March 1971 the Swadin Bangla Satra Sangram Parishad created resistance against the Pak army. On 18 April the freedom fighters captured money from the National Bank of Pakistan and deposited to the Indian Reserve Bank in favour of the Bangladesh Government in exile. On 20 April, the Pak army conducted mass killing at Jhaudanga on their entrance to Satkhira with military convoy. On 21 April, the Pak army killed more than two hundred people at the refugee camp at Satkhira Government High School and also at the nearby residences. An encounter was held on 29 April between the freedom fighters and the Pak army at Bhomra in which four freedom fighters were killed and so were many Pak soldiers. On 17 July, the freedom fighters raided the Pak military camp at Baikari and killed 7 Pak soldiers.
Marks of the War of Liberation Mass killing site 3 (homestead of Dinesh Karmakar and the adjacent pond located on backside of the Satkhira Government School, Bankal and Gangni Bridges); memorial monument 1 (Satkhira sadar).
Religious institutions Mosque 396, temple 17, church 2, tomb 3. Noted religious institutions: Sultanpur Shahi Mosque, tomb of Maichampa, Old Satkhira Kali Mandir, Kal Bhairav Mandir at Brahma Rajpur.
Literacy rate and educational institutions Average literacy 50.67%; male 55.90%, female 45.09%. Educational institutions: college 11, primary teachers training institute 1, vocational training institute 1, private technical school 1, homeopathy college 1, law college 1, secondary school 72, primary school 288, kindergarten 11, madrasa 48. Noted educational institutions: Satkhira Government College, Satkhira Government Mohila College, Satkhira Day-Night College, Satkhira City College, Palli Mangal School and College, Satkhira Polytechnic Institute, Satkhira Prananath Secondary School (1846), Satkhira Government Boys' High School, Satkhira Government Girls' High School, Nabarun Girls' High School (1969), Polashpole Adarsha High School, Satkhira PNP Collegiate School (1846), GN Government Primary School (1818), Satkhira Alia Kamil Madrasa (1928), Ahsania Alim Madrasa, Jhaudanga Fazil Madrasa.
Newspapers and periodicals Daily: Kafela, Satkhira Chitra, Patradut; weekly: Dakhinayan, Satkhira Digest, Sahajatri, Ajker Satkhira; fortnightly: Annesan (defunct); monthly: Chharar Dak; quarterly: Ikkhan, Dakhiner Janala, Saumma;' defunct periodicals: Masjid (1917), Annandamaye (1926), Korak (1962). Besides, during the period from 1965 to 1999 about 300 little magazines were also published.
Cultural organisations Library 5, club 31, women organisation 5, shilpakala academy 1, theatre stage 1, theatre group 21, jatra party 3, circus party 1, cinema hall 3.
Main sources of income Agriculture 56.89%, non-agricultural labourer 3.55%, industry 1.08%, commerce 15.57%, transport and communication 4.56%, service 7.85%, construction 1.39%, religious service 0.22%, rent and remittance 0.46% and others 8.43%.
Ownership of agricultural land Landowner 49.94%, landless 50.06%; agricultural landowner: urban 34.74% and rural 54.24%.'
Main crops Paddy, jute, wheat, sugarcane, mustard, potato, pulse, vegetables.
Extinct or nearly extinct crops Local aus paddy, boro paddy.
Main fruits Mango, blackberry, jackfruit, banana, papaya, coconut, plum, litchi, star apple, guava, sapodilla, plum, lemon.
Fisheries, dairies and poultries Fishery 1068, dairy 20, poultry 150.
Communication facilities Pucca road 84 km, semi-pucca road 98 km, mud road 550 km; waterway 110 nautical miles.
Extinct or nearly extinct traditional transport Palanquin, bullock cart, buffalo cart.
Noted manufactories Textile mill, flour mill, ice factory, biscuit factory, fish processing factory, leather goods, cold storage.
Cottage industries Goldsmith, blacksmith, potteries, weaving, wood work, mat work, bamboo work, jute work, tailoring.
Hats, bazars and fairs Hats and bazars are 67, fairs 7, most noted of which are Abader Hat, Bangdaha Hat, Jhaudanga Bazar, Sultanpur Bazar, Gurpukur Mela of Polashpole, Bhairab Mela, Rakhal Mela, Chaitra Sankranti Mela and Rath Mela.
Main exports Paddy, rice, shrimp, cotton, handicrafts, plum.
Access to electricity All the wards and unions of the upazila are under rural electrification net-work. However 35.13% of the dwelling households have access to electricity.
Sources of drinking water Tube-well 88.35%, tap 8.44%, pond 0.26% and others 2.95%. The presence of arsenic has been detected in shallow tube-well water of the upazila.
Sanitation 40.62% (rural 32.28% and urban 70.13%) of dwelling households of the upazila use sanitary latrines and 36.27% (rural 39.66% and urban 24.28%) of dwelling households use non-sanitary latrines; 23.11% of households do not have latrine facilities.
Health centres Hospital 2, child hospital 1, health and family welfare centre 14, maternity and child welfare centre 1, clinic 25.
NGO activities Operationally important NGOs are brac, asa, CARE, Bangladesh Vision, caritas, World Vision. [Tripti Mohan Mallik]
References Bangladesh Population Census 2001, Bangladesh Bureau of Statistics; Cultural survey report of Satkhira Sadar Upazila 2007.