Dhaka Club originally an all-white association and now a premier elitist social association. After the partition of bengal in 1905, dhaka was made the capital of the new province of Eastern Bengal and Assam. The British civilians, who came to govern the new province, felt the need of a social club in the model of the Bengal Club of Calcutta. Dhaka Club was thus founded on 19 August 1911. The club is located at Shahbag and surrounded by university of dhaka, bangladesh national museum, Hotel Sheraton, birdem Hospital, Ramna Garden and the Suhrawardy Uddyan.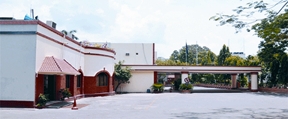 The founding members were Lt. Col. E A Hall (Civil Surgeon, Dhaka), C R Bryan, H G Bally (Commandant, Military Police Battalion, Dhaka), J O Rennie (PWD, Dhaka), and J S Wilson and A T Halliday of Indian Police, Dhaka. The club was granted legal status on 14 September1911 under the Indian Companies Act of 1882.   
Soon after its establishment, it became a club of both local and foreign elite, though white dominance continued down to 1947. The land of the club was leased out from the dhaka nawab estate. The membership of the club grew quickly in the 1920s and '30s when many Europeans came to Dhaka in connection with the jute trade, steam navigation, the railway, and estate management. In 1941, the Governor of Bengal leased out a tract of land comprising 524 bighas (173 acres) to the Dhaka Club. The club used the land to develop a racecourse (known as ramna racecourse, now converted into Ramna Garden), a golf course, the club buildings and playgrounds. At present, the club has only about 5 acres of land in its control. On this space, it has facilities for meetings and seminars, as well as hall rooms, guest-rooms, kitchens and dining rooms, playing courts and rooms for table tennis, billiards, cards, squash, and lawn tennis, and a swimming pool.
With the passage of time the club has grown both in membership and physical facilities and services. It is now a meeting place for elitist and influential people from all professions. In former times, indoor and outdoor games were dominant features of the club. At present, it gives considerable attention to cultural activities.
The club is run by an executive committee comprising a president and 10 members who are elected for a one-year term in a general meeting. The members are of different categories such as life members, general members, honorary members, special members, and officers of the defense forces. However, the right to vote is limited to life and general members. The total number of members of the club at present (2011) is 2600, a figure that is now considered as the highest membership limit. [Sirajul Islam]