Dhanbari Upazila (tangail district) area 143.82 sq km, located in between 23°37' and 24°45' north latitudes and in between 90°10' and 90°00' east longitudes. It is bounded by jamalpur sadar upazila on the north, gopalpur and madhupur upazilas on the south, Madhupur upazila on the east, sarishabari upazila on the west.
Population 151649; male 76819, female 74828; Muslim 148577, Hindu 2904 and others 45. There are a few garo and koch population in this upazila.
Water bodies Main rivers: bangshi, Jhinai and banar; Dublai Beel and Hamil Beel are notable.
Administration Dhanbari thana was formed in 2000 and it was turned into an upazila in 2006. Dhanbari municipality was established in 1996.
Upazila
Municipality
Union
Mouza
Village
Population
Density (per sq km)
Literacy rate (%)
Urban
Rural
Urban
Rural

1

7

75

168

30178

151647

1054

-

38.33
Union
Name of union and GO code
Area (acre)
Population
Literacy rate (%)
Male
Female

Dhanbari 47

9070

14735

14006

35.94




Dhopakhali 57

4049

10306

9937

39.08

Paishka 85

6651

10326

10193

35.70

Balibhadra

2831

6929

6870

39.00

Baniajan

1237

2935

2842

41.07

Birtara 38

5227

14844

14408

41.92

Musuddi 80

5654

14207

14088

37.32
Source Bangladesh Population Census 2001, Bangladesh Bureau of Statistics.
Archaeological heritage and relics Dhanbari Mosque and Nabab Manzil.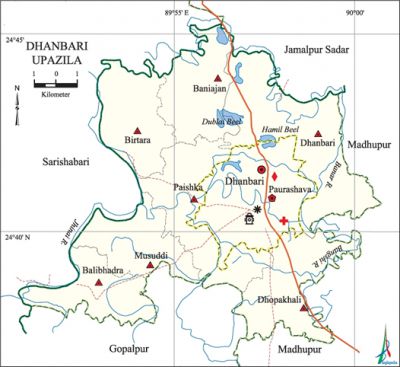 Religious institutions Mosque 180, temple 3, church 6.
Literacy rate and educational institutions Average literacy 39.18%; male 39.79%, female 38.83%. Noted educational institutions: Dhanbari Degree College (1967), Dhanbari Nawab Institution (1910), Panpata Islamia High School (1943), Paishka High School (1960), Fakir Afaj Uddin High School (1969).
Newspapers and periodicals 'Weekly Dhanbari Barta.
Cultural institutions' Public library 1, club 73, cinema hall 6, playground 29, theatre group 17, other cultural group 5.
Main sources of income Agriculture 77.37%, non-agricultural labourer 1.92%, industry 0.53%, commerce 7,71%, transport and communication 2,26%, service 0.65%, construction 0.18%, religious service 3.76%, rent and remittance 0.31% and others 5.31%.
Ownership of agricultural land Landowner 44.68% (urban 32.27% and rural 50.74), landless 55.32%.
Main crops Paddy, jute, sugarcane, potato, vegetables.
Extinct or nearly extinct crops Pea, khesari, black gram, sweet potato, sesame.
Main fruits Mango, jackfruit, banana, litchi, papaya.
Fisheries, dairies and poultries These upazila has a number of fisheries, dairies and poultries.
Communication facilities Roads: pucca 45 km, mud road 287 km; waterways 7 nautical miles.
Extinct or nearly extinct traditional transport Bullock cart, horse carriage, palanquin and dhuli.
Manufactories Rice mill, saw mill, bakery, wood made furniture.'
Cottage industries Weaving, goldsmith, potteries, blacksmith, bamboo & cane work, wood work, tailoring, limestone.
Hats, bazars and fairs Hats and bazars are 20, fair 3, most noted of which are Dhanbari Hat, Paishka Hat, Dhopakhali Hat, Balibhadra Hat, Musuddi Hat and Dhanbari Baishahi Mela.
Main exports Jute, sugarcane molasses, potato.
Access to electricity All the wards and unions of the upazila are under rural electrification net-work; however, 19.34% dwelling households have access to electricity.
Sources of drinking water Tube-well 93.03%, pond 0.18%, tap 0.45%, and others 5.54%.
Sanitation 38.47% (urban 65.13.% and rural 25.46%) of dwelling households of the upazila use sanitary latrines and 49.36% (urban 30.75% and rural 8.45%) of dwelling households use non-sanitary latrines; 12.17% of households do not have latrine facilities.
Health centres Satellite health centre 1, clinic 3, charitable dispensary 1, union health and family welfare centre 4.
NGO activities Operationally important NGOs are proshika, brac, SDS. [Sajida Begum]
References Bangladesh Population Census 2001, Bangladesh Bureau of Statistics; Cultural survey report of Dhanbari Upazila 2007.