Gangachara Upazila (rangpur district) area 272.28 sq km, located in between 25°48' and 25°57' north latitudes and in between 89°05' and 89°21' east longitudes. It is bounded by kaliganj (lalmonirhat) and jaldhaka upazilas on the north, rangpur sadar and kaunia upazilas on the south, aditmari and lalmonirhat sadar upazilas on the east, kishoreganj (nilphamari) and taraganj upazilas on the west. The town is famous for tobacco business.
Population Total 259856; male 135285, female 124571; Muslim 229494, Hindu 30221, Buddhist 20 and others 121.
Water bodies Main rivers: tista and ghaghat; Bara Beel, Bullai Beel, Mohsonkura Beel and Dondara Beel are notable.
Administration Gangachara Thana, now an upazila, was formed in 1917.'
Upazila
Municipality
Union
Mouza
Village
Population
Density (per sq km)
Literacy rate (%)
Urban
Rural
Urban
Rural

-

10

92

149

14743

245113

954

45.19

32.19
Upazila Town

Area
(sq km)

Mouza

Population

Density
(per sq km)

Literacy rate (%)

9.86

2

14743

1495

45.19
Union
Name of union and GO code
Area (acre)
Population
Literacy rate (%)
Male
Female

Alam Biditar 08

7820

16035

14948

28.19

Kolkanda 63

8558

12738

11677

32.61

Khaleya 52

5936

12213

11536

34.89

Gangachara 31

6160

17301

15896

45.99

Gajaghanta 42

4761

14495

13523

37.07

Nohali 77

7667

11324

10104

25.04

Barabil 10

8543

17004

15442

35.65

Betgari 21

6029

11980

11085

31.11

Marania 84

5106

13247

11929

20.78

Lakshmitari 73

6703

89.48

8431

30.66
Source Bangladesh Population Census 2001, Bangladesh Bureau of Statistics.
Archaeological heritage and relics Coleconda Mosque, Mandail Mosque at Barabil, Mosque at Mahipur Zamindar Bari, tomb of Sharif Pir Saheb at Pakuria, Hari Mandir at Chandanhat and Thakurdaha Mandir.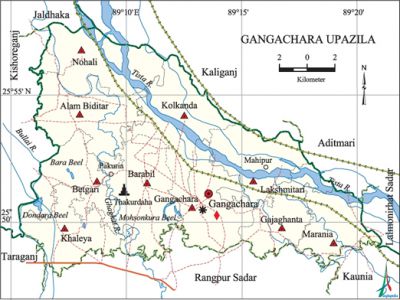 History of the War of Liberation In the middle of August 1971, a Pak soldier entered into Gangachara and chased a young girl and her father. The victims, finding no way to safety, jumped into the river and died. In the month of October, two Pak soldiers and five razakars were killed in an encounter with the guerrillas of Mujib Bahini. Later on, the Pak army launched attack on the innocent people and killed 17 pious Muslims entering into the Taltala Mosque. About 212 razakars surrendered to the Gangachara police station on 13 December.'
Marks of the War of Liberation Memorial monument 1 (Mahipur).
Religious institutions Mosque 305, temple 48.
Literacy rate and educational institutions Average literacy 32.95%; male 37.58%, female 27.93%. Educational institutions: college 8, secondary school 31, primary school 182, madrasa 23. Noted educational institutions: Gajaghanta High School and College (1906), Pakuria Sharif Bilateral High School (1919).
Cultural organisations Club 56, cinema hall 2, theatre group 2.
Main sources of income Agriculture 76.04%, non-agricultural labourer 4.78%, industry 0.28%, commerce 9.36%, transport and communication 2.17%, service 3.43%, construction 0.36%, religious service 0.14%, rent and remittance 0.15% and others 3.29%.
Ownership of agricultural land Landowner 58.44%, landless 41.56%; agricultural landowner: urban 55.75% and rural 58.59%.
Main crops Paddy, jute, tobacco, wheat, potato, ginger, maize, corn, brinjal, onion, patal, chilli, mushroom, vegetables.
Extinct or nearly extinct crops Sesame, linseed, kaun, sweet potato.
Main fruits Mango, black berry, jackfruit, banana, papaya.
Fisheries, dairies and poultries Fishery 27, dairy 10, poultry 120.'
Communication facilities Pucca road 30 km, semi-pucca road 10 km, mud road 260 km.
Extinct or nearly extinct traditional transport Palanquin, bullock cart.
Noted manufactories Rice mill, saw mill, bidi factory, welding factory.
Cottage industries Goldsmith, blacksmith, potteries.
Hats, bazars and fairs Hats and bazars are 22, most noted of which are Gajaghanta, Mahipur, Gangachara, Maulvibazar, Betgari, Manthana, Bakshiganj, Khaprikhal, Chowdhury Hats and Pagla Pirer Bazar,' Pakuria Sharif Mela, Mahipur Maharram Mela, Dhamur Chaitra Sankranti Mela and Mongla Toba Chaitra Sankranti Mela.
Main exports Tobacco, potato, chilli, vegetables.
Access to electricity All the unions of the upazila are under rural electrification net-work. However 12.93% (urban 24.49% and rural 12.28%) of the dwellings households have access to electricity.'
Sources of drinking water Tube-well 92.10%, tap 0.31%, pond 0.30% and others 7.28%.
Sanitation 11.03% (urban 24.18% and rural 10.29%) of dwelling households of the upazila use sanitary latrines and 25.47% (urban 28.79% and rural 25.28%) of dwelling households use non-sanitary latrines; 63.50% of households do not have latrine facilities.
Health centres Upazila health complex 1, family planning centre 10, satellite clinic 2, union health centre 2, permanent vaccination centre 240.
Natural disasters Gangachara area is highly prone to river erosions. In 1787, one fourth of the jamindari of Mahipur went under river bed due to the change of the course of the river Tista. As a result many people became landless. In 1964, the vast areas of' Marania, Gajaghanta and Mahipur unions went under river bed due to the erosion by the Tista. Besides, heavy damages to settlements and properties were caused due to the flood and river erosions of 1964, 1968, 1971 and 1974.
NGO activities thengamara mahila sabuj sangha, brac, asa, ESDO. [Md. Abdus Sattar]
References Bangladesh Population Census 2001, Bangladesh Bureau of Statistics; Cultural survey report of Gangachara Upazila 2007.