Ishwardi Upazila (pabna district) area 246.90 sq km, located in between 24°03' and 24°15' north latitudes and in between 89°00' and 89°11' east longitudes. It is bounded by lalpur and baraigram upazilas on the north, kushtia sadar and mirpur (kushtia) upazilas and the ganges river on the south, pabna sadar and atgharia upazilas on the east, bheramara upazila and Ganges river on the west.
Population Total 292938; male 152800, female 140138; Muslim 284043, Hindu 8372, Buddhist 473 and others 40.
Water bodies Main rivers: padma (Ganges), Kamala; Pati Beel is notable.
Administration Ishwardi Thana was formed in 1949 and it was turned into an upazila in 1983.
Upazila
Municipality
Union
Mouza
Village
Population
Density (per sq km)
Literacy rate (%)
Urban
Rural
Urban
Rural

1

7

128

123

96305

196633

1186

58.5

46.7
Municipality

Area
(sq km)

Ward

Mahalla

Population

Density
(per sq km)

Literacy rate (%)

19.59

9

29

62617

3196

57.4
Upazila Town

Area
(sq km)

Mouza

Population

Density
(per sq km)

Literacy rate (%)

17.79

4

33688

1894

60.5
Union
Name of union and GO code
Area (acre)
Population
Literacy rate (%)
Male
Female




Dashuria 21

7347

15226

14064

46.06

Pakshi 52

4802

17961

16703

60.63

Muladuli 42

10548

17986

16976

48.69

Lakshmikundi 31

12503

12271

10626

31.79

Sara 84

5317

12167

10883

47.27

Sahapur 63

6790

21608

19881

44.79

Silimpur 73

8255

23211

20758

54.12
Source  Bangladesh Population Census 2001, Bangladesh Bureau of Statistics.
Archaeological heritage and relics Patirajpur Jami Mosque.
Historical events On 29 March 1971, the Pak army killed five young men at village Madhabpur. An encounter between the freedom fighters and the Pak army was held at village Joynagar. On 14 December the Indian air forces bombarded on the Hardinge Bridge in which span No. 12 was broken and spans 9 and 15 were partially damaged.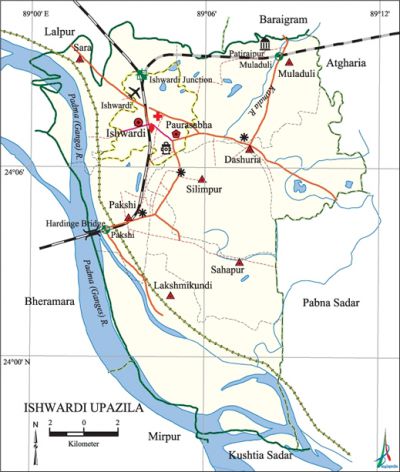 Marks of the War of Liberation Shaheed memorial monument (old bus terminal).
Religious institutions Mosque 210, temple 12, church 3, pagoda 1. Noted religious institutions: Ishwardi Central Jami Mosque, Mosjidul Fatah, Thakurbari Temple, Moubaria Temple.
Literacy rate and educational institutions Average literacy 50.7%; male 52%, female 49.2%. Educational institutions: college 7, secondary school 51, textile vocational institute 1, agricultural diploma institute 1, primary school 91, community school 4, kindergarten 25, madrasa 18. Noted educational institutions: Ishwardi Government College (1963), Sara Marowari School and College (1917), Pakudria High School (1907), Ruppur Girls' School (1918), Bangladesh Raiway Government Girls' High School (1918), Ishwardi Girls' High School (1929), Mobaram Memorial High School, Railway Nazim Uddin High School, Pakshi Chandraprobha High School,' Majdia Islamia Senior Madrasa (1961).
Newspapers and periodicals Daily: Uttar Janata; weekly: Junction, Janadabi; quarterly: Agrani; periodicals: Ekusher Chetana, Ekush Amar Ekush.
Cultural organisations Club 5, cultural group 7, sports association 108, women's organisation 32, cinema hall 4, theatre stage 1, theatre group 2.
Tourist spots Hardinge Bridge, Lalan Shah Setu (bridge), Agricultural Research Centre (one of the largest in Asia), Regional Agricultural Research Centre, Dal (pulsees) Research Centre, Silk Grannery, Sugarcane Research Centre (biggest in Asia and the only research centre in Bangladesh).
Main sources of income Agriculture 33.63%, non-agricultural labourer 7.56%, industry 1.73%, commerce 20.90%, transport and communication 5.26%, service 13.86%, construction 3.17%, religious service 0.23%, rent and remittance 0.48% and others 13.18%.
Ownership of agricultural land Landowner 42.96%, landless 57.04%; agricultural landowner: urban 28.56% and rural 50.03%.
Main crops Paddy, wheat, sugarcane, betel leaf, potato, onion, vegetables.
Extinct or nearly extinct crops Kaun, linseed, china, burley, arahar, guja, sweet potato, white mustard.
Main fruits Mango, jackfruit, litchi, papaya, lemon, plum, palm, wood apple.
Fisheries, dairies and poultries Fishery 12, dairy 170, poultry 28.'
Communication facilities Pucca road 200 km, mud road 710 km; waterway 17 nautical miles; railways 30 km; airport 1.
Extinct or nearly extinct traditional transport Palanquin, bullock cart, horse carriage.
Noted manufactories Sugar mill, paper mill, spinning mill, cement factory, rice mill, steel mill.
Cottage industries Weaving, goldsmith, blacksmith, potteries, jute made products, bamboo work, wood work.
Hats, bazars and fairs Hats and bazars are 30, fairs 3, most noted of which are Sahapara Natun Hat, Aotapara Hat, Ishwardi Bazar, Pakshi BBC Bazar, Majpara Hat, Dashuria Hat, Arancola Hat, Arambaria Hat and Muladuli Hat.
''Main exports ' Betel leaf, onion, papaya, vegetables, rice, sugarcane molasses, sugar, cement, flour.
Access to electricity All the wards and unions of the upazila are under rural electrification net-work. However 37.74% of the dwellings have access to electricity.
Sources of drinking water Tube-well 90.61%, tap 1.60%, pond 0.15% and others 7.64%.
Sanitation 30.23% (rural 17.04% and urban 57.09%) of dwelling households of the upazila use sanitary latrines and 53.97% (rural 63.63% and urban 34.30%) of dwelling households use non-sanitary latrines; 15.80% of households do not have latrine facilities.
Health centres Upazila health complex 1, railway hospital 2, union family welfare centre 7, clinic 4, charitable hospital 3.
NGO activities brac, thengamara mahila sabuj sangha, ccdb, ITCL, Nova, Mauchak Bangla, The Door Bangladesh. [Md Shahidullah Khan]
References Bangladesh Population Census 2001, Bangladesh Bureau of Statistics; Cultural survey report of Ishwardi Upazila 2007.