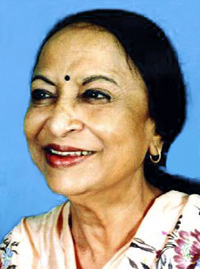 Jamil, Rawshan (1931-2002) dancer and actress, daughter of Abdul Karim, was born on 8 May 1931 at Rokanpur in dhaka district. She studied at St Francis Xavier's School]], Laksmibazar, and eden Mohila college, Dhaka.
After matriculating, Rawshan got admission at Shilpakala Bhavan, Wari, a dance school, run by a young dance instructor named Ganesh Nath. The two became close. Ganesh Nath converted to Islam and adopted the name gauhar jamil. The couple got married in 1952 and together set up Jago Art Centre (1959). After the untimely death of Gauhar Jamil in a road accident in 1980, Rawshan managed this institution on her own.
Apart from dancing, Rawshan Jamil also acted in plays. In the fifties, when boys performed the roles of girls, she acted in Sharatchandra's Devdas, staged at jagannath college. However, her professional acting career started in 1965 with her performance in the television play, Rakta Diye Lekha.
Her film career started two years later, in 1967, with Alibaba Challish Chor. As she aged, Rawshan moved from dancing to acting, becoming better known in later years as a character actress rather than as a dancer. Some of the widely acclaimed films of her career include Gori, Git Kahi Savgeet Kahi (Urdu), Moner Mato Bou, Jiban Theke Neya, Surya Sangram, Ora Egaro Jan, Adhikar, Titas Ekti Nadir Nam, Agun, Nayan Mani, Sujan Sakhi, Golapi Ekhan Train-e, Abar Tora Manus Ha, Matir Ghar, Badhu Biday, Saheb Bibi Golam, Surya Dighal Bari, Pension, Lal Kajal, Kalmilata, Devdas, Chitkar, Shes Uttar, Ramer Sumati, Janani, Mis Lalita, Nader Chand, Matir Kole, Bandhan Hara, Dahan, Julie, Desh Bidesh, and the short films Agami, Pokamakarer Gharbasati, Chitra Nadir Pare, and Lalsalu. Rawhshan's roles in Jiban Theke Neya and Surya Dighal Bari were specially memorable.
Among some of Rawshan Jamil's more popular television drama serials were Humayun Ahmed's Dhakay Thaki and Sakal Sandhya. She was also praised for her stage performance in Gorkir Ma. She used her histrionic ability to good advantage in some advertisements as well.
Rawshan Jamil received several awards for her contribution to stage and film, among them, the National Film Award, the Bangladesh Film Journalist Association Award, Tarakalok Puruskar etc. She received the Ekushey Padak for dance in 1995. Rawshan Jamil died on 14 May 2002. [Sambaru Chandra Mohanta]