Jessore District (khulna division) area 2570.42 sq km, located in between 22°48' and 23°22' north latitudes and in between 88°51' and 89°34' east longitudes. It is bounded by jhenaidah and magura districts on the north, satkhira and khulna districts on the south, narail and Khulna districts on the east, West Bengal state of India on the west.
Population Total 2471554; male 1277650, female 1193904; Muslim 2170973, Hindu 293841, Buddhist 5111, Christian 79 and others 1550.
Water bodies Main rivers: bhairab, chitra, Betna, kobadak, Mukteshwari.
District
Area (sq km)
Upazila
Municipality
Union
Mouza
Village
Population
Density (per sq km)
Literacy rate (%)
Urban
Rural
2570.42

8

4

92

1329

1434

400851

2070703

962

50.29
Others Information of District

Name of Upazila

Area
(sq km)

Municipality

Union

Mouza

Village

Population

Density
(per sq km)

Literacy rate
(%)

Abhaynagar

247.19

1

8

89

106

232162

939

53.55

Keshabpur

258.53

-

9

142

142

226367

875

47.21

Chaugachha

269.20

-

11

150

159

211065

784

43.92

Jhikargachha

308.09

1

11

164

174

271014

880

51.99

Bagherpara

270.94

-

9

155

191

195189

720

55.68

Manirampur

444.72

1

17

246

238

382465

860

50.76

Jessore Sadar

435.41

1

16

248

252

643659

1478

58.56

Sharsha

336.34

-

11

135

172

309633

921

42.72
Source Bangladesh Population Census 2001, Bangladesh Bureau of Statistics.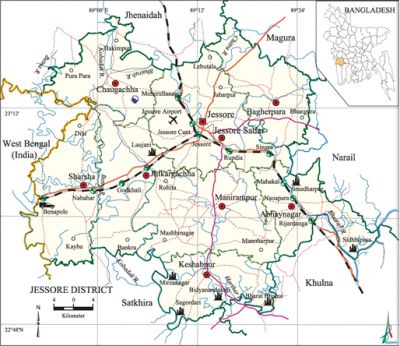 Administration Jessore district was formed in 1781. Of the eight upazilas of the district manirampur is the largest (444.72 sq km) and abhaynagar is the smallest (247.19 sq km).
History of the War of Liberation The Pak army arrested Advocate Moshiur Rahman (former minister and noted politician) on the night of 26 March 1971 and later on brutally killed him. The Pak army killed a number of railway staff in the office room of the Noapara station under Abhaynagar upazila on 27 March 1971. Besides, they also killed 17 persons including Najibur Rahman, Assistant Secretary of Noapara unit of bangladesh awami league.The Bangali soldiers posted at Jessore cantonment at the beginning of the war of liberation revolted against the Pak army on 29 March 1971 led by Captain Hafiz Uddin and Lt Anwar in which about 300 soldiers were killed. The freedom fighters killed 50 Pak soldiers by machine gun shot at Chanchra. On 30 March, the freedom fighters killed about 50 Pak soldiers at the turning point of Chanchra. In the month of April the Pak army brutally killed many people at Krishnapur under Jhikargachha upazila. On 5 September a battle was fought between the freedom fighters and the Pak army at village Goalhati of Ganganandapur union in which Birsrestha nur mohammad sheikh was killed. Two freedom fighters were killed in an encounter with the razakars at village Dohakula of Bagherpara upazila. On 8 December another encounter was held between the freedom fighters and the razakars at village Sekandarpur in which three freedom fighters were killed and so were 30 razakars. The Pak army brutally killed 23 persons at village Manahar of Manirampur upazila. Twelve freedom fighters were killed in an encounter with the Pak army at the Kagajpukur area on the eastern side of the Benapole border of Sharsha upazila. Besides, the Pak army sacked the nearby three villages. Many freedom fighters were killed in a battle with the Pak army and the combined forces (allied forces and the freedom fighters) on 20 November at Jagannathpur and Garibpur playground of Chaugachha upazila. This upazila is called the gateway to the War of Liberation. Jessore district was liberated on 7 December.
Marks of the War of Liberation Memorial monument 5, memorial sculpture 2, mass grave 1, memorial preservation centre 1, the tomb of Bir Srestha Nur Mohammad at village Kashimpur under' Sharsha upazila.
Literacy rate and educational institutions Average literacy 51.29%; male 56.15%, female 46.09%. Educational institutions: university college 1, medical college 1, law college 1, homeopathic college 1, college 78, polytechnic institution 1, secondary school 516, primary school 1254, madrasa 359. Noted educational institutions: Michael Madhusudan University College (1941), Noapara College (1964), Jessore Government Mohila College (1965), Manirampur Degree College (1967), Government City College (1967), Saheed Moshiur Rahman' law College (1968), Bagherpara Degree College (1972), Chaugachha College (1972), Navaran Degree College (1972), Sammilani Institute (1889), Jessore Zilla School (1838), Pajiya Secondary School (1897), Munshi Mehrullah Academy (1901), Biddanandakathi Rasbihari Secondary School (1901), PB Secondary School (1903), Nehalpur Secondary School (1917), Mosiahati Multilateral High School (1918), Jessore Government Girls' School (1920), Kultia Secondary School (1921), Madhusudan' Tara Prosonno Girls' School (1926), Shabajpur Secondary School (1927), Chaugachha Chara Pilot Secondary Girls' School (1928), Shadot Pilot School' (1928), Kashipur Siddiqia Alim Madrasa (1908), Narayanpur High school, Chaugachha High school, Bagherpara Senior Madrasa (1910), Bagherpara Siddiqia Fazil Madrasa (1922), Syedpur Siddiqia Dakhil Madrasa (1922), Chaugachha Madrasa' (1940).'
Newspapers and periodicals Daily: Purabi (1984), Desh Hitoishi (1991), Telegram (1991), Jessore (1993), Lok Samaj (1996), Gramer Kagaj (2001), Spondan (2006), Runner (2009); weekly: Sonali Din (1992), Manobadhikar Sangbad (1993), Noapara (1995), Banglalok (1996) Bajrakalam (2004), Pratahiki (2007), Gonomanas (2009); monthly: Ghumonter Dak (1995), Gramer Sangbad' (2004); photo report;' Samaeki, Jessore Shahittik Sangsad, Arbachin; deunct: Dainik Kalyan (1984), Kapatakkha.
Folk culture Folk songs such as Jari, Dheuo, Bhab, Baul, Foloi are sung in the rural areas of the district. Besides, indigenous communities like Bede, Pode, Kaora, Bagdi and Buno perform various folk festivals during Puja (worship) and marriage ceremony.
Tourist spots Jessgarden Park at Jessore Sadar upazila, Imambari, Deul Bharat at Keshabpur, Khanjalir Dighi, Madhu Palli at village Sagardari, Hammamkhana at Mirzanagar, Khan Jahan Ali Jami Mosque at Abhaynagar, Zamindar Bari at Sridharpur, Rup-Sonatan Dham. [Mahibullah Siddiqui]
See also The upazilas under this district.
References Bangladesh Population Census 2001, Bangladesh Bureau of Statistics; Cultural survey report of Jessore District 2007; Cultural survey report of Upazilas of Jessore District 2007.