Joypurhat Sadar Upazila (joypurhat district) area 252.18 sq km, located in between 25°01' and 25°13' north latitudes and in between 88°55' and 89°10' east longitudes. It is bounded by panchbibi upazila and west bengal state of India on the north, khetlal, akkelpur and badalgachhi upazilas on the south, kalai and Khetlal upazilas on the east, dhamoirhat upazila and West Bengal state of India on the west.
Population Total 256691; male 134054, female 122637; Muslim 225622, Hindu 28921, Buddhist 1134, Christian 77 and others 937. Indigenous communities such as santal, munda, oraon belong to this upazila.
Water bodies Main rivers: little jamuna, Tulsi Ganga, Harabati.
Administration Joypurhat Thana was formed in 1918 and it was turned into an upazila in 1984.
Upazila
Municipality
Union
Mouza
Village
Population
Density (per sq km)
Literacy rate (%)
Urban
Rural
Urban
Rural

1

9

184

192

59547

197144

1018

64.1

48.7
Municipality

Area
(sq km)

Ward

Mahalla

Population

Density
(per sq km)

Literacy rate (%)

18.53

9

48

56585

3054

65.1
Upazila Town

Area
(sq km)

Mouza

Population

Density
(per sq km)

Literacy rate (%)

2.92

1

2962

1014

44.3
Union
Name of union and GO code
Area (acre)
Population
Literacy rate (%)
Male
Female

Amdai 17

7438

10650

10175

46.91

Chak Barkat 32

4164

8055

7013

52.47

Jamalpur 66

5151

11028

10237

53.22

Dogachhi 47

7464

16095

14634

50.57

Dhalahar 38

8808

8244

7585

53.01

Puranapail 85

7427

11805

10930

44.89

Bambu 19

6340

12843

11757

46.97

Bhadsa 28

7576

17288

15770

46.11

Mohammadabad 76

4158

8379

7618

46.21
Source Bangladesh Population Census 2001, Bangladesh Bureau of Statistics.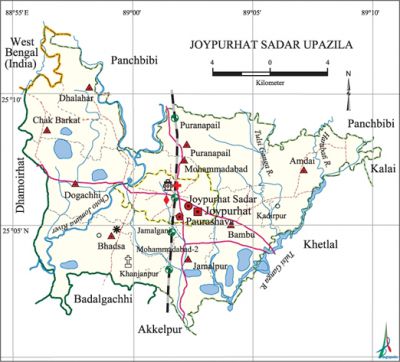 Historical events On 24 February 1952 a public meeting was held in the playground of the government dispensary, with Golam Mowla Chowdhury in the chair, in protest of firing on the procession in Dhaka on 21 February;' student's gathering was also held there. During the period between 1954 and1955 the sugarcane cultivators of Joypurhat revolted against the autocratic activities and mismanagement of the Darshana sugarcane factory authorities. During the war of liberation Joypurhat was under Sector 7. On 23 March the flag of the independent Bangladesh was hoisted at Joypurhat. The Pak army raided Joypurhat on 24 April 1971. They, in collaboration with the Razakars and Al-Badrs made a surprise attack onvillage Barai-Kadirpur (predominantly inhabited by Hindus) of Bambu union on 26 April and brutally killed about 371 people. On 5 October the Pak army killed about 300 innocent people at village Pagla Dewan while they were performing the Jumma prayer. Joypurhat was liberated on 14 December.
Marks of the War of Liberation Mass killing site 1, memorial monument 1.
Religious institutions Mosque 637, temple 46, church 8, tomb 2, sacred place 1. Noted religious institutions: Kaitahar Mosque (Joypurhat Sadar), Central Jami Mosque (Joypurhat Sadar), tomb of Nangapir, tomb of Shahdat Awolia, Baro Shivalaya Mandir (1700 AD, Belamla), Parbati Mandir (Bhadsa), Khanjanpur church mission (1898, Khanjanpur).
Literacy rate and educational institutions Average literacy 52.3%; male 56.9%, female 47.3%. Educational institutions: college 7, technical college 3, secondary school 58, technical school 1, primary school 91, madrasa 39. Noted educational institutions: Joypurhat Government College (1972), Joypurhat Government Women's College (1972), Joypurhat Girls' Cadet College (2006), Khanjanpur High School (1901), Khanjanpur Mission Girl's High School (1911),' Uchai Jerka Adivasi High School (1925), Teghar High School (1940), Ramdeo Bajla Government High School (1946), Joypurhat Government Girls' High School (1977), Hanail Nomania Kamil Madrasa (1918), Uttar Joypur Bilateral Dakhil Madrasa (1918), Joypurhat Siddiqia Senior Madrasa (1965).
Newspapers and periodicals Daily: Nabanna; half-Weekly: Uttar Simanta; weekly: Abhijan, Joypurhat Barta, Bangadharani, Aloron, Bangladesh Ganabarta, Sangrami Ganabangla (defunct).
Cultural organisations Library 11, club 66, press club 2, cinema hall 5, theatre group 2, shilpakala academy 1, women's organisation 2, shishu academy 1, district council auditorium 1, theatre 2, theatre centre 1.
Main sources of income Agriculture 61.42%, non-agricultural labourer 2.31%, industry 1.18%, commerce 13.62%, transport and communication 5.13%, service 8.71%, construction 1.70%, religious service 0.15% and others 5.78%.
Ownership of agricultural land Landowner 59.94%, landless 40.06%; agricultural landowner: urban 47.52% and rural 63.34%.'
Main crops Paddy, jute, wheat, potato, sugarcane, mustard, vegetables.
Extinct or nearly extinct crops Bona aman.
Main fruits Mango, jackfruit, coconut, banana, litchi, papaya, palm.
Fisheries, dairies and poultries Fishery 20, dairy 276, poultry 156, hatchery 4.
Communication facilities Pucca road 74.44 km, semi-pucca road 8.1 km, mud road 773 km; waterway 7.28' nautical miles; railway 12 km.
Extinct or nearly extinct traditional transport Palanquin, horse carriage, bullock cart.
Noted manufactories Sugar mill, auto rice mill, auto flour mill, cement factory.
Cottage industries Goldsmith, blacksmith, weaving, potteries, cane work, bamboo work.
Hats, bazars and fairs Hats and bazars are 23, fairs 3, most noted of which are Durgadaha hat, Joypur hat, Puranapail hat, Dargatali hat, Helkunda hat, Khanjanpur hat; Teghar mela and Adivasi mela.
Main exports Potato, banana, vegetables.
Access to electricity All the wards and unions of the upazila are under rural electrification net-work. However 30.05% of the dwelling households have access to electricity.
Natural resources The Gondoana Coal Mine has been discovered in 1963; limestone was also detected in the upazila in 1964.
Sources of drinking water Tube-well 93.78%, tap 1.66%, pond 0.13% and others 4.43%.
Sanitation 25.54% (rural 14.86% and urban 64.55%) of dwelling households of the upazila use sanitary latrines and 25.88% (rural 27.47% and urban 20.07%) of dwelling households use non-sanitary latrines; 48.58% of households do not have latrine facilities.
Health centres Hospital 1, upazila health complex 6, maternity and child welfare centre 1, union health centre 6,' clinic 10.
Natural disasters The earthquake of 1897 caused damage to a number of buildings; besides the flood of 1922 caused heavy damages to settlements and crops of the upazila.
NGO activities Operationally important NGOs are CARE, brac, asa, caritas, thengamara mahila sabuj sangha. [Shahnaz Parveen]
References Bangladesh Population Census 2001, Bangladesh Bureau of Statistics; Cultural survey report of Joypurhat Sadar Upazila 2007.