Kaliakair Upazila (gazipur district) area 314.14 sq km, located in between 24°00' and 24°15' north latitudes and in between 90°09' and 90°22' east longitudes. It is bounded by mirzapur and sakhipur upazilas on the north, savar and dhamrai upazilas on the south, gazipur sadar and sreepur upazilas on the east, Mirzapur upazila on the west.
Population Total'267003; male 138240, female 128763; Muslim 231672, Hindu 34306, Buddhist 910, Christian 30 and others 85. Indigenous communities such as Koch and Badey belong to this upazila.
Water bodies Main rivers: turag, bangshi, Salda; Boali, Hawla, Ujan and Markaj beels and Goala and Betjuri canals are notable.
Administration Kaliakair Thana was formed in 1923 and it was turned into an upazila' on 2 July 1983.'
Upazila
Municipality
Union
Mouza
Village
Population
Density (per sq km)
Literacy rate (%)
Urban
Rural
Urban
Rural

1 (proposed)

8

151

198

15457

224070

1508

58.3

54.6
Upazila Town

Area
(sq km)

Mouza

Population

Density
(per sq km)

Literacy rate
(%)

4.70

5

15457

3289

58.3
Union
Name of union and GO code
Area (acre)
Population
Literacy rate (%)
Male
Female

Kaliganj 86

3777

19566

17595

52.05

Jangalia 69

9167

13623

13322

51.37

Jamalpur 60

4901

14732

14256

46.95

Tumulia 97

5820

14000

13859

69.63

Nagari 96

231

15499

15077

60.35

Baktarpur 17

8418

14992

14693

49.68

Bahadursadi 08

3237

12754

10123

54.02

Moktarpur 94

9204

18059

17377

54.91
Source Bangladesh Population Census 2001,Bangladesh Bureau of Statistics.
Archaeological heritage and relics Shiddhimadhav Sakashwar Buddhist Pillar, remnants of historical relics and Kotamoni Dighi of' Dholsamudra, Chandra Mosque at Mouchak.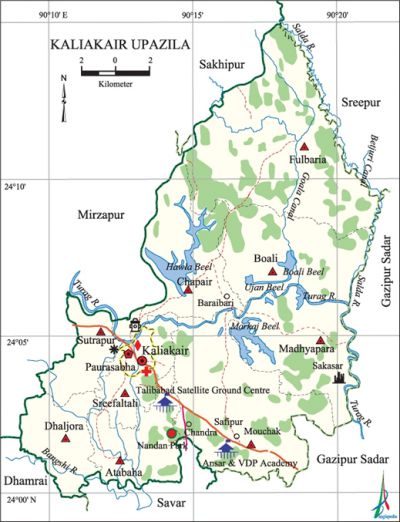 History of the War of Liberation During the war of liberation in 1971, freedom fighters (the Kaderia Bahini) launched an attack on the Pak army base at Uttar Para under Fulbaria union in which one freedom fighter was killed. About 34 razakars and 12 Pak soldiers were killed when the freedom fighters launched attack on them on 9 October. A battle was fought between the freedom fighters and the Pak army on 28 October at Kachighata in which about 52 Pak soldiers were killed. On 30 October, the freedom fighters killed 7 Pak soldiers in Fulbaria area; they also destroyed a bridge by mine explosion. On 6 December, the freedom fighters destroyed three Pak military vehicles and killed 27 Pak soldiers; later on the Pak army sacked the entire Kachighata village of the upazila. An encounter was held between the freedom fighters and the Pak army at a place near the Latifpur Bridge and in consequent the Pak army sacked the nearby village Sreefaltali. Another encounter was held between the freedom fighters and the Pak army on 13 December at a place near the Bangshi Bridge in which two freedom fighters were killed. The Pak army was completely defeated in an encounter with the Kaderia Bahini at Safipur and thereby Kaliakair was liberated.'
Religious institutions Mosque 413, temple 92, church 7.
Literacy rate and educational institutions Average literacy 48.4%; male 54.9%, female 41.5%. Educational institutions: college 6, secondary school 35, primary school 115, madrasa 15. Noted educational institutions: Kaliakair Degree College (1968), Chapair BB High School (1910), Bhingoraj Talibabad Multilateral High School (1928), Kaliakair Baraibari AKU Institute and College (1949), Akkel Ali High School (1968), Ansar VDP High School (1985), Bhupenashari Girls' High School.
Newspapers and periodicals Half-weekly: Subani, defunct: Sandhi.
Cultural organisations Library 38, club 132, cinema hall 2, theatre group 5, women society 6.
Amusement centres and Tourist spots Nandan Park, Shiddhimadhav Pillar, Ansar VDP Academy, Bangladesh Scouts' National Training Centre, Baliadi Zamindar Bari, Sreefaltali Zamindar Bari, Talibabad Satellite Ground Centre.
Main sources of income Agriculture 51.5%, non-agricultural labourer 3.6%, commerce 13.63%, transport and communication 3.39%, service 15.4% and others 12.48%.
Ownership of agricultural land Landowner' 58.48%, landless 41.52%; agricultural landowner: urban 54.61% and rural 68.92%.
Main crops Paddy, jute, sugarcane, mustard.
Extinct or nearly extinct crops Sesame, sweet potato, arahar, cotton, wheat, china.
Main fruits Mango, jackfruit, banana, papaya, litchi, blackberry, pineapple, guava.
Fisheries, dairies and poultries Fishery 169, dairy 255, poultry 511.
Communication facilities Pucca road 175.25 km, mud road 1785.45 km, semi-pucca road 68 km; waterway 126.99 nautical miles; railway 15 km. Rail Station 1.
Extinct or nearly extinct traditional transport Palanquin, horse carriage, bullock cart.
Noted manufactories Pharmaceutical, garments, jute industry, chemical industry, footwear, steel mill, brick-field.
Cottage industries Goldsmith, blacksmith, potteries, nakshi kantha, cane and bamboo work, wood work.
Hats, bazars and fairs Hats and bazars are 22, fairs 9, most noted of which are Kaliakair, Safipur, Fulbaria, Baraibari, Chabagan and Benupur bazars and Raghunathpur Mela, Keshabnath Pagla Mela, Kaliakair Janmastami Mela and Pirbari Mela at Bariabaha.
Main exports Banana, papaya.
Access to electricity All the wards and unions of the upazila are under rural electrification net-work. However 49.52% (urban 56.58% and rural 33.47%) of the dwelling households have access to electricity.
Natural resources About 8400 hectors (approximately 26.73% area of the upazila) area of the upazila are forest land. Part of Bhawal Garh is also located in this upazila.'
Sources of drinking water Tube-well 93.16%, tap 1.02%, pond 0.15% and others 5.67%. The presence of arsenic has been detected in about 40 shallow tube-well water of the upazila.
Sanitation 45.65% (rural 43.42% and urban 83.39%) of dwelling households of the upazila use sanitary latrines and 36.21% of dwelling households use non-sanitary latrines; 18.14% of households do not have latrine facilities.
Health centres Upazila health complex 1, satellite clinic 4, family planning centre 8, hospital 4, diabetic hospital 1.
NGO activities Operationally important NGOs are brac, proshika, asa, caritas. [Ayub Rana]
References Bangladesh Population Census 2001, Bangladesh Bureau of Statistics; Field report of Kaliakair Upazila 2007.