Kaliganj Upazila (Lalmonirhat District)
Kaliganj Upazila (lalmonirhat district) area 236.96 sq km, located in between 25°54' and 26°04' north latitudes and in between 89°07' and 89°22' east longitudes. It is bounded by hatibandha upazila and west bengal of India on the north, gangachara and aditmari upazilas on the south, Aditmari upazila on the east, kishoreganj (nilphamari) and jaldhaka upazilas on the west.
Population Total 216868; male 110875, female 105993; Muslim 173921, Hindu 42561, Buddhist 163, Christian 16 and others 207.
Water bodies Main rivers: tista, Trimohani, Swarnamoti; Harishwar and Bindal beels are notable.
Administration Kaliganj Thana, now an upazila, was formed in 1913.
Upazila
Municipality
Union
Mouza
Village
Population
Density (per sq km)
Literacy rate (%)
Urban
Rural
Urban
Rural

-

8

64

92

16518

200350

915

50.7

40.2
Upazila Town

Area
(sq km)

Mouza

Population

Density
(per sq km)

Literacy rate (%)

10.22

3

16518

1616

50.7
Union
Name of union and GO code
Area (acre)
Population
Literacy rate (%)
Male
Female

Kakina 53

5868

14729

14051

37.84

Goral 47

5465

9362

9311

35.32

Chandrapur 29

6976

13747

13440

40.85

Chalbala 23

6975

12778

12538

42.82

Tushbhandar 95

8601

22451

20630

47.69

Dalagram 35

7257

12898

12322

43.80

Bhotemari 17

8868

10536

10199

28.40

Madati 65

8580

14374

13502

43.01
Source Bangladesh Population Census 2001, Bangladesh Bureau of Statistics.
Archaeological heritage and relics Rajbari of Maharaja Mahima Ranjan (Kakina), Tushbhandar Rajbari (Tushbhandar), Sambhusagar, the house and statue of Daribabu.
Historical events Main historical events of the upazila include Mughal invasion of Kuchbihar in 1687; peasant rebellion led by Nuraldin, Fakir-Sannyasi Resistance and the peasant movement in the 1940. During the war of liberation in 1971 Kaliganj upazila was under Sector 6. On 6 April, the Pak army launched a surprise attack on Kaliganj and brutally killed a number of people. The Pak army was forced to leave Kaliganj in the face of heavy attack of the freedom fighters launched on 5 and 6 December. Kaliganj was liberated on 6 December.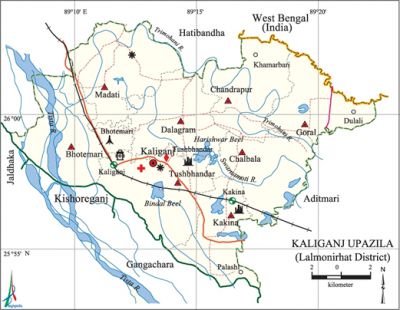 Marks of the War of Liberation Mass grave 1 (at a place adjacent to the KUP Degree College); Mass killing site (to the east of Bhotemari Railway Station); memorial monument 1 ('Chiranjibi Kaliganj' at the compound of Kaliganj KUP High School).
Religious institutions Ijaradar Mosque, Kakina Shib Mandir, Sree Sree Bhabatarini Kali Mandir, Bhagabateshwar Shib Mandir, Shib Mandir built by Zamindar Ananga Mahan are notable.
Literacy rate and educational institutions Average literacy 41.1%; male 46.4%, female 35.5%. Educational institutions: college 7, secondary school 39, primary school 130, madrasa 74. Noted educational institutions: Karim Uddin Public Degree College (1972), Uttar Bangla Degree College (1994), Tushbhandar Women's College (1998), Tushbhandar RMMP Government High School (1867), Kakina Mahima Ranjan Memorial Bilateral High School (1901), Dalagram Bilateral' High School' (1916), Karim Uddin Public Pilot High School (1959), Tushbhandar Nasar Uddin Government Girls' School (1968), 'Madanpur Bairati Government Primary School (1865), Kashiram Ekramia Senior Madrasa (1968).
Newspapers and periodicals Weekly: Rangapur Dikprakash (1848); monthly: Prottasha (defunct), Basana (1908).
Cultural organisations Library 44, club 50, cultural organisation 1, cinema hall 3, theatre stage 1, women's organisation 4.
Tourist spots Kakina Zamindar Bari, museum of Zamindar Mahima Ranjan (Kakina), house of Sheikh Fazlul Karim (Kakina), Tushbhandar Zamindar Bari (Tushbhandar).
Main sources of income Agriculture 76.42%, non-agricultural labourer 4.25%, industry 0.27%, commerce 8.83%, transport and communication 1.45%, service 3.30%, construction 0.54%, religious service 0.15%, rent and remittance 0.08% and others 4.71%.
Ownership of agricultural land Landowner 60.12%, landless 39.88%; agricultural landowner: urban 42.77% and rural 61.49%.
Main crops Paddy, wheat, tobacco, jute, potato, ginger.
Extinct or nearly extinct crops Linseed, aus paddy, millet, pulse, bajra. Main fruits Mango, jackfruit, banana, litchi, papaya, watermelon.
Communication facilities Pucca road 85.7 km, mud road 557.4 km; railway 18 km; waterway 7.55 nautical miles.
Extinct or nearly extinct traditional transport Palanquin, horse carriage, bullock cart.
Noted manufactories Flour mill, saw mill, ice factory, welding factory.
Cottage industries Goldsmith, weaving, potteries, blacksmith, wood work, bamboo work.
Hats, bazars and fairs Hats and bazars are 20, fairs 7, most noted of which are Kaliganj Hat, Chapar Hat, Chamtar Hat, Vullar Hat, Chowdhury Hat; Cowaghat Mela and Baruni Mela.
Main exports Tobacco, paddy, flour.
Access to electricity All the unions of the upazila are under rural electrification net-work. However 3.34% of the dwelling households have access to electricity.
Natural resources Stone with high quality silicate and manganese have been discovered in this upazila.
Sources of drinking water Tube-well 94.14%, tap 0.36%, pond 0.12% and others 5.38%.
Sanitation 15.06% (rural 13.13% and urban 39.54%) of dwelling households of the upazila use sanitary latrines and 45.65% (rural 47% and urban 28.61%) of dwelling households use non-sanitary latrines; 39.29% of households do not have latrine facilities.
Health centres Upazila health centre 1, union health centre 2. NGO activities Operationally important.
NGO activities brac, asa, Hitoshi Bangladesh, RDRS. [Md. Haider Ali Babu]
References Bangladesh Population Census 2001, Bangladesh Bureau of Statistics; Cultural survey report of Kaliganj Upazila 2007.