Kamarkhanda Upazila (sirajganj district) area 91.61 sq km, located in between 24°18' and 24°27' north latitudes and in between 89°35' and 89°42' east longitudes. It is bounded by sirajganj sadar and raiganj upazilas on the north, belkuchi upazila on the south, Belkuchi and Sirajganj Sadar upazilas on the east, ullahpara upazila on the west.
Population Total 127839; male 65750, female 62089; Muslim 122344, Hindu 5482 and others 12.
Water bodies Main rivers: Hurasagar, karatoya.
Administration Kamarkhanda Thana was formed in 1909 and it was turned into an upazila in 1983.
Upazila
Municipality
Union
Mouza
Village
Population
Density (per sq km)
Literacy rate (%)
Urban
Rural
Urban
Rural

-

4

55

93

8880

118959

1395

46.4

42.3
Upazila Town

Area
(sq km)

Mouza

Population

Density
(per sq km)

Literacy rate (%)

4.01

2

8880

2214

46.41
Union
Name of union and GO code
Area (acre)
Population
Literacy rate (%)
Male
Female

Jamtail 38

5837

19049

17740

43.21

Jhawail 57

5173

17106

16057

39.98

Bhadraghat 19

5678

13559

13172

41.53

Roy Daulatpur 76

5947

16036

15120

45.54
Source Bangladesh Population Census 2001, Bangladesh Bureau of Statistics.
History of the War of Liberation In 1971, Palashdanga Juba Shibir (youth camp) was formed at Kalibari of Bhadraghat union which 'played a remarkable role in encounters against the Pak army at different places.
Religious institutions Mosque 20, temple 8.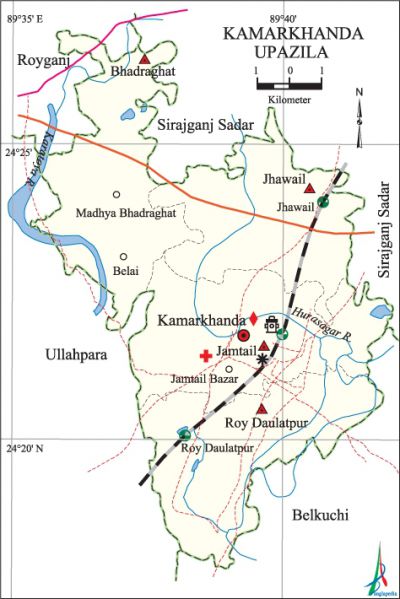 Literacy rate and educational institutions Average literacy 42.59%; male 47.42%, female 37.49%. Educational institutions: college 7, secondary school 22, primary school 77, madrasa 11. Noted educational institutions: Haji Korop Ali Memorial Degree College, Kamarkhanda Mahila Degree College, Dhopakandhi Bilateral High School, Dhopakandhi Pilot Girls' High School, Kamarkhanda Senior Fazil Madrasa.
Cultural organisations Public library 1.
Main sources of income Agriculture 47.06%, non-agricultural labourer 4%, industry 1.14%, commerce 16.57%, transport and communication 3.87%, service 8.70%, construction 0.87%, religious service 0.27%, rent and remittance 0.26% and others 17.26%.
Ownership of agricultural land Landowner 57.74%, landless 42.26%; agricultural landowner: urban 39.18% and rural 59.17%.'
Main crops Paddy, wheat, jute, sugarcane, mustard, vegetables.
Extinct or nearly extinct crops Varieties of pulse, shone, kaun.
Main fruits Mango, blackberry, jackfruit, banana, papaya, plum.
Fisheries, dairies and poultries The upazila has a number of dairies and artificial breeding centre.
Extinct or nearly extinct traditional transport Palanquin, horse carriage, bullock cart.
Noted manufactories Rice mill, ice factory.
Cottage industries Weaving, potteries, embroidery, bamboo work, cane work.
Communication facilities Pucca road 55 km, mud road 208 km; railway 10 km; waterway 4.58 nautical miles. Bridge 85, culvert 97, railstation 1.
Hats, bazars and fairs Hats and bazars are 16, fairs 4, most noted of which are Jamtail Bazar, Kamarkhanda Bazar, Bhadraghat Bazar; Baradhul Hat, 'Balarampur Hat.
Main exports Mustard seed, molasses, vegetables, bamboo and cane products.
Access to electricity All the unions of the upazila are under rural electrification net-work. However 17.26% of the dwelling households have access to electricity.
Sources of drinking water Tube-well 95.14%, tap 0.27%, pond 0.15% and others 4.44%. The presence of arsenic in an intolerable level has been detected in 1598 shallow tube-well water of the upazila. About 25 patients with arsenic contaminated disease, has been detected.
Sanitation 32.62% (rural 31.22% and urban 50.87%) of dwelling households of the upazila use sanitary latrines and 49.25% (rural 50.51% and urban 32.90%) of dwelling households use non-sanitary latrines; 18.13% of households do not have latrine facilities.
Health centres Upazila health complex 1, family welfare centre 4, satellite clinic 2.
Natural disasters The earthquakes of 1885 and 1897 caused heavy damages to pucca houses and other properties of the upazila. Besides, a large number of people of the upazila were victims of the famine of 1943.
NGO activities Operationally important NGOs are brac, asa. [Sufia Parveen]
References Bangladesh Population Census 2001, Bangladesh Bureau of Statistics; Cultural survey report of Kamarkhanda Upazila 2007.