Kasba Upazila (brahmanbaria district) area 209.76 sq km, located in between 23°39' and 23°52' north latitudes and in between 91°02' and 91°14' east longitudes. It is bounded by akhaura and brahmanbaria sadar upazilas on the north, brahmanpara upazila on the south, Akhaura and tripura state of India on the east, nabinagar and muradnagar upazilas on the west.
Population Total' 271231; male 135747, female 135484; Muslim 257392, Hindu 13793, Buddhist 17 and others 29.
Water bodies Main rivers: Haura, titas and Buri.
Administration Kasba Thana was formed in 1908 and it was turned into an upazila on 14 September 1983.
Upazila
Municipality
Union
Mouza
Village
Population
Density (per sq km)
Literacy rate (%)
Urban
Rural
Urban
Rural

1

10

160

222

15768

255463

1293

55.23

42.79
Municipality

Area (sq km)

Ward

Mahalla

Population

Density (per sq km)

Literacy rate (%)

16.71

9

22

15768

944

55.23
Union
Name of union and GO code
Area (acre)
Population
Literacy rate (%)
Male
Female




Kasba 63

5830

11895

12096

40.71

Kaimpur 56

4827

13910

14170

41.93

Kuti 69

5022

17444

17066

39.07

Kherera 65

3293

8460

8789

54.42

Gopinathpur 50

7609

15442

14773

45.30

Badair 18

3018

7739

7840

43.31

Bayek 31

6282

13611

12864

40.08

Binauti 37

5926

14933

15018

43.65

Mulgram 94

5205

12985

13583

40.49

Mehari 82

5450

11314

11531

43.71
Source Bangladesh Population Census 2001, Bangladesh Bureau of Statistics.
Archaeological heritage and relics Kuti Bara Masjid and Moinpur Mosque (eighteenth century), three domed Mosque at Araibari, Kalibari Mandir (Kheora, seventeenth century).
History of the War of Liberation During the war of liberation the biggest battle-field of Sector 2 was at Kasba. On 22 November 1971, encounters between the freedom fighters and the Pak army were held at Latoamura and Chandrapur in which more than one hundred freedom fighters were killed. In another encounter at Kullahpathar nearly 49 freedom fighters were killed. Besides, encounters between the freedom fighters and the Pak army were held at Araibari, Akchhina, Horiabaha, Khirnal, Chatgachh and Bayek' areas.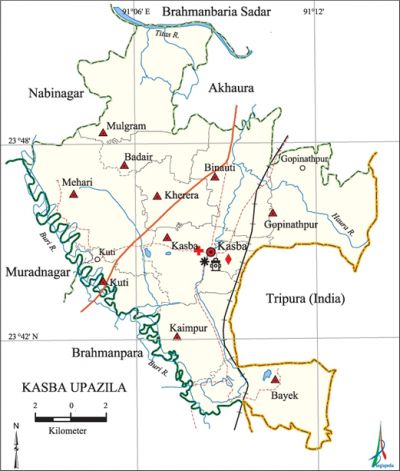 Marks of the War of Liberation Tombs of martyr freedom fighters' 8 (Lakshmipur, Kullapathar, Simrail and Jamsherpur).
Religious institutions Mosque 372, temple 6, sacred place 1. Noted religious institutions: Kuti Bara Mosque, Mainpur Mosque, three domed Mosque at Araibari, Kalibari Mandir, mazars of Shah Sufi Abu Saiyed Asgar Ahmad Al Quadwri (R), Shah Sufi Maulana Mohammad Habibur Rahman (R) and Abdus Sattar Mashreki.
Literacy rate and educational institutions Average literacy 43.5%; male 46.5%, female 40.7%. Educational institutions: college 8, secondary school 42, primary school 153, madrasa 30. Noted educational institutions: Kasba Government High School (1899), Kuti Atal Bihari High School (1918), Jamsherpur High School (1923), Kheora Anandamayee High School (1975).
Newspapers and periodicals Weekly: Agnibani; fortnightly: Sakaler Surya.
Cultural organisations Library 2, club 15, press club 2, theatre group 2, cinema hall 2, playground 22, auditorium 1.
Main sources of income Agriculture 52.08%, non-agricultural labourer 2.27%, commerce 15.06%, transport and communication 3.20%, service 10.06%, construction 1.51%, rent and remittance 6.40% and others 9.42%.
Ownership of agricultural land Landowner 60.99%, landless 39.01%; agricultural landowner: urban 45.30% and rural 61.92%.
Main crops Paddy, jute, wheat, potato, maize.
Extinct or nearly extinct crops Pulse, varieties of oil seeds.
Main fruits Mango, blackberry, jackfruit, litchi, banana, coconut, papaya, plum.
Fisheries, dairies and poultries Fishery 1, dairy 27, poultry 56, hatchery 18, artificial breeding centre 4.
Communication facilities Pucca road 110 km, semi-pucca road 55 km, mud road 225 km; waterway 5 nautical miles; Railine 18 km.
Extinct or nearly extinct traditional transport Palanquin, bullock cart.
Noted manufactories Flour mill, ice factory, rice mill, oil mill, printing press, biscuit factory, brick-field,' fish food processing factory, welding factory.
Cottage industries Goldsmith, blacksmith, potteries, bamboo and cane work.
Hats, bazars and fairs Hats and bazars are 38, fairs 5, most noted of which are Kuti Bazar, Kasba Bazar, Muslimganj Bazar, Chargachh Bazar, Gopinathpur Bazar, Chaumuhani Mela, Mankasair Mela and Mehari Mela.
Main exports Paddy, jute.
Access to electricity All the wards and unions of the upazila are under rural electrification net-work. However 40.54% of the dwelling households have access to electricity.
Mineral resources The 19th natural gas field (Salda Gas Field) is located in Kasba. The total gas reserve is about 200 million cubic feet; it has two wells.
Sources of drinking water Tube-well 94.46%, pond 1.79%, tap 0.28% and others 3.47%.
Sanitation 57.40% (rural 56.88% and urban 66.22%) of dwelling households of the upazila use sanitary latrines and 34.31% of dwelling households use non-sanitary latrines; 8.29% of households do not have latrine facilities.
Health centres Upazila health complex 1, satellite clinic 4, health and family welfare centre 4.
Natural disasters The floods of 1988, 1998 and 2004 caused heavy damages to settlements and other properties of the upazila.
NGO activities Operationally important NGOs are brac, asa, Save the Children. [Md Abu Russel Chowdhury]
References Bangladesh Population Census 2001, Bangladesh Bureau of Statistics; Cultural survey report of Kasba Upazila 2007.