Keshabpur Upazila (jessore district) area 258.53 sq km, located in between 22°48' and 22°57' north latitudes and in between 89°07' and 89°22' east longitudes. It is bounded by manirampur upazila on the north, tala and dumuria upazilas on the south, Dumuria upazila on the east, kalaroa upazila on the west.
Population Total 226367; male 116261, female 110106; Muslim 184312, Hindu 41637, Buddhist 80 and others 339.
Water bodies Main rivers: kobadak, Harthar; Masiha Baor, Ghuhar Baor and Chengral Canal are notable.
Administration Keshabpur Thana was turned into an upazila in 1983 and municipality was formed in 1998.
Upazila
Municipality
Union
Mouza
Village
Population
Density (per sq km)
Literacy rate (%)
Urban
Rural
Urban
Rural

1

9

142

142

24538

201829

875

47.21

52.93
Upazila Town

Area (sq km)

Mouza

Population

Density (per sq km)

Literacy rate (%)

18.46

7

24538

1329

58.75
Union
Name of union and GO code
Area (acre)
Population
Literacy rate (%)
Male
Female

Keshabpur 28

8362

19701

18518

56.82

Gaurighona 19

6456

9630

9025

50.77

Trimohini 85

8554

15572

14816

39.69

Panjia 57

7066

11104

10634

46.93

Bidyanandakati 17

8090

15421

14556

45.20

Mangalkot 47

5673

10780

10028

51.10

Majidpur 38

6107

11467

10922

45.40

Sagardari 66

7213

14394

13861

39.18

Sufalakati 76

6362

8192

7746

49.92
Source Bangladesh Population Census 2001, Bangladesh Bureau of Statistics.
Archaeological heritage and relics Remnants of the Deul of Bharat Bhaina Rajbari, Mirzanagar Hammamkhana (palace of Nawab Mir Jumla, 17th century), residence of poet michael madhusudan dutt at Sagardari, ruins of an ancient fort at village Bidhyanandakati, three domed Mosque at Sekpura (1939 AD), Jahanpur Mosque, Bayesa Kalibari, Chalita Baria Mandir, Khanjali Dighi.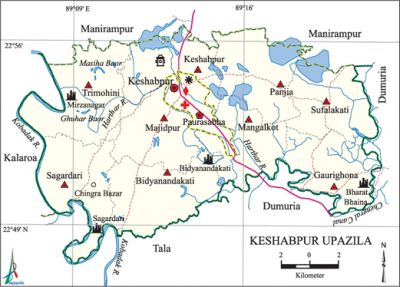 Marks of the War of Liberation Memorial monument 1.
Religious institutions Mosque 320, temple 81. Noted religious institutions: Nawab Bari Mosque at Sheikhpara.
Literacy rate and educational institutions Average literacy 47.21%; male 52.93%, female 41.22%. Educational institutions: college 8, secondary school 69, primary school 143, community school 9, NGO school 98, madrasa 66. Noted educational institutions: Keshabpur Degree College (1967), Panjia Secondary School (1897), Bidyanandakati Rasbihari Secondary School (1901), Sufalakati Secondary School (1914), Satbaria Secondary School (1921), Katakhali Secondary School (1921).
Cultural organisations Library 7, cinema hall 2, playground 10, theatre group 3, cultural organisation 5, women organisation 3, press club 1. Madhusudan Public Library and Shaheed Smriti Library are notable.
Tourist spots Deul at village Bharat' Bhaina (Gaurighona Union), Khanjali Dighi at village Bidhyanandikathi, residence of poet Michael Madhusudan Dutt at Sagardari, Madhupalli at village Sagardari, house of actor Dhiraj Bhattacharya at village Panjia.
Main sources of income Agriculture 69.44%, non-agricultural labourer 2.77%, industry 1.70%, commerce 13.06%, transport and communication 2.86%, service 4.72%, construction 0.74%, religious service 0.09%, rent and remittance 0.22% and others 4.40%.
Ownership of agricultural land Landowner 72.15%, landless 27.85%; agricultural landowner: urban 57.54% and rural 73.85%.
Main crops Paddy, jute, wheat, potato, brinjal, betel leaf, sugarcane, oil seed, chilli, turmeric, vegetables.
Extinct or nearly extinct crops Arahar, local varieties of paddy, khesari.
Main fruits Mango, blackberry, jackfruit, coconut, betel nut, date.
Fisheries, dairies and poultries This upazila has a number of fisheries, dairies and poultries.
Communication facilities Pucca road 121 km, semi-pucca road 30 km, mud road 400 km; waterway 9 nautical miles.
Extinct or nearly extinct traditional transport Palanquin, bullock cart.
Cottage industries Goldsmith, blacksmith, potteries, weaving, wood work.
Hats, bazars and fairs Hats and bazars are 23, fairs 5, most noted of which are Panjia, Katakhali, Mangalkot, Chingra, Trimohini and Saraskati bazars, Trimohini Baruni Mela, Sagardari Madhu Mela, Khanjali Dighir Par Mela and Bherchi Nimtala Mela.
Main exports Paddy, jute, jackfruit, wheat, date molasses.
Access to electricity All the wards and unions of the upazila are under rural electrification net-work. However 23.14% of the dwelling households have access to electricity.
Sources of drinking water Tube-well 94.85%, tap 0.80%, pond 0.30% and others 4.04%.
Sanitation 26.93% (urban 46.12% and rural 24.70%) of dwelling households of the upazila use sanitary latrines and 43.71% (urban 30.89% and rural 45.20%) of dwelling households use non-sanitary latrines; 29.36% of households do not have latrine facilities.
Health centres Union health centre 1, health and family planning centre 9, satellite clinic 2, clinic 3.
NGO activities Operationally important NGOs are brac, asa, caritas, Ahsania Mission. [Md. Firoj Ansari]
References Bangladesh Population Census 2001, Bangladesh Bureau of Statistics; Field report of Keshabpur Upazila 2007.