Khan, Ustad Bahadur Hossain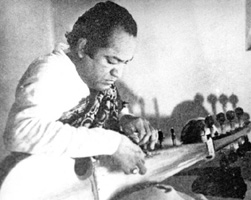 Khan, Ustad Bahadur Hossain (1931-1979) singer, composer, music director, son of the famous musician ustad ayet ali khan, was born at Shibpur village in brahmanbaria.
Bahadur Hossain Khan's musical lessons started in the family environment. He first learnt sarod from his father. He also practised singing and earned many gold medals for his performances. He went to Maihar, where he studied the sarod with his uncle alauddin khan. From 1949 to 1951 Bahadur Hossain Khan was an artiste at the Dhaka station of Radio Pakistan.
In 1951 he moved to Bombay and became director of the Little Ballet Troupe of the dancer Shanti Vardhan. He visited China, USSR, Europe and UK where he performed Indian classical music.
Bahadur Hossain Khan directed the music of Ritwik Ghatak's film Subarna Rekha, for which he received an award as best music director, and Natun Pata, for which he was also honoured. He also directed the music in Meghe Dhaka Tara, Trisandhyay, Yekhane Dandiye, Shvet Mayur and Titas Ekti Nadir Nam. He composed background music for documentaries made on rabindranath tagore and jamini roy. Bahadur Hossain Khan also made a number of long-playing records. [Mobarak Hossain Khan]