Laksham Upazila (comilla district) area 135.61 sq km, located in between 23°10' and 23°19' north latitudes and in between 91°01' and 91°11' east longitudes. It is bounded by comilla sadar dakshin and barura upazilas on the north, nangalkot and manoharganj upazilas on the south, Nangalkot and Comilla Sadar Dakshin upazilas on the east, Barura and shahrasti upazilas on the west.
Population Total 240153; male 119974, female 120179; Muslim 225866, Hindu 12341, Buddhist 27, Christian 1785 and others 134.
Water bodies Main rivers: dakatia; Karzan Canal is notable.
Administration Laksham Thana was turned into an upazila in 1983. Laksham Railway Junction is one of the five biggest junctions of Bangladesh.
Upazila
Municipality
Union
Mouza
Village
Population
Density (per sq km)
Literacy rate (%)
Urban
Rural
Urban
Rural

1

7

136

183

54118

186035

1771

50.45

42.88
Municipality

Area (sq km)

Ward

Mahalla

Population

Density (per sq km)

Literacy rate (%)

19.73

9

31

54118

2743

50.45
Union
Name of union and GO code
Area (acre)
Population
Literacy rate (%)
Male
Female

Ajgara 84

4225

11221

11940

44.83

Uttardah 87

3581

10588

10684

48.19

Kandirpar 77

5237

15860

15893

38.94

Gobindapur 35

4802

11576

11608

40.73

Bakai 17

6789

17183

17780

44.57

Mudafarganj 63

6369

16852

17583

44.33

Laksham 52

2900

8480

8787

38.56
Source Bangladesh Population Census 2001, Bangladesh Bureau of Statistics.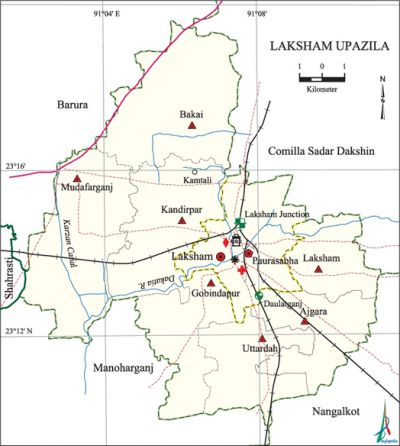 Archaeological heritage and relics Three domed Kazir Mosque, ten domed Nawab Bari Mosque, Paschimgaon Nawab Bari, three domed Afrannesa Mosque (1869), Atulchandra Zamidar Bari, Sree Sree Jagannath Bari Devalaya and Jagannath Dighi.
History of the War of Liberation About 200 people were killed by bomb explosion by the Pak army on 6 April 1971 at Ajgara Bazar of the upazila. During the war of liberation encounters were held between the freedom fighters and the Pak army in which many Pak soldiers were killed or wounded; in these encounters 17 freedom fighters were also killed. This upazila was liberated on 12 December.
Marks of the War of Liberation Mass grave 4 (Beltala, Laksam Railway Junction, Paschimgaon, Laksam Bidi Factory).
Religious institutions Mosque 962, temple 18, tomb 7, math 1, Buddhist Vihara 1. Noted religious institutions: Arfannesa Mosque, Nawab Bari Mosque, tomb of Gazi Shaheb, Darbar Sharif at Panua, tomb of Pir Shaheb at Kaliapur, tomb of Syed Shah Waliullah Rajapuri Pir Saheb at Rajapur, Buddhist Vihara at Baraigaon.
Literacy rate and educational institutions Average literacy 46.67%; male 46.33%, female 41.40%. Educational institutions:' college 4, palli college 1, technical college 1, secondary school 70, primary school 504, community school 1, madrasa 60. Noted educational institutions:' Nawab Faizunnesa Government College, Laksham Pilot High School, Laksham Girl's High School, Harishchar Union High School, BN High School, Daulatganj Government Primary School, Gazimura Alia Madrasa.'
Newspapers and periodicals Daily: Naya Robi, weekly: Laksham Barta, Joykantha, Laksham, Alor Dishari, fortnightly: Natun Alo (defunct), weekly: Gram Bangla (defunct), monthly: Dildar (defunct).
Cultural organisations Library 8, club 2, theatre stage 1, theatre group 1, cinema hall 2.
Main sources of income Agriculture 41.40%, non-agricultural labourer 3.28%, industry 1.17%, commerce 17.77%, transport and communication 5.11%, service 14.85%, construction 1.82%, religious service 0.47%, rent and remittance 4.65% and others 9.48%.
Ownership of agricultural land Landowner 56.67%, landless 43.33%.
Main crops Paddy, potato, wheat, mustard, vegetables. Extinct or nearly extinct crops Jute.
Main fruits Mango, jackfruit, papaya, litchi, kamranga.
Fisheries, dairies and poultries Fishery 402, dairy 28, artificial breeding centre 4, hatchery 6.
Communication facilities Pucca road 685 km, mud road 380 km; railway 72 km.
Extinct or nearly extinct traditional transport Palanquin, bullock cart, horse carriage, motor launch.
Noted manufactories Rice mill, oil mill, cigarette factory, bidi factory.
Hats, bazars and fairs Hats and bazars are 5, fairs 2, most noted of which are Chandana Bazar, Harishchar Bazar, Ajgara Bazar, Norpati Bazar, Laksam Junction Bazar, Kemtali Mela and Nurpur Mela.
Main exports Bidi, cigarette, oil.Access to electricity All the wards and unions of the upazila are under rural electrification net-work. However 43.03% of the dwelling households have access to electricity.
Sources of drinking water Tube-well 88.92%, tap 1.75%, pond 3.65% and others 5.68%. The presence of arsenic has been detected in shallow tube-well water of the upazila.
Sanitation 59.27% of dwelling households of the upazila use sanitary latrines and 29.74% of dwelling households use non-sanitary latrines; 10.99% of households do not have latrine facilities.
Health centres Upazila health complex 1, hospital 8, mother and child health centre 1, clinic 4, family planning centre 14, satellite clinic 8.
NGO activities Operationally important NGOs are brac, Swanirvar Bangladesh, UNDP, asa, proshika. [Muhammad Nur E Alam Siddiqi]
Reference Bangladesh Population Census 2001, Bangladesh Bureau of Statistics; Cultural survey report of Laksham Upazila 2007.