Lohagara Upazila (Chittagong District)
Lohagara Upazila (chittagong district) area 258.87 sq km, located in between 21°54' and 22°05' north latitudes and in between 92°00' and 92°13' east longitudes. It is bounded by satkania upazila on the north, chakaria and lama upazilas on the south, bandarban sadar and Lama upazilas on the east, banshkhali upazila on the west.
Population Total 266741; male 134094, female 132647; Muslim 235867, Hindu 24934, Buddhist 44, Christian 5665 and others 231.
Water bodies Tonkaboti, Dalu, Hadar and Hanqar canals; Jelaichhara and Dhalai beels are notable.
Administration Lohagara Thana was formed in 1981 and it was turned into an upazila in 1983.
Upazila
Municipality
Union
Mouza
Village
Population
Density (per sq km)
Literacy rate (%)
Urban
Rural
Urban
Rural

-

9

40

43

29616

237125

1030

48.6

44.1
Upazila Town

Area (sq km)

Mouza

Population

Density (per sq km)

Literacy rate (%)

9.78

1

29616

3028

48.6
Union
Name of union and GO code
Area (acre)
Population
Literacy rate (%)
Male
Female

Adhunagar 3

4574

10143

10432

47.73

Amirabad 10

4361

18476

19569

55.82

Kalauzan 43

3996

13927

14648

50.01

Charamba 25

8027

13271

12353

38.09

Chunati 32

15128

14565

13838

41.43

Padua 73

6640

18678

18538

38.76

Putibila 80

10920

11557

11879

35.53

Barahatatia 18

7548

15506

15830

41.81

Lohagara 62

2776

17971

15560

48.31
Source Bangladesh Population Census 2001, Bangladesh Bureau of Statistics.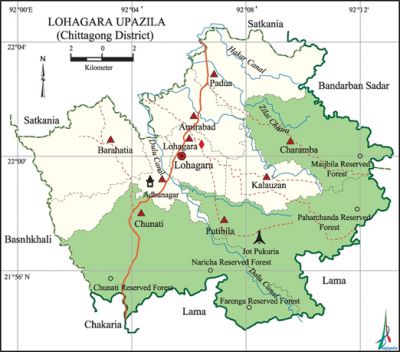 Archaeological heritage and relics Machhdia Buddhist Temple (Adhunagar, 18th century), Buddhist Temple and other royal establishments at Chendirpuni, Gupta Zamindar Bari at Padua, Adhunagar Budhist Temple, Magadeshwari Temple at Maghdighi.
History of the War of Liberation The Pak army conducted heavy plundering in this upazila in 1971; they also set many houses of the upazila on fire. The Pak army brutally killed 15 villagers of Amirabad Banik Para. The local razakars captured 12 persons from the Hindu Para (Hindu populated area) of Chunti Deputy Bazar, took them to the Chandnaish Police Station and later on killed all of them. The freedom fighters killed 17 razakars at Jotpukuria in Putibila union.
Marks of the War of Liberation Mass grave 1 (Jotpukuria of Putibila union).
Religious institutions Mosque 62, temple 9, tomb 4, church 2, pagoda 6. Noted religious institutions: Lohagara Mosque, Chunati Jami Mosque, Barahatatia Central Jami Mosque, tomb of Hazrat Shah Pir Auliya, tomb of Chunati Shah Shaheb Kebla, tomb of Bara Auliya, Mochhdia Buddhist Temple, Adhunagar Temple.
Literacy rate and educational institutions Average literacy 44.6%; male 48.4%, female 40.8%. Educational institutions: college 3, secondary school 25, primary school 97, madrasa 22. Noted educational institutions:' Bara Auliya Degree College (1983), Chunati Mahilla College (1989), North Amirabad MB High School (1932), North Amirabad Government Primary School (1935), Golambari High School (1937), Chunati Kalauzan Gorsundar High School (1945), Chunati Government Primary School (1919), Suk Chhari Government Primary School (1929), Kalauzan Government Primary School (1929), Sener Hat Government Primary School (1932), Hakimian Kamil Madrasa (1937).
Cultural organisations Library 11, club 32, playground 20,' cultural organisation 2. Tourist spots Chunati Reserve Forest, Padua Forest Area.
Main sources of income Agriculture 39.29%, non-agricultural labourer 5.40%, industry 0.82%, commerce 17.71%, transport and communication 3.43%, service 14.58%, construction 1.59%, religious service 0.49%, rent and remittance 5.19% and others 11.50%.
Ownership of agricultural land Landowner 63.88%, landless 36.12%; agricultural landowner: urban 64.13% and rural 61.74%.'
Main crops Paddy, potato, sugarcane, chilli, felong.
Extinct or nearly extinct crops Sesame, linseed, watermelon.
Main fruits Banana, papaya, guava, hog plum, plum.
Fisheries, dairies and poultries Fishery 2322 (ponds), dairy 5, poultry 139, hatchery (fish) 22.
Communication facilities Pucca road 59.89 km, semi-pucca road 153.65 km, mud road 860.31 km.Extinct or nearly extinct traditional transport Palanquin.
Noted manufactories Rice mill, ice factory, biscuit factory, textile mill,' plywood factory.
Cottage industries Goldsmith, blacksmith, potteries, pati, fishing net, bamboo work, wood work.
Hats, bazars and fairs Hats and bazars are 24, fairs 3, most noted of which are Darbesh Hat, Tewari Hat, Khan Hat, Hindur Hat, Sener Hat and Monu Fakir Hat.
Main exports Paddy, mosquito net, net, garments.
Access to electricity All the unions of the upazila are under rural electrification net-work. However 42.47% (urban 64.13% and rural 39.93%) of the dwelling households have access to electricity. Sources of drinking water Tube-well 88.66%, tap 0.88%, pond 2.50% and others 7.96%.
Sanitation 49.24% (rural 53.96% and urban 48.69%) of dwelling households of the upazila use sanitary latrines and 34.55% (rural 33.95% and urban 39.68%) of dwelling households use non-sanitary latrines; 16.22% of households do not have latrine facilities.
Health centres Upazila health centre 1, family planning centre 5, union health centre 4, clinic 5,
NGO activities Operationally important NGOs are brac, asa, Uddipan, Protikrit, Education and Social Development, Ashrai, Sapnosiri. [Md. Abul Manjur]
References Bangladesh Population Census 2001, Bangladesh Bureau of Statistics; Cultural survey report of Lohagara Upazila 2007.