Mohanpur Upazila (rajshahi district) area 162.65 sq km, located in between 24°29' and 24°38' north latitudes and in between 88°34' and 88°43' east longitudes. It is bounded by manda and tanore upazilas on the north, paba and durgapur (rajshahi) upazilas on the south, bagmara upazila on the east, Tanore upazila on the west.
Population Total 152896; male 77777, female 75119; Muslim 148666, Hindu 3863, Buddhist 16 and others 351. Indigenous community such as santal belongs to this upazila.
Water bodies Main rivers: Shiva, Baranai.
Administration Mohanpur Thana was formed in 1917 and it was turned into an upazila in 1983.
Upazila
Municipality
Union
Mouza
Village
Population
Density (per sq km)
Literacy rate (%)
Urban
Rural
Urban
Rural

1

6

167

155

11658

141238

940

61.0

55.0
Upazila Town

Area (sq km)

Mouza

Population

Density (per sq km)

Literacy rate (%)

9.25

7

11658

1225

49.64
Union
Name of union and GO code
Area (acre)
Population
Literacy rate (%)
Male
Female

Ghasigram 40

5725

9825

9685

42.23

Jahanabad 54

7277

13498

13054

44.18

Dhurail 27

6858

12193

11394

47.74

Bakshimail 13

5473

12277

11611

49.84

Maugachhi 67

7481

15224

14799

40.49

Royghati 81

7378

14760

14576

47.93
Source  Bangladesh Population Census 2001, Bangladesh Bureau of Statistics.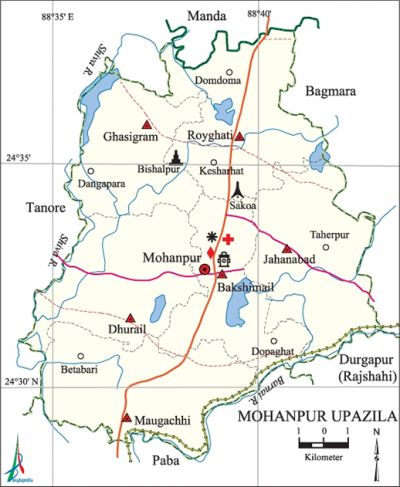 Archaeological heritage and relics Ancient temple at Bishalpur.
History of the War of Liberation In 1971, the local razakars established a camp in a madrasa at village Sankoa and conducted mass torture to the families of freedom fighters and other innocent people of the near by locality. The razakars killed freedom fighter Abdul Aziz in his residence at village Bihatra; they also sacked his house. In November the freedom fighters launched an attack on the razakar camp and killed six razakars.
Marks of the War of Liberation Mass grave 1 (adjacent to the Sankoa Madrasa).
Religious institutions Mosque 461, temple 26. Noted religious institutions: Saipara Jami Mosque, Keshorehat Jami Mosque, Mohanpur Jami Mosque.
Literacy rate and educational institutions Average literacy 45.4%; male 51.2%, female 39.4%. Educational institutions: college 17, technical college 2, secondary school 47, primary school 78, kindergarten 5, madrasa 20. Noted educational institutions: Maugachhi College, Shyampur College, Mohanpur Pilot High School (1948), Mohanpur Government High School, Sankoa Bakshail Kamil Madrasa.
Cultural organisations Library 1, club 22, cinema hall 1, jatra party 1.
Main sources of income Agriculture 73.29%, non-agricultural labourer 2.52%, industry 0.89%, commerce 11.84%, transport and communication 2.91%, service 3.52%, construction 0.29%, religious service 0.08%, rent and remittance 0.11% and others 4.55%.
Ownership of agricultural land Landowner '66.72%, landless 33.28%; agricultural landowner: urban 64.10% and rural 66.93%.'
Main crops Paddy, jute, maize, wheat, mustard, betel leaf, vegetables.
Extinct or nearly extinct crops Sugarcane, sesame, barley, masur, arahar.
Main fruits Mango, jackfruit, litchi, black berry, wood-apple.
Fisheries, dairies and poultries Fishery 31, dairy 44, poultry 60, hatchery 2, nursery 12.
Communication facilities Pucca road 59.12 km, semi-pucca road 8.26 km, mud road 230.84 km; waterway 5.40 nautical miles.
Extinct or nearly extinct traditional transport Palanquin, horse carriage, bullock cart.
Noted manufactories Ice factory, welding factory.
Cottage industries Blacksmith 50, potteries 40, bamboo work 250, wood work 25.
Hats, bazars and fairs Hats and bazars are 23, fairs 2, most noted of which are Keshore Hat, Ekdil Tala Hat, Dhopaghata Hat, Maugachhi Hat and Ras Mela.
Main exports Jute, betel leaf, flour, mango, litchi.
Access to electricity All the wards and unions of the upazila are under rural electrification net-work. However 20.74% of the dwelling households have access to electricity.
Sources of drinking water Tube-well 97.34%, tap 0.23%, pond 0.58% and others 1.85%.
Sanitation 24.79% (rural 23.31% and urban 43.64%) of dwelling households of the upazila use sanitary latrines and 47.67% (rural 48.29% and urban 39.79%) of dwelling households use non-sanitary latrines; 27.54% of households do not have latrine facilities.
Health centres Upazila health complex 1, union health and family planning centre 6, rural health centre 1, maternity welfare centre 12, clinic 19, veterinary hospital 6.
NGO activities Operationally important NGOs are brac, asa, CCDB. [Md. Anwarul Haque]
References Bangladesh Population Census 2001, Bangladesh Bureau of Statistics; Cultural survey report of Mohanpur Upazila 2007.