Muladi Upazila (barisal district) area 261.02 sq km, located in between 22°47' and 23°03' north latitudes and in between 90°17' and 90°27' east longitudes. It is bounded by gosairhat upazila on the north, barisal sadar upazila on the south, hizla and mehendiganj upazilas on the east, kalkini, gaurnadi and babuganj upazilas on the west.
Population Total 183283; male 92084, female 91199; Muslim 179791, Hindu 3479 and others 13.
Water bodies Main rivers: Naya Bhanga, arial khan, Khaliar.
Administration Muladi Thana was formed in 1899 and it was turned into an upazila on 24 March 1983.
Upazila
Municipality
Union
Mouza
Village
Population
Density (per sq km)
Literacy rate (%)
Urban
Rural
Urban
Rural

-

7

98

110

10800

172483

737

61.1

48.2
Upazila Town

Area (sq km)

Mouza

Population

Density
(per sq km)

Literacy rate
(%)

7.11

4

10800

1519

61.06
Union
Name of union and GO code
Area (acre)
Population
Literacy rate (%)
Male
Female

Kazir Char 47

15392

10911

10393

52.98

Gachhua 35

7118

11685

11909

48.01

Char Kalekhan 23

5193

10157

10189

44.91

Nazirpur 71

8967

11768

11383

48.89

Batamara 11

7471

12266

12297

46.84

Muladi 59

10131

17431

16505

57.15

Safipur 83

10186

17866

18523

42.99
Source  Bangladesh Population Census 2001, Bangladesh Bureau of Statistics.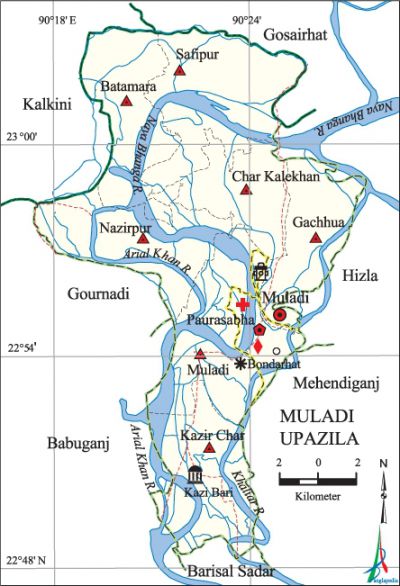 Archaeological heritage and relics Mia Bari Mosque at Gachhua, ancient mosque at village Syedergaon, Sultan Khan Mosque at village Gangapur.
Historical events Once Muladi was under the Dhaka-Jamalpur Revenue District. Up to 1873 there was only one middle class interest here and by 1908 there emerged many middle class families in this region of which the Takulder and the Howlader were the most influential. After the Permanent Settlement, a Revenue Circle Officer was appointed in Muladi Thana. The people of Muladi played an important role in the Partition of Bengal movement (in 1905), kHilafat movement and in the language movement of 1952. In 1971 the Pak army killed nearly 42 persons by mortar and machine gun firing on both sides of the river. The freedom fighters destroyed the gunboat of the Pak army at Nandail Bazar; following this incident the Pak army conducted mass killing for about a week in the nearby locality.
Marks of the War of Liberation Tombs of the freedom fighters at Khaserhat.
Religious institutions Mosque 440, temple 18, church 1, tomb 2. Noted religious institutions: Kazi Bari Jami Mosque, tomb of Ainuddin Fakir, tomb of Zahenuddin Fakir.
Literacy rate and educational institutions Average literacy 49%; male 50.9%, female 47.1%. Educational institutions: college 5, secondary school 35, primary school 127, kindergarten 1, madrasa 17. Noted educational institutions: Muladi College, Kazir Char College, Kazir Char Secondary School, Muladi GM Girls' School, Bheduriachar Government Primary School (1892), Tayak Tomchar Government Primary School (1845), Gachhua Parpadma Senior Madrasa.
Cultural organisations Library 1, club 18, cinema hall 1, theatre group 1, theatre organisation 1, playground 10.
Main sources of income Agriculture 64.80%, non-agricultural labourer 3.01%, industry 0.84%, commerce 10.66%, transport and communication 1.03%, service 10.10%, construction 1.38%, religious service 0.32%, rent and remittance 2.07% and others 5.78%.
Ownership of agricultural land Landowner 77.67%, landless 22.33%; agricultural landowner: urban 53.69% and rural 79.19%.'
Main crops Paddy, wheat, pulse, betel leaf, vegetables.
Extinct or nearly extinct crops Jute, arahar, china, tobacco, mustard, kaun, ground nut, garlic, sugarcane.
Main fruits Mango, jackfruit, banana, litchi, blackberry, palm, betel nut, coconut, hog plum, papaya, lemon.
Fisheries, dairies and poultries Fishery 50, dairy 7, poultry 27.
Communication facilities Pucca road 22 km, semi-pucca road 15 km, mud road 150 km; waterway 65 nautical miles.
Noted manufactories Rice mill 25, saw mill 40, chira mill 1, pulse mill 2, flour mill 1, ice factory 5, welding factory 16.
Cottage industries Goldsmith 5, weaving 7, potteries 90, embroidery 182, bamboo work 65, wood work 212.
Hats, bazars and fairs Hats and bazars are 34, fairs 5, most noted of which are Muladi Bandar Hat, Khaser Hat, Kazir Char, Adam Ali Fakir Mela, Munshi Bari Mela and Jalalpur Mela.
Main exports Betel leaf, betel nut, pulse, paddy, hog plum.
Access to electricity All the unions of the upazila are under rural electrification net-work. However 23.36% of the dwelling households have access to electricity.
Sources of drinking water Tube-well 91.36%, tap 0.64%, pond 3.97% and others 4.02%.
Sanitation 58.23% (rural 56.64% and urban 83.33%) of dwelling households of the upazila use sanitary latrines and 33.90% (rural 35.23% and urban 12.74%) of dwelling households use non-sanitary latrines; 7.87% of households do not have latrine facilities.
Health centres Upazila health complex 1, family planning centre 7, satellite clinic 3.
Natural disasters The cyclones and floods of 1961 and 1965 submerges the areas on both banks of the river and also caused damaged to crops, particularly to Aman paddy and Pan Baraj (harvest of betel leaf) of the upazila.
NGO activities Operationally important NGOs are brac, asa, proshika, Disha, RDO. [Md. Mizanur Rahman]
References Bangladesh Population Census 2001, Bangladesh Bureau of Statistics; Cultural survey report of Muladi Upazila 2007.