Munshiganj Sadar Upazila (munshiganj district) area 160.79 sq km, located in between 23'23' and 23'35' north latitudes and in between 90'28' and 90'35' east longitudes. It is bounded by narayanganj sadar, bandar (narayanganj) and sonargaon upazilas on the north, bhedarganj and naria upazilas on the south, gazaria and matlab uttar upazilas on the east, tongibari and Nariaupazilas on the west.
Population Total 327015; male 170747, female 156268; Muslim 310092, Hindu 16716, Buddhist 76, Christian 58 and others 104.
Water bodies Main rivers: meghna, padma, dhaleshwari, ichamati.
Administration Munshiganj Thana was formed in 1901 and it was turned into an upazila in 1984.
Upazila
Municipality
Union
Mouza
Village
Population
Density (per sq km)
Literacy rate (%)
Urban
Rural
Urban
Rural

2

9

94

187

107903

219112

2034

59.7

46.0
Municipality (Mirkadim)

Area (sq km)

Ward

Mahalla

Population

Density (per sq km)

Literacy rate (%)

14.17

9

31

41320

2916

60.8

Municipality (Munshiganj)

Area (sq km)

Ward

Mahalla

Population

Density (per sq km)

Literacy rate (%)

4.29

9

46

53202

12401

60.8
Upazila Town

Area (sq km)

Mouza

Population

Density (per sq km)

Literacy rate (%)

2.89

3

13381

4630

52.2
Union
Name of union and GO code
Area (acre)
Population
Literacy rate (%)
Male
Female

Adhara 20

8176

15051

14224

27.09

Char Kewar 28

5373

15877

14339

48.38

Panchasar 76

3032

29872

26551

48.84

Bajra Jogini 22

2461

8807

8272

51.68

Bangla Bazar 23

4889

7733

6896

37.80

Mahakali 47

2384

9495

9414

56.81

Mollahkandi 57

3849

13280

12503

40.01

Rampal 85

1831

16428

15119

59.83

Silai 38

7420

4049

4149

32.07
Source  Bangladesh Population Census 2001, Bangladesh Bureau of Statistics.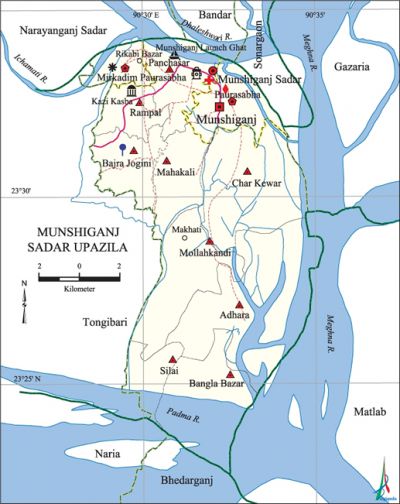 Archaeological heritage and relics idrakpur fort (1660), Panditer Bhita (birth place of atish dipankar) at Bajra Jogini, Baba Adam Shahid Mosque at Rampal (1483), homestead of Raja Vallala Sena, Rampal Dighi, Raja Harish Chandra's Dighi, Kodal Dhoar Dighi, homestead of Raja Sreenath, Sree Sree Lakshminarayan Jeu Temple, tomb of Baro Aulia.
History of the War of Liberation In 1971 when the Pak army began mass-killing in Dhaka city on the night of 25 March the students and youths of Munshiganj raided the treasury and captured arms and ammunitions to resist the Pak army. They successfully guarded the riverside area to check the onrush of the Pak army towards Munshiganj. The people of Narayanganj in alliance with the youths of Munshiganj resisted an attack of the Pak army on 31 March. On 9 May the Pak army established military camp in Munshiganj; two days later the Pak army killed 14 innocent persons. On 14 May the Pak army raided Kewar and killed a number of youths. During the war of liberation, the house of Radhika Mohan Ghosh at village Nayagaon on the bank of the Dhaleshwari had been the secret shelter and outpost of the freedom fighters. The freedom fighters used to launch attacks on the Pak army coming through the river from the rooftop of this pucca building.
Marks of the War of Liberation Mass killing site and memorial monument 1 (old student hostel premises of Munshiganj High School).
Religious institutions Mosque 170, temple 22, tomb 2, dargah 1, akhra 1. Noted religious institutions: Kacharighat Jami Mosque, Thana Jami Mosque, Launch-ghat Mosque, Jaikalimata Mandir, Jagaddhatri Mandir, tomb of Kadira Pagla, tomb of Chhala-pagli, dargah of Elahi Mastan, Lakshmi Narayan Jeu Akhra.
Literacy rate and educational institutions Average literacy 50.6%; male 53.5%, female 47.4%. Educational institutions: college 4, technical training centre 1, primary teachers training institute (PTI) 1, secondary school 26, primary school 109, madrasa 9. Noted educational institutions: Government Haraganga College, Government Mohila College, Munshiganj College, Bajra Jogini JK High School (1883), Munshiganj Multilateral High School (1885), AVGM Government Girls' High School (1892), Binodpur Ramkumar High School (1919), Rampal NBM High School (1933), KK Government Institution (1942), Idrakpur High School (1970).
Newspapers and periodicals Daily: Munshiganjer Kagoz; weekly: Munshiganj Sangbad, Khola Kagoj, Kagojer Khabar, Satya Prokas; monthly: Vikrampur Barta, Vikrampur; little magazine 'Oa' Bibokha; defunct periodical: Kaler Vela, Sangsaptak, Sarab.
Cultural organisations Library 2, club 6, music academy 2, theatre group 3, theatre stage 1, literary and cultural organisation 4, art school 1, cinema hall 6, auditorium 1, women's organisation 17, stadium 1.
Tourists spots Idrakpur Fort, Rampal's Dighi, Harish Chandra's Dighi, Pandit Atish Dipankar's' Bhita.
Main sources of income Agriculture 37.69%, non-agricultural labourer 5.57%, industry 1.25%, commerce 22.59%, transport and communication 4.36%, service 11.06%, construction 1.68%, religious service 0.15%, rent and remittance 3.81% and others 11.84%.
Ownership of agricultural land Landowner 42.27%, landless 57.73%; agricultural landowner: urban 24.86% and rural 50.85%.'
Main crops Paddy, potato, wheat, jute, mustard, chilli, vegetables.
Extinct or nearly extinct crops Kaun, linseed, arahar.
Main fruits Banana, mango, papaya, jackfruit, litchi.
Fisheries, dairies and poultries Fishery 1, dairy 15, poultry 1.
Communication facilities Pucca road 27.27 km, mud road 100 km.
Extinct or nearly extinct traditional transport Palanquin, horse carriage, bullock cart.
Noted manufactories Rice mill, cement factory, paper mill, garments factory, biscuit factory, saw mill, brick field.
Cottage industries Potteries, pati making, cane work.
Hats, bazars and fairs Hats and bazars are 17, fairs 8, most noted of which are Munshir Hat, Chitalia Hat, Mirkadim, Makahati, Munshiganj Bazar, Katakhali Bazar, Kamalaghat Bazar, Rikabi Bazar, Baruni Mela (Kamalaghat), Rampal Maghi-Purnima Mela, Dasami Mela (Kamalaghat), Munshiganj Rathjatra Mela, Rampal Rathjatra Mela, Manasa Mela (Munshiganj).
Main exports Potato, vegetables, jute.
Access to electricity All the wards and unions of the upazila are under rural electrification net-work. However 75.85% of the dwelling households have access to electricity.
Sources of drinking water Tube-well 91.75%, tap 3.98%, pond 1.30% and others 2.97%. The presence of arsenic has been detected in 20.22% of the shallow tube-well water of the upazila.
Sanitation 60.50% (rural 54.70% and urban 25.24%) of dwelling households of the upazila use sanitary latrines and 35.90% (rural 41.15% and urban 25.24%) of dwelling households use non-sanitary latrines; 3.60% of households do not have latrine facilities.
Health centres Hospital 1, mother and child welfare centre 1, upazila health complex 1, health and family welfare centre 9, clinic 9.
NGO activities Operationally important NGOs are asa, brac, proshika. [Ratantanu Ghosh]
References Bangladesh Population Census 2001, Bangladesh Bureau of Statistics; Cultural survey report of Munshiganj Sadar Upazila 2007.