Noakhali Sadar Upazila (noakhali district) area 552.46 sq km, located in between 22'38' and 22'59' north latitudes and in between 90'54' and 91'15' east longitudes. It is bounded by begumganj upazila on the north, subarnachar upazila on the south, companiganj (Noakhali) and kabirhat upazilas on the east, kamalnagar and lakshmipur sadar upazilas on the west.
Population Total 331493; male 164109, female 167384; Muslim 323661, Hindu 7301, Buddhist 515 and others 16.
Water bodies Main river: meghna; Noakhali canal is notable.
Administration The ancient name of Noakhali Sadar was Sudharam. Noakhali thana was formed in 1861 and it was turned into an upazila in 1984. Noakhali municipality was formed in 1876.
Upazila
Municipality
Union
Mouza
Village
Population
Density (per sq km)
Literacy rate (%)
Urban
Rural
Urban
Rural

1

10

168

163

95149

331493

772

71.14

51.65
Municipality

Area (sq km)

Ward

Mahalla

Population

Density (per sq km)

Literacy rate (%)

15.88

9

36

75956

4783

71.14
Upazila Town

Area
(sq km)

Mouza

Population

Density
(per sq km)

Literacy rate
(%)

9.00

9

19193

2133

60.47
Union
Name of union and GO code
Area (acre)
Population
Literacy rate (%)
Male
Female




Ashwadia 21

4575

13863

14081

48.24

Ewazbalia 50

7253

17290

17902

41.96

Kadir Hanif 60

3943

12492

12172

61.13

Kaladaraf 65

11826

13958

15593

40.81

Char Matua 40

22727

34001

32768

37.76

Dadpur 45

3422

10400

11021

51.63

Niazpur 75

3989

13028

13052

56.59

Noannai 85

3836

12627

13509

51.73

Noakhali 80

15223

27190

27814

46.55

Binodpur 25

2212

9260

9472

71.31
Source Bangladesh Population Census 2001, Bangladesh Bureau of Statistics.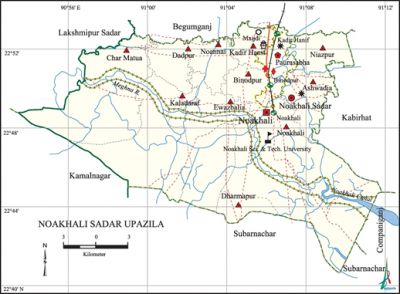 Archaeological heritage and relics Public Library (1895), Khalil Bhuiyan Jami Mosque in Kadir Hanif union, Noakhali Zila Jami Mosque at Maijdi Court (1841).
History of the War of Liberation The Pak army entered into Noakhali sadar, for the first time, on 22 April 1971. On 18 June they brutally killed 70 innocent persons at village Sreepur of Sonapur area. Noakhali sadar was liberated on 7 December 1971.
Marks of the War of Liberation Shaheed Nur Mohammad Road, Shaheed Major Mesbahuddin Road and Shaheed Jasimuddin Road.
Religious institutions Noakhali Zila Jami Mosque, Khalil Bhuiyan Jami Mosque, Kabir Patwari Jami Mosque, Shree Shree Ram Thakur Mandir are notable.
Literacy rate and educational institutions Average literacy 59.90%; male 62.79%, female 57%. Educational institutions: college 10, primary teachers training institute 2, medical assistant training school 1, police training institute 1, secondary school 38, primary school 195, law college 1, madrasa 31. Noted educational institutions: Noakhali Government College (1963), Brother Andre High School (1857), Ahmadia Model High School (1906), Arun Chandra High School (1914), Noakhali Government Girl's High School (1934), Paura Kalyan High School (1940), Noakhali Zila School (1853).
'Newspapers and periodicals Daily: Noakhali Barta; weekly: Ajker Upama, Abayab, Nayabarta, Jatiyo' Nur, Dishari; defunct: Noakhali Hitoishi, Chholtan, Tanjin, Upakul Barta, Purba Bangali.
Cultural organisations Library 4, club 5, cinema hall 2, town hall 1.
Main sources of income Agriculture 49.15%, non-agricultural labourer 4.59%, industry 0.97%, commerce 13.44%, transport and communication 3.67%, service 14.46%, construction 1.62%, religious service 0.34%, rent and remittance 2.79% and others 9.45%.
Ownership of agricultural land Landowner 56.30%, landless 43.70%; agricultural landowner: urban 41.25% and rural 58.76%.'
Main crops Paddy, sugarcane, pulse, ground-nut, soybean, vegetables.
Extinct or nearly extinct crops Sesame, linseed,' jute.
Main fruits Mango, jackfruit, litchi, banana, coconut, papaya, betel nut.
Fisheries, dairies and poultries This upazila has a number of fisheries, dairies and poultries.
Communication facilities Pucca road 194 km; waterway 30 nautical miles; railway 10 km; rail station 4.
Extinct or nearly extinct traditional transport Palanquin, horse carriage, bullock cart, buffalo cart.
Noted manufactories Sweater factory, bakery, soft drinks factory, welding factory, rice mill, flour mill, ice factory, oil mill.
Cottage industries Goldsmith, blacksmith, potteries, weaving, embroidery, bamboo work, cane work.
Hats, bazars and fairs Hats and bazars are 6, fair 1, most noted of which are Maijdi Poura Bazar, Sonapur Datter Hat, Khaser Hat, Badher Hat, Khalifar Hat, Kala Munshir Hat, Lakshmi Narayanpur Mela (Pahela Magh).
Main exports Coconut, betel nut, paddy, dry fish.
Access to electricity All the wards and unions of the upazila are under rural electrification net-work. However 18.61% of the dwelling households have access to electricity.
Sources of drinking water Tube-well 69.32%, tap 10.20%, pond 15.03% and others 5.45%. The presence of arsenic has been detected in shallow tube-well water of the upazila.
Sanitation 33.41% (rural 27.48% and urban 69.62%) of dwelling households of the upazila use sanitary latrines and 53.21% (rural 57.95% and urban 24.28%) of dwelling households use non-sanitary latrines; 13.37% of households do not have latrine facilities.
Health centres Hospital 6, TB clinic 1, satellite clinic 5, municipal health centre 1, family welfare centre 18, clinic 6, veterinary hospital 1.
Natural disasters A large number of people of the coastal area lost their life due to the cyclone and tidal bore of 12 November 1970.
NGO activities Operationally important NGOs are brac, proshika, asa, the Hunger Project, CARE, Danida, Prisam, Nijera Kari. [Muhammad Masudur Rahman Bhuiyan]
References Bangladesh Population Census 2001, Bangladesh Bureau of Statistics; Cultural survey report of Noakhali Sadar Upazila 2007.